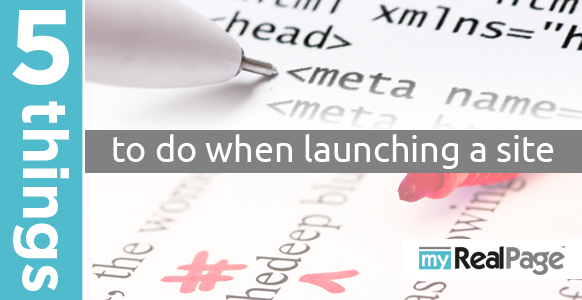 So you've signed up for a myRealPage real estate website, your listings are loading, you've added your own content to the site and you're ready to add your domain name and make it live. When launching a website, there a number of things you can overlook when focussed on getting it live. Here's a useful checklist to go through in order to give your real estate website its final touches:
1. Titles and Meta Data.

Page Titles are very important so that users potentially landing on your site know what's on the page. Each page on your site should have a particular Title. Make sure your Page Titles contain the keywords you're focusing on.
Good Meta Descriptions are important for SEO. A well written description can strongly influence traffic from a specific search result onto your site.
Click the link to learn how to edit the Meta Titles and Descriptions of your myRealPage website.
2. Proofread

You may think of this one as a no-brainer but it is a step that is often overlooked. Check the text on every page of the site. Even if you've read it, read it again or have someone else read it. Chances are you'll catch a typo or error somewhere.
Make sure you break large text blocks into short paragraphs. Cramped text or long paragraphs are no-no for web use.
3. Links

Don't just assume that links are working. Click on every link you find and make sure it is working. You may often forget to add "http://" to link to external websites.  Also, don't underline text that isn't a link as this may confuse users.
4. Analytics

Your myRealPage comes with a basic web analytics tool but if you are a very serious in measuring every detail of your site, you may want to consider connecting your website with Google Analytics. We've prepared a step by step Google Analytics tutorial showing you how to take advantage of this great free tool from Google.
5. Favicon

Favicons are those little iconic logos that show up in the address bar and tabs of your browser. How does it help? It's a small branding opportunity that lends credibility to your site. It's nice to have one when you launch. How do you add one you ask? Here's a tutorial.
Once you've gone over this small checklist, your site will be in much better shape to announce this website to the world. What other checks would you add to the list? Share them in the comments.