We are very pleased to welcome Andrew Hasman and his team who launched a new custom designed Vancouver real estate website with myRealPage. The new website was built using custom layout and design tools available as part of myRealPage website platform, and takes full advantage of advanced listing and IDX (search) tools. The website was designed by TribalYell, a Vancouver web design studio, whose great work we have featured in the past. Please take a minute to explore Andrew Hasman's new website at http://andrewhasman.com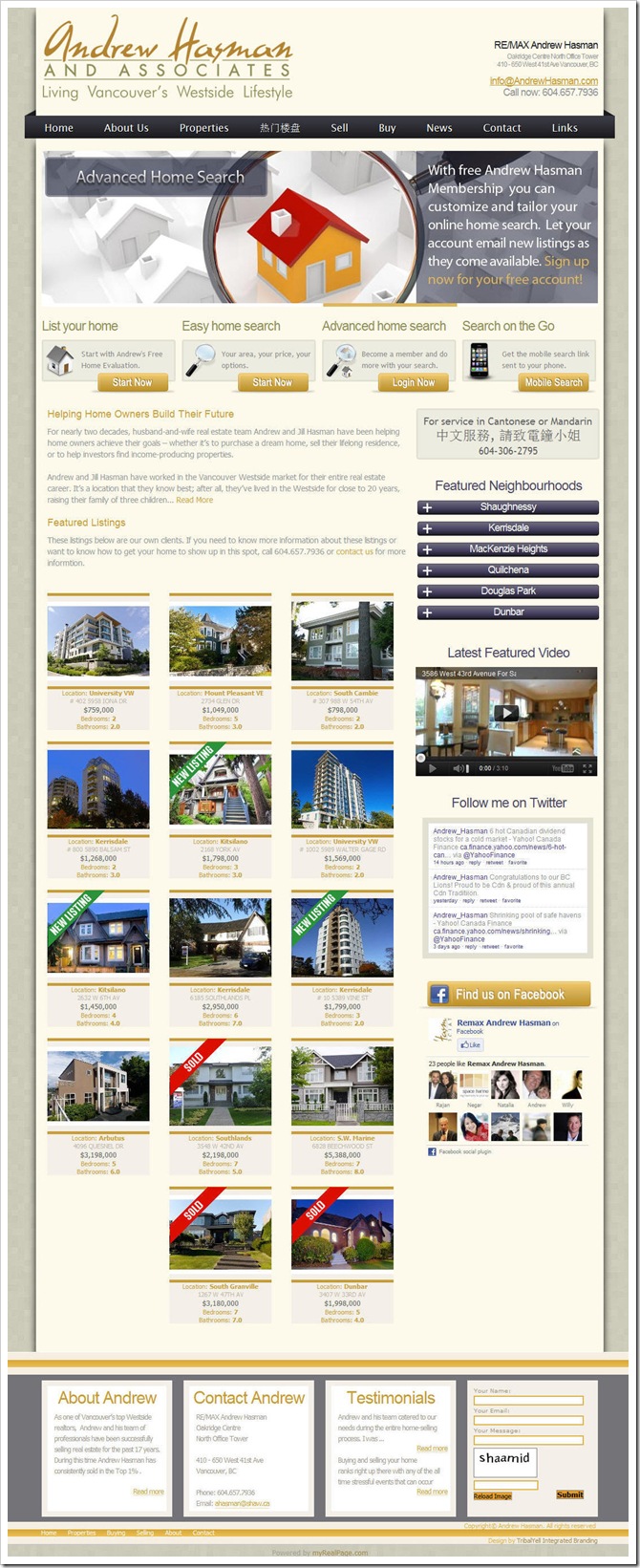 This is what Andrew Hasman said about the new website and their move to myRealPage:
"Andrew Hasman and his Real Estate Team switch real estate platforms to myRealPage. After a number of years with another provider I felt it was time to move over to myRealPage. This platform will allow us to better position our website in SEO rankings and provides an easier to use and more tools at the back end. We look forward to a new working relationship with the myRealPage team.

Andrew Hasman and been selling residential property across Vancouver's Westside and Downtown for the past 19 years. We are a full service boutique real estate company providing hands on service to our many valued clients.

One of the public's most common beefs about working with realtors is the lack of communication and follow through service they receive from the realtor they actually hired. Too often I hear clients say they felt passed on as they were left working with the realtors support staff and assistants.

When you work with Andrew Hasman you get the one on one service that you so deserve when you are buying or selling. I am always available to answer calls, emails and show and sell my clients homes. I am involved every step of the way.

My company is small consisting of 5 full time Licensed Realtors each with many years experience. Two members of my team are fluent in Mandarin and Cantonese so that we can effectively service our many clients from China, Hong Kong and Taiwan."
Paul McEwan from TribalYell had this to say:
"Andrew Hasman and myRealPage! What a great final project before leaving my position as Marketing Manager at RE/MAX Real Estate Services and going full time as Director of my own TribalYell Marketing and Design."
---------------------------------
Do you have an existing website or would like to build a new one? Take a look at examples of how others customized their websites with us. You can compliment your regular website with a mobile one, and our mobile listing search is free with a regular subscription. Give us a call at: 1-888-478-8797 or email us: sales@myrealpage.com