We are very pleased today to announce the addition of another weblet to a long and growing list of myRealPage weblets, little building blocks that make up our websites. This time it's the "Image Banner". It's a very simple and yet powerful weblet. It allows you to specify a series of images out of which it will build a slideshow by applying various effects. As the name suggests, it's a perfect candidate for your website's banner.
BUT THE COOLEST PART is that the Image Banner weblet IS NOT BASED ON FLASH.

If you wonder why that matters, you may have missed a currently raging debate on the internet (don't feel bad, it's really of most interest to the geekiest of us). Flash has not managed to make its way into Apple's iPhone and iPad and many believe that Flash is becoming a less viable option for a website if you want it to appear faithfully on a wide range of devices, from a laptop to a smart-phone. With the Apple iPad's launch in the US and its imminent launch in Canada, we thought that you should have a viable alternative to your Flash banners which we have been providing as part of many of our standard themes for years now.
The new Image Banner weblet comes with a few handy effects, such as:
Rotation: allows you to rotate through a series of images via a fade effect
Slide: allows you to rotate through a series of images via a sliding effect. You can also specify the direction and a little "bounce" effect at the end of the slide, to simulate a little gravity
Random image : allows you to simply have the page display a random image from a set of images without any effects.
In addition, you can fine-tune your transition and interval speeds to make the banner behave just the way you want.
If you would like to see some of these effects in action, check out the links below (you may need to give the page a few seconds for the effect to start):
Here is what the Image Banner's configuration screen looks like: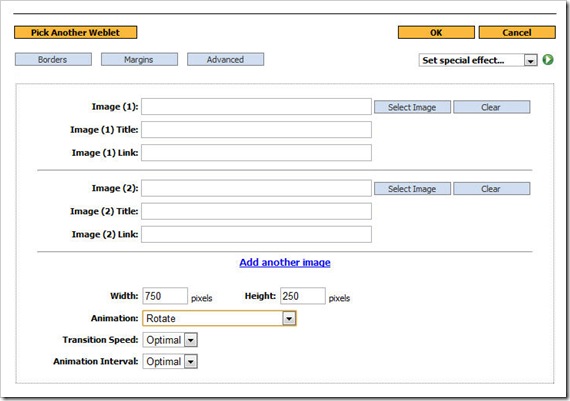 Do you have suggestions or comments? Leave them here or send them to support-at-myrealpage.com ; we are always interested in what you have to say.
[For designers, developers and geeks out there: there is a blog post on Next-Gen Layouts that have just been released into the wild by myRealPage. This will be of particular interest to those who are after highly custom websites]
-- Brought to you by myRealpage.com