Ever wanted to reduce your carbon footprint as REALTOR®?. 
Going paperless in real estate these days is far easier then it was say five years ago. Everyday we are bombarded with new applications and cloud options to reduce the amount of paper you use and produce. Here at myRealPage we try to reduce our paper usage by taking advantage of a few of these options.
I am going to assume you have a general understanding of how the cloud works but for any of you who are unclear, please feel free to leave a comment and I will be sure to respond as detailed as I can. 
I also want to assume that in reading this article you are interested in moving forward or at least thinking about the idea, in which case you will need to know how to use a smartphone or tablet. I won't single out a specific brand, but some are better then others. It is like comparing apples to black berries 🙂


Storing and sharing files
If you are going the paperless route, you want to back up your files to a could storage tool. There are many options to do this, the majority have free options or trials and paid plans for those who want a little more. 
Lest start with Google Drive: Most of you have a google account either "laying around" or use it everyday. Google drive is Google's version of Dropbox with the added feature that you have access to your files by simply signing into your email account. 
The free 15GB of storage is shared with your email and other Google features so there is lots of room to play. Sharing is as easy as entering in the email address of the person you wish to share with. You can collaborate on files and both be editing the file at the same time. There are so many features and functions with Google Drive, it is a personal favourite. 
The next is Dropbox: Most of you have heard of it, but I will explain for those who are unsure. Dropbox is a service that stores a copy of your files in the Cloud. It lets you bring your photos, docs, and videos anywhere and view, edit or share them easily. You can share and entire folder, or individual files. You can pass along a link to the files so there is no need to attache files to emails.This allows you to get around any file size limits with email. Dropbox is available for almost all platforms and mobile devices. With free 2GB plan and paid plans, I am sure there is an option to suit your needs. 
Both of these (and most Cloud storage options) allow you to choose which files and folders are shared with whom or are for your eyes only. It is very secure and you'll never have to worry about someone accessing files they shouldn't. Unless of course you accidentally do so. Like all things real estate, be careful and make sure you are diligent in your efforts to protect information and you'll be fine.
There is many more and everyone has their favourite. For the sake of keeping this post under 10000 words I am mentioning these two. No slight against the others.


What about signing those documents?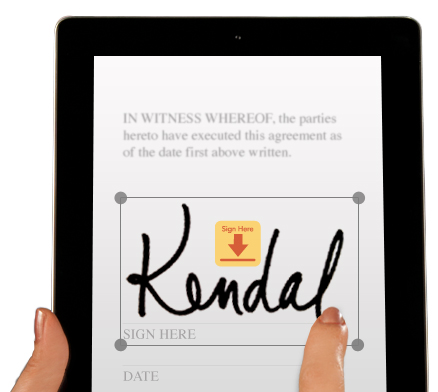 Now that we have our files backed up, easy to access and share, what are we going to do about contracts and signatures? Do we still need to print, sign and scan these back into the computer? Well some contracts and files still require you to put pen to paper but there is an option that allows you to sign documents and contracts with an eSignature which is supported by more and more large reputable companies and is 100% legally binding*. Docusign offers a secure, easy way to add digital signatures to your documents 
Or you can save items as a PDF and use a tablet PDF app like PDF Expert which allows you or your clients to use a stylus to sign the document right on the tablet. This also reduces your need to find a printer every time an offer is going back and forth. 
It also can reduce the need for verbal negotiating. Not that any of you are doing that. *wink wink* When it is this easy to amend and sign offers for your clients, no need to risk the hiccups that can come with verbal negotiating. 
This is very simple way to get started going paperless. You can move onto the eSignature options at your own pace.


So what about keeping track of all those important meetings?
This one is going back to Google. If you're not caught up in the Apple world where iCal and iCloud dominate the masses, you will find that Google Calendar is one of the best solutions out there. It syncs natively with a wide variety of third-party calendar programs as well as the included calendar app on your Apple and Android device(s). Google even offers the ability to share calendars across accounts so more then one person can edit that calendar. 
Since this is about options, I feel obligated to point out a few others, well at least one other. Memotoo calendar is another decent application that will sync all you calendars across multiple platforms. This service also offers a free version as well as an upgraded paid subscription. 
For those documents that still need signatures, you may need to fax them, yes fax them along. MyFax offers a service that allows you to send and receive faxes through email, the web, or your smart phone. 
These noted applications are simply recommendations and some that I use and have used but I strongly encourage you to get out there and find some apps that work with your daily business. 
*Please read the Docusign terms and conditions to learn more about legality.