Blog like a pro on MyRealPage websites: use Windows LiveWriter, FireScribe and others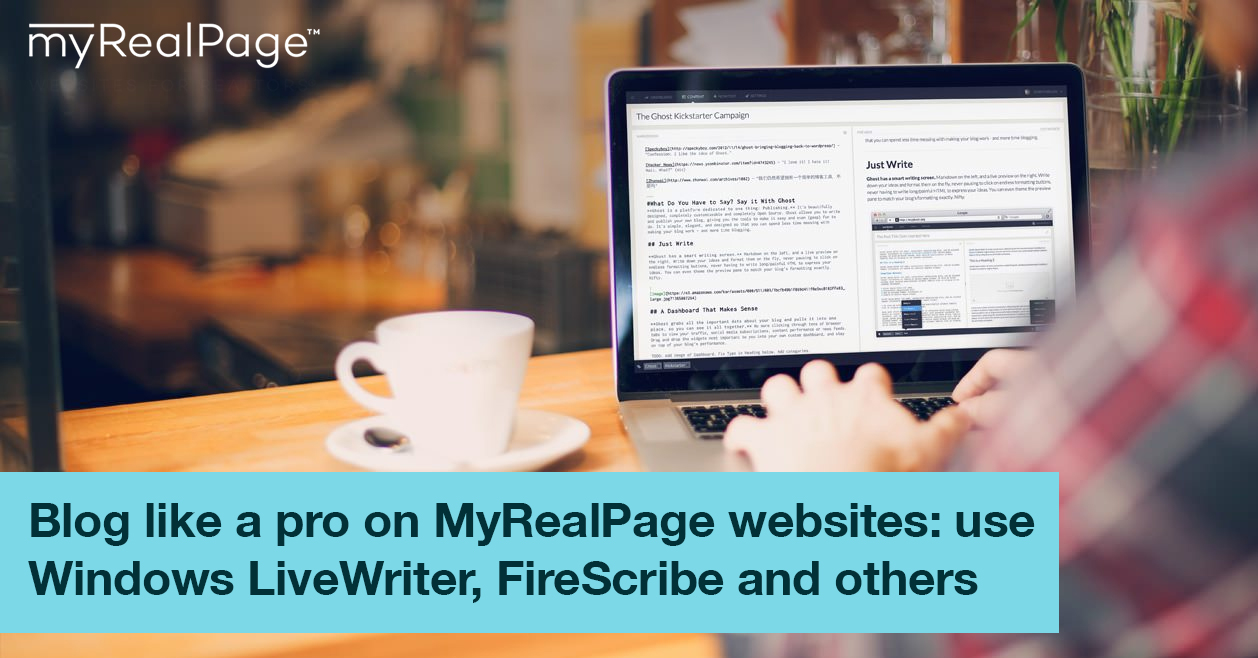 **Due to the date of this article, the application may no longer work as described therefore it may no longer be supported.**
MyRealPage has opened up its platform to allow other blogging software to talk to your blogs which you host with MyRealPage websites. This is a very exciting and powerful feature which may lead you to look at blogging through an entirely different light.
In a hurry? Then watch this video to get a quick taste of what this is:
If you had blogged in the past, you would probably agree that most standard web based blogging editors leave much to be desired. Be it Blogger, WordPress, and yes, MyRealPage built-in blog editors: they are all a far cry from using software like Microsoft Word, or even Google Docs; or OpenOffice. The interesting thing is that there are a slew of blog editing software out there, many freeware, like Windows LiveWriter and FireScribe, that do a much better job with blog authoring ( I found this interesting list: http://mashable.com/2007/10/22/10-desktop-blog-editors/ ). And now you can use most of them to edit MyRealPage blogs! Why get so excited if you could already do this with the built-in editor? You see: 3rd party blog editors have many, many more features that are typically available with even well-recognized built-in blogging software. For example Windows LiveWriter ( http://download.live.com/writer ) can let you:
Apply special effects to your photos, tilt them, add Polaroid effect, shadows
Create and publish Photo Albums, integrate with Flickr and others
Quickly insert Maps and Videos
Cross publish to Twitter, Facebook and many others
Edit your blogs offline (on a plane, for example) and publish when you reconnect to the internet
Add a multitude of plugins to extend and personalize your blogging experience
and much, much more…
In addition, this new feature will allow other websites, like http://hipcast.com to automatically publish your podcasts and videos to your MyRealPage blog.
So how do you connect a 3rd party blog editor to your MyRealPage blog? Conceptually, it's similar to connecting an Outlook or Thunderbird to your mail. You need to create an "account" and configure it with some parameters. We will publish a stand-alone HOWTO on this, but here is a little sneak peak to get you going.
THE INFORMATION BELOW HAS BEEN UPDATED on June 25, 2010:
Simply use this information:
Your Blog URL: http://[your-website.com]/blog.html
Your username: Your Private Office Username
Your password: Your Private Office Password
(Note: if you have created a custom blog page with a specific blog, use that page if you want to connect your editor to that blog)
For other online services, like HipCast, you can use this URL: http://[your-website.com]/xmlrpc
I would like to extend a special thank you to Bo Kauffman of http://winnipeghomefinder.com/ who seeded the idea for this feature. Thanks Bo! I hope your HipCast account works as expected now. If you have a suggestion or comment, post it here to send it to us at support-at-myrealpage.com.
(Oh, and by the way, I have authored this post with Windows LiveWriter! 🙂 )
Brought to you by myRealPage.com