Embeddable myRealPage Listings and IDX at work on Jacob Krause's and Jacky Levi's WordPress website
Since the release of our Embeddable Listings product in 2009, it has been used by many REALTORS® in their 3rd party websites, such as WordPress, custom, or even websites from other vendors. Combined with the portable Listing Showcases, the powerful VOW, predefined searches and a mobile search, this product offers a compelling value.
Today, we would like feature an example of an effective use of our embeddable listings and showcases: a WordPress-based website run by Jacob Krause and Jacky Levi: EastVanHouses.com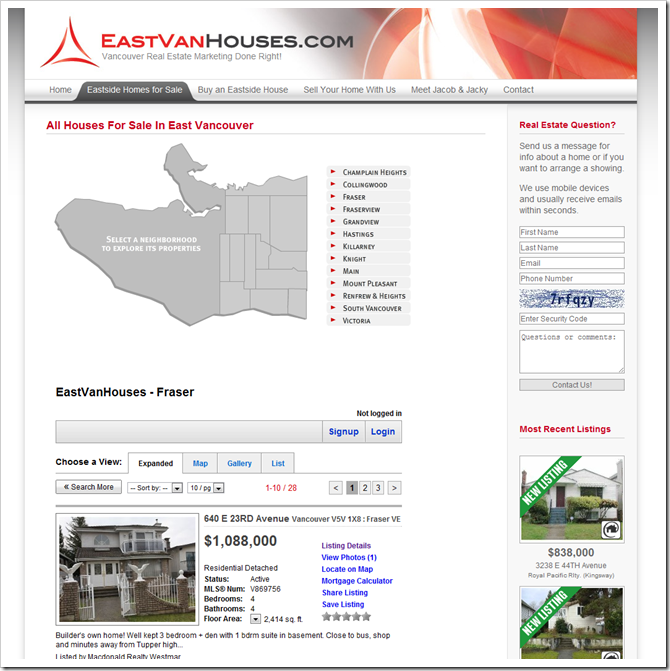 Here is a little information on their website and business in their own words:
Jacob Krause and Jacky Levi with TRG Realty, East Vancouver Realtors helping clients buy and sell houses, townhomes and duplexes on Vancouver's Eastside. They've been selling real estate for over 10 years in the neighborhoods of Cedar Cottage, Cambie's Douglas Park, Renfrew, Grandview, Killarney, Knight, Mount Pleasant, Victoria VE, Collingwood and Main St. Offering home sellers the most advanced real estate website and giving them direct access to local and international buyers from all around the world. Buyers have the ability to view houses for sale in all of the East Vancouver communities with brilliant interior photos, property descriptions, real estate video tours and Realtor contact details.
For those that run WordPress blogs out there, be sure to also check out myRealPage fully indexable WordPress IDX and Listings plugin for our supported regions in Canada and US.
If you are interested in finding out more, give our sales a call at : 1-888-478-8797 or drop us a line to sales@myrealpage.com