FREE Neighbourhood Highlights Widgets plus Address Report Offer
We're excited to share a new — and free — enhancement that has been added to every MLS® listing on your website. And there is another feature you may like to add to capture more leads and build your brand as a neighbourhood expert.

We've been working with HoodQ to automatically provide your site visitors with a neighbourhood snapshot including Schools, Parks and Transit for every listing. You'll see this on all of your listings now!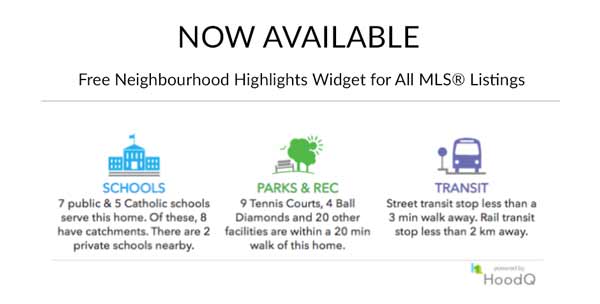 In addition, if you have a HoodQ subscription, we can also automatically provide your site visitors with a beautiful full-page Address Report for every listing. Click here to see a sample of a HoodQ Address Report.
If you don't yet have a HoodQ subscription and are a myRealPage customer, we have secured a Coupon Code for you to get a special deal of 32% off a one-year plan, or 32% off your monthly plan. 
Simply visit this page on HoodQ.com, and fill in your information. The discount will automatically be applied if you are a myRealPage customer.
We are happy to provide this special offer to you, since a HoodQ subscription provides you with a long list of benefits, including:
Unlimited reports for any address in seconds

Reports automatically display agent branding

Address Reports

School Reports

Detailed Reports

Free Address Report Add-On to Neighbourhood Highlights Widget for EVERY MLS listing on your site

HoodQ Reports can be used for a multiple of sales situations, such as:
Open House Showings

– where HoodQ Address Reports™, Detailed Reports™, and School Reports™ can be handed out to attendees

Buyer Tours

– where agents can provide reports for properties in advance of the tour 

Listing Presentations

– to allow the agents to stand apart from the competition with HoodQ Reports for the listing clients' address

Lead Generation

– where agents can offer to create reports for any address, capturing new leads as they go

Once you have a HoodQ subscription, all you need to do to connect your Address Report Add-On.

3 Easy Steps to Connect the Add-On:
Sign into your

HoodQ account

Click "My Account" in the left hand menu

Enter your website address and click "Connect"
This is what you'll see when you go to enter your website address: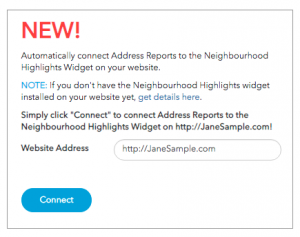 Then have a look at one of your listings on your website and you'll see the new View Report Now button in your widget!