How to Reignite Your Real Estate Email Marketing Strategy for 2022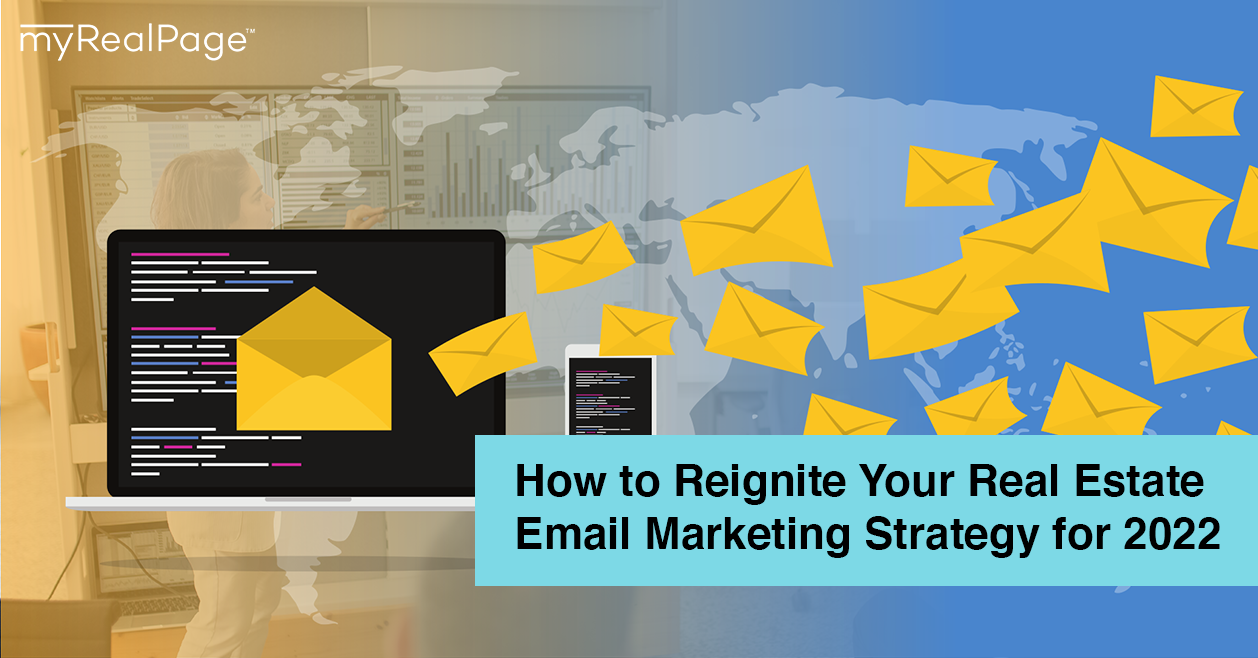 If you've fallen off the email marketing wagon, you're not alone.
There are a lot of marketing strategies competing for your attention — Instagram, TikTok, blogs, ads. Email marketing doesn't have fun filters or choreography, but it does have plenty of other things going for it.
Namely, its effectiveness.
Email marketing works. Consider the following stats:
78% of marketers have seen email engagement increase in the last year

89% use email marketing as their primary channel for getting leads

4200% is the average return-on-investment when it comes to money spent on email marketing

59% of people say that marketing emails influence their purchase decisions
Maybe it's time to get back on the wagon and make real estate email marketing a part of your 2022 real estate marketing strategy.
Here's how.
Plan to send different types of emails
There's not just one kind of email. Your real estate email marketing strategy should include different types of emails, each with a unique purpose.
We recommend these three types of emails for real estate agents:
An email sequence
Also known as a drip campaign or drip sequence, an email sequence is a series of scheduled emails intended to help nudge a lead along the path to becoming a client.
Most sequences start when someone signs up for your email subscriber list. A welcome email is typically the first email in the sequence. For real estate agents, the second might be about current listings and an invitation to get in touch for more information. The third might contain resources about buying and selling, with a call-to-action to watch a video or read a blog post.
Every email is scheduled to deploy a certain number of days apart.
A newsletter
The most common type of email marketing is a newsletter. Your real estate email newsletter might be something you send weekly, bi-weekly or monthly. It typically features a mix of content, such as fresh listings, a link to a new blog post, details on an upcoming open house and a spotlight on a local business.
The goal of sending a regular newsletter is to build familiarity with your recipient list and make sure that they think of you when they (or someone they know) need a real estate agent's services.
Announcements and invitations
These types of emails are occasion-based, meaning they don't follow any set schedule. You might send an email about an exciting new listing, or to invite your subscribers to attend an open house that weekend. It's a way to try and encourage immediate action.
Refresh your template(s)
Email marketing design has come a long way. Today's email templates are clean, bright, and eye-catching. They have embedded GIFs, memes and interactive elements. They engage the recipient.
Reignite your real estate email marketing strategy by refreshing your email templates. Have some fun with it, and reimagine what your real estate emails could look like. 
Pick your platform
If you're not already signed up with one. We recommend Mailchimp, Moosend and ConvertKit — all powerful (and popular) email marketing platforms with all the features real estate agents need. Like easy-to-use editors, A/B testing (more on that in a minute), segmentation (so you can organize your subscriber list according to different characteristics) and more.
Create a few different templates
It's good to have options, especially since you'll be sending different types of emails. You should have a different template for each email type, and then a couple variations of each to keep things feeling fresh.
Within each template, make sure you have options for customizing as needed — you want the ability to move things around, change colours, introduce new components, or remove existing ones.
Just make sure to keep your real estate branding at the forefront — you want your recipients to know and recognize your brand.
Get design help
You don't have to go it alone when it comes to designing templates. You can find freelance designers and email marketing specialists (freelance talent websites like Upwork can be a good place to start) who can help you bring your vision to life. It's a worthwhile investment.
Decide on a schedule
Before you start planning what kind of content you'll include in your email campaigns, first decide how often you'll send them out.
This helps you establish a frequency and schedule that feels manageable, which means you'll be more likely to commit to it. It will also help you decide on what kind of content you want to include.
Here are a few things you'll want to consider when establishing your email campaign schedule:
What types of emails are you sending?

If you want to create an email sequence, you'll need to pre-plan the cadence. If it's a newsletter, you'll want to decide on the regular frequency.
What do you realistically have time for?

While an email sequence is something you build in advance and only edit as needed, newsletters, announcements and invitations require work every single time. You don't want months to go by between emails, but you also need to be practical about how much time you can dedicate to creating them.

What do your subscribers want?

Put yourself in the shoes of your recipient — what kind of frequency strikes the sweet spot between keeping in touch and not being bombarded? Emails that arrive too frequently will likely feel like spam to your subscribers. Emails that arrive too

infrequently

may not see results.
Use new strategies to encourage sign-ups
Your real estate emails may be useful, engaging and eye-catching, but none of that matters unless you have a healthy list of subscribers who could become leads.
If you're going to fire up your real estate email marketing strategy this year, you have to think about creative ways to attract sign-ups. Such as…
Landing pages
Brainstorm an offer that would entice visitors to give you their information and permission to be contacted in exchange. Then, create a special website page specifically for this exchange.
The offer is called a lead magnet; the page is called a landing page. And this combo is highly effective for building your subscriber list. Here's a guide to real estate landing pages.
Open houses
Paperless open houses are a great way to make your open houses more efficient — and to more easily capture contact information for leads. 
By creating a Google Form or using an open house app for open house attendee sign-ins, you can add a checkbox for attendees to confirm their subscription to your email list.
Social media sneak peeks
Think of this idea like a breadcrumb approach. You'll drop just a little crumb of email content into your Instagram Stories, for instance, in hopes that your followers will be hungry for more. If they are, they'll have to visit the link in your Instagram bio, where they can then sign up for your newsletter to get the whole thing. 
You can show a snippet of a video, tease some juicy real estate news or updates, or give a sneak peek at a wow-worthy upcoming real estate listing — with the rest only available to newsletter subscribers receiving that week's issue. 
Analyze and experiment
Real estate email marketing is not a set-it-and-forget-it kind of marketing tactic. To get the results you're after, you'll need to constantly analyze and experiment.
That means doing things like… 
Using A/B testing

. Every major email marketing platform offers senders the ability to A/B test certain components of their emails. This means sending out two different versions of the same email — with different subject lines or calls-to-action, for instance — to subsets of your subscriber list and seeing which performs best.

Reviewing the results of every campaign.

For every single email you send, you'll want to review insights including the open rate, click rate, and unsubscriber rate.



Trying different tactics.

Once you have sent enough emails to get an understanding of your email marketing performance, you can experiment with different strategies to see how the results differ. This could include changing up your templates, trying a different style of subject line, including more or less content, switching up your CTAs, and playing around with the days and times that you schedule emails to deploy.  
Have you given up email marketing for your real estate business? Why or why not?