Information Regarding Up Coming Changes To Pricing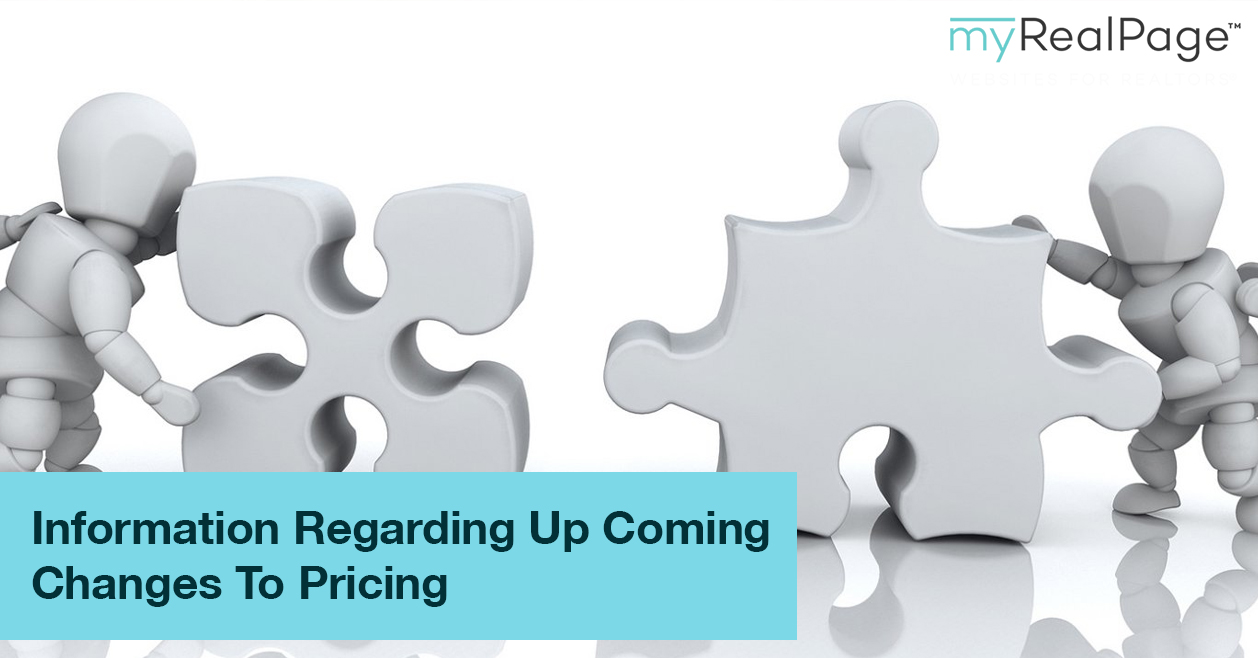 It is nice when things stay the same. But alas things are always changing.
In the case of myRealPage and our suite of products we offer to help Real Estate Professionals market their services there has been an abundance of change over the past few years.
But there is actually one thing we haven't changed in 10 plus years. Our price. We offer the best value for what you receive. We have reluctantly realized it is time and feel we still offer the best value.
We debated various increases but realized we really only needed the smallest of increases. So on November 1st, 2012 we are adding $5 a month onto each product other then the WordPress plugin. The WordPress plugin has been in beta for some time now, but it ready to make its entrance to the world. Our intention all along was to charge the same for the WordPress IDX plugin as our website package as it takes the same amount of support on our end to ensure all goes well.
If you have created your myRealPage website within the past 12 months you will continue at current pricing until the end of your first year. So if you joined on March 1st, 2012 you will pay current pricing until February 28th, 2013.
This still makes us the best priced product available for everything you get from the myRealPage suite.
Why the increase? In the past 10 years we have worked hard to develop the product, increase the feature set and make sure you are receiving the best product you could ask for.
We feel we have worked hard to stay ahead of the curve not just keep up.
What are these features that put us ahead of the curve you ask?
MLS Search Tools – from day one we knew searching real estate was the crux of any website. We have and will continue to bring you the most advanced MLS search tools you can offer consumers.
Mobile Sites – We added our mobile offering including the GPS powered mobile search tools. In fact this is now in its second version and better then ever.
Listing Views – How well consumers can view images and details of a property online dictates how likely they are to request a showing. We get this, and work hard to make sure it is happening.
New Private Office – we recognized the previous back end was not as friendly as it should have been and we took action.
Social Media integration – before it was as trendy as it is now we saw the writing on the wall. We integrated early with the major social media networks and continue to do so.
What's on the agenda in the coming months?
Enhanced and brand new themes – we have some beautiful versions of our current themes coming soon and awesome new themes in development.
Further Improved Private Office – we have already made a huge leap forward in usability and offer the most manageable websites thanks to our Private Office. There are more improvements coming!
Improved Support and Customer Service – Amazing service is hard to find. Making your life easier is our goal and we are taking it seriously.
We plan on blowing your mind with our customer service improvements.
Improved SEO – while most myRealPage clients are receiving their fair share of traffic from the search engines, we have identified a few areas we can even further enhance this.
And plenty more I wish we could tell you about…but know that 2013 is going to be a year full of exciting announcements and you having the best website product you can find.
We won't rest until there is no doubt of this.
Any questions about the price increase can be asked below or you can reach out to us by phone 1-888-478-8797 or email support@myrealpage.com.