Introducing Listing Tools, new wizard for Embeddable Listings and IDX, Mobile Links + QR Codes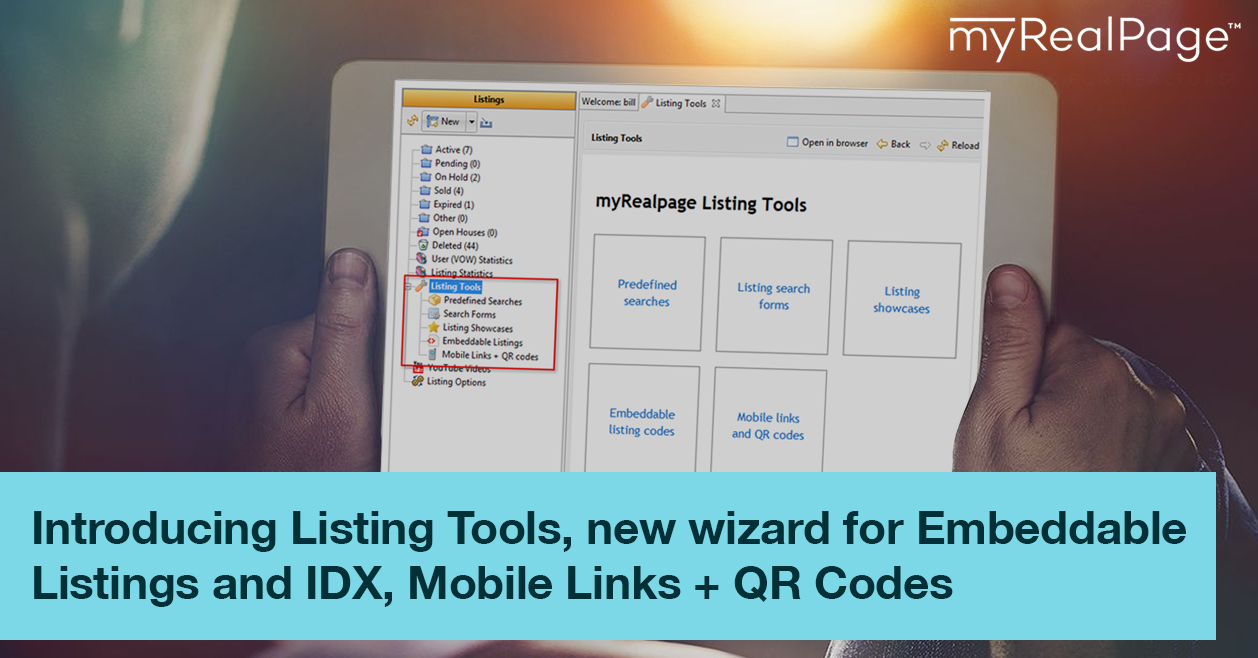 We are very pleased to publish a very large update to the myRealPage Listings product. The update covers a pretty wide area and introduces new functionality, boosts existing features, and improves user experience. myRealPage has been long offering a very powerful set of listing tools and features; and today's updates are designed to let you take advantage of these easier and faster.
When you login into your Private Office, you will notice the new changes in the "Listings" section:
Here is a quick look at these 5 main sections:
Embeddable Listings and IDX wizard:
Embeddable Listings and IDX is an advanced toolkit from myRealPage which allows you to embed a powerful Listing Search engine (IDX) and a fully featured Virtual Office Website (VOW) in a 3rd party website, such as WordPress, Joomla, or even if a website is with another real estate website provider that lacks these features. It has proven to be a flexible option for many who want to take advantage of myRealPage listing functionality but continue running their existing websites.
The new Embeddable Listings wizard is a veritable powerhouse of options now. If before, you had a limited set of embeddable listing scriptlets, now you can configure very exactly what sort of listing content you would like to embed, including:
Your listings, including custom categories, etc.
Predefined searches
Hand-picked listings combined with your listings or searches
An individual listing
A search form
You can also fine-tune how your listing content will appear by setting a theme, template, custom width and many other options.
We have also made sure that this wizard allows you to create and edit your Predefined Searches and Search Forms right in place, without needing to go to the Private Office to do so.
In addition, we have "webified", this wizard so that you don't need to login into the Private Office to access it. If you prefer to use this wizard outside the Private Office, simply follow this link to login into your wizard in your web browser.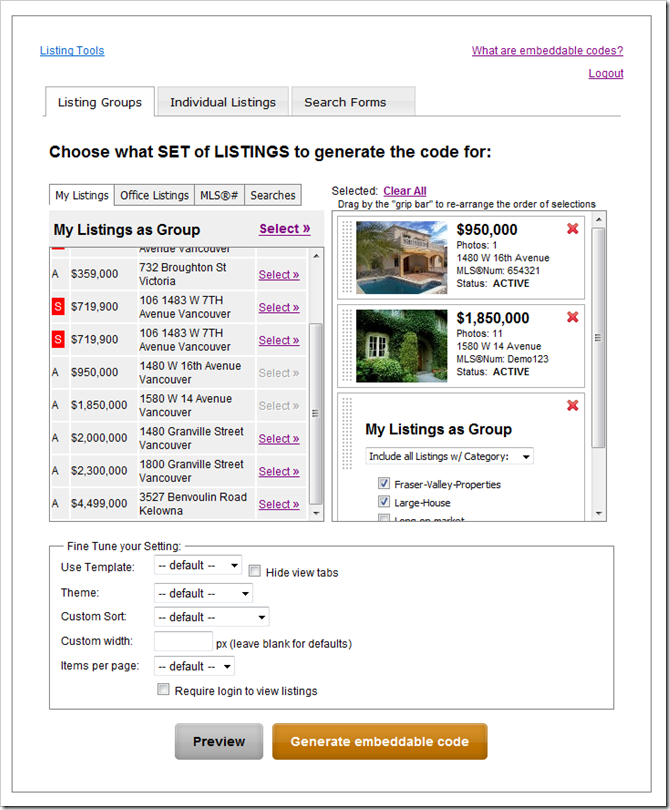 Mobile Links and QR codes:
myRealPage has always taken mobile very seriously and has been offering free mobile listing tools for all its customers, those that do and don't have myRealPage websites. myRealPage also released powerful, simple to use, fully editable Mobile Websites which can be tightly integrated with your regular website.
We have also created easy tools for our customers to access and use QR codes for listings and contact information. QR codes are a great way to publish mobile friendly content to smartphone users.
We have now combined all the mobile links and QR codes into one coherent interface where you can get mobile links to:
Your listings
Office listings
Mobile listing search
Individual listings
and a QR code for your contact information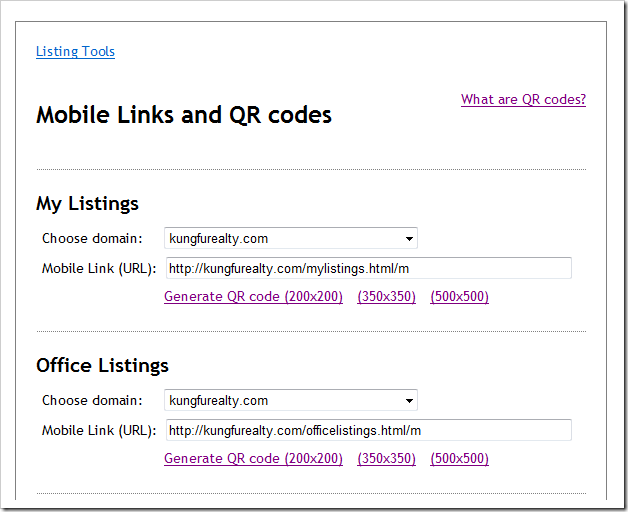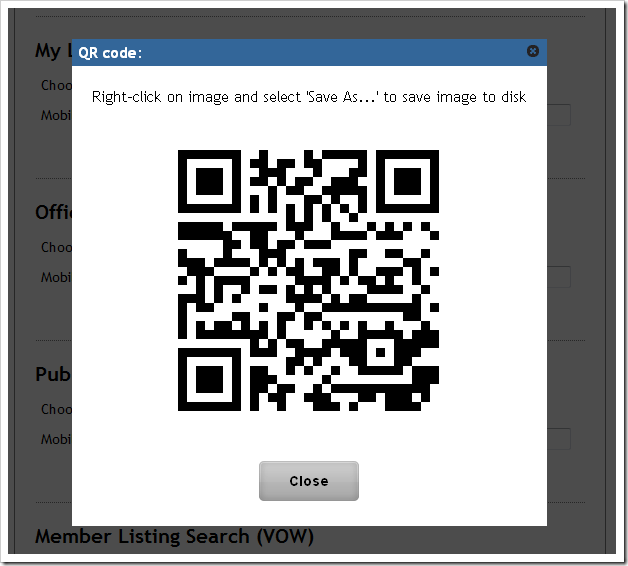 Predefined Searches:
Predefined Listing Searches have been very popular with myRealPage customers: they allow you to create "canned" search pages with listing results matching a particular set of criteria. You can create searches, like "Luxury Downtown Condos", or "Core Area Lofts", etc. The new interface allows you easily browse, create, edit and preview your predefined searches.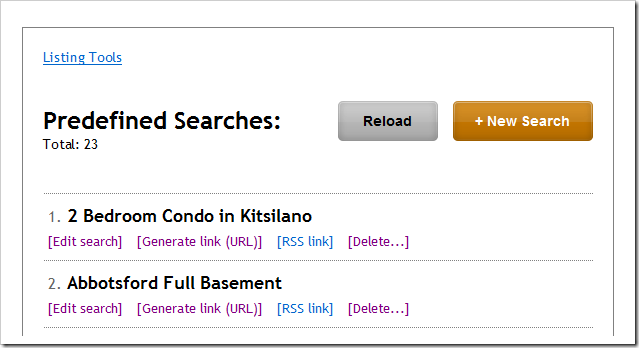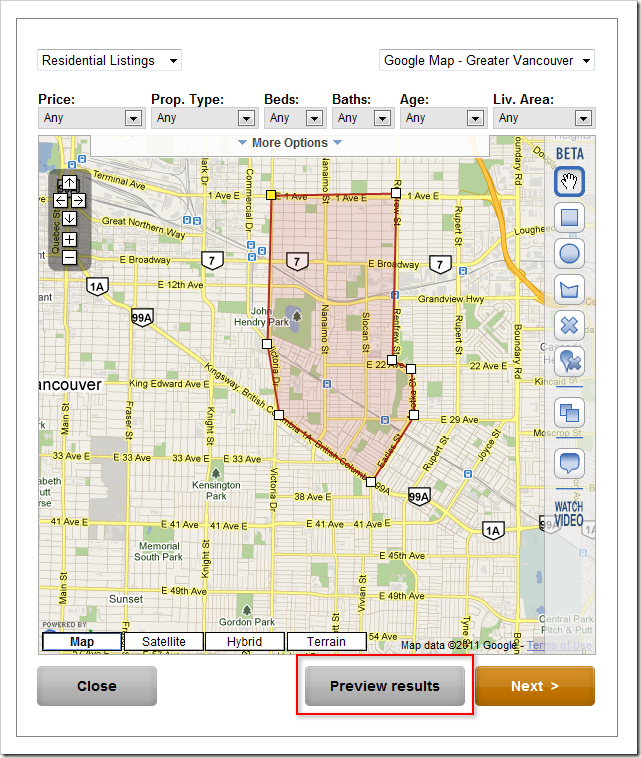 Note the new "Preview results" button in the Predefined Search wizard: it should allow you to easily verify that the search is producing desired results.
Search Forms:
Search Forms are a great way to create a specially pre-configured listing search formes for your website that accurately reflect your niche market and audience. For example, if you specialize in a particular neighborhood or types of properties, you can easily configure your search form to have those types of properties and neighborhood areas pre-selected, so your visitors start interacting with your listing searches right away.
The new screens allow you to quickly and easily manage your Search Forms: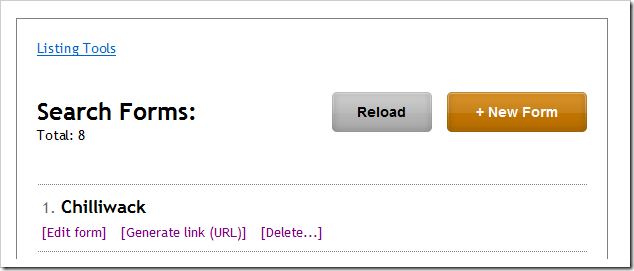 Listing Showcases:
Listing Showcases are a great way to publish and advertise various groups of listings or individual listings via a variety of formats, such as:
Listing slideshow with and without Flash
Listings on a Google Map
Listing grids
Horizontally sliding listing bands
Simple featured listings
These showcases can be created based on your listings, a predefined search, or a combination of hand-picked listings. They can be embedded in your website or any other website.
The new interface allows you to quickly and easily manage these showcases: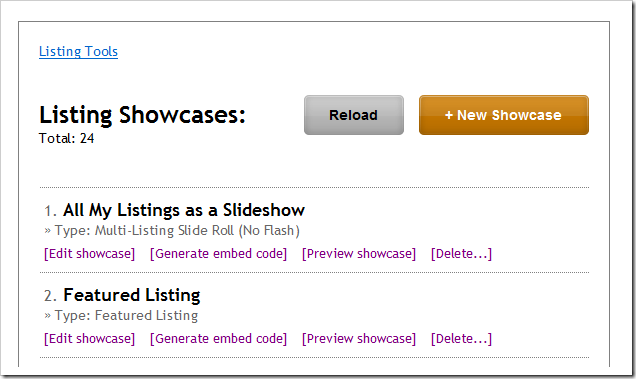 We hope you will find these updates useful and easy to use. We would love to hear your feedback: simply leave a comment here to drop us a line at feedback@myrealpage.com
— Brought to you by myRealPage.com