Listing Details: new support for Floor Plans, better Rich Media and fine-tunable Street View and more…
We have just published a bunch of updates in our systems to give you more choices and better streamlined features when it comes to giving your listings the best online treatment possible. Please note, that these changes are available only in our Web Private Office; please fire up your Chrome, Safari, or Firefox and check it out if you haven't yet: http://private-office.myrealpage.com
NEW DEDICATED SUPPORT FOR FLOOR PLANS
We now have a separate tab in the Listing Editor specifically for Floor Plans. Previously, you had to manage your Floor Plans through the Listing Documents which didn't get proper visibility in the listing details views and one couldn't look at the floor plans without downloading them. With the new Floor Plans tab, you can easily upload all your Floor Plans in one convenient location; and you can also customize the label for the dedicated tab and even enter an optional introduction text. In addition, if you upload PDF documents of your floor plans, they will be shown inside the page without the visitor needing to download them: less time spent fumbling with the documents and more on your listing page.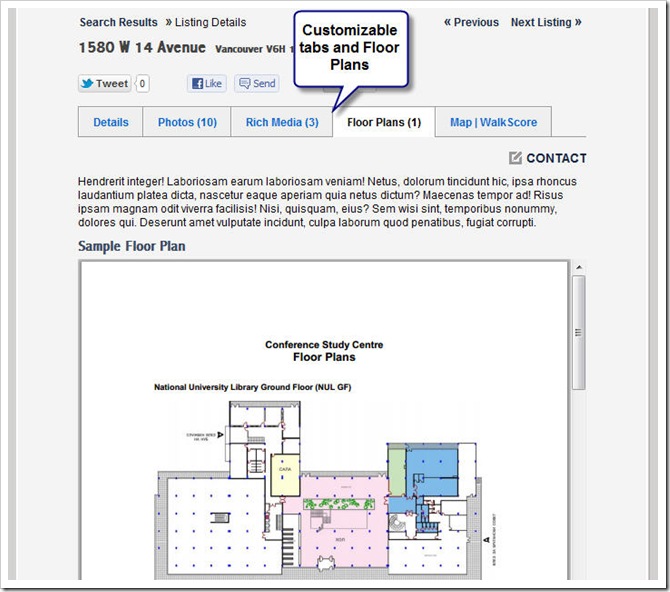 New dedicated Floor Plans tab in Listing Details.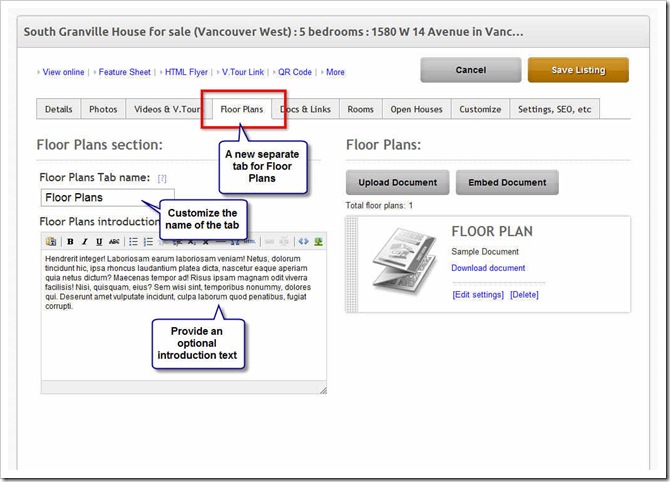 New "Floor Plans" support in the Web Private Office: everything you need in one convenient location
BETTER SUPPORT FOR RICH MEDIA (VIDEOS, VIRTUAL TOURS)
We have also streamlined how you add and manage your listings' videos and virtual tours. Both are now combined into one list; and we have also added the ability for you to change their default tab label, as well as add an optional introduction text. You can also use this facility to change your "Videos | V.Tours" tab into something completely different, like a tab dedicated to the listing's neighborhood, with its own text, pictures, and videos.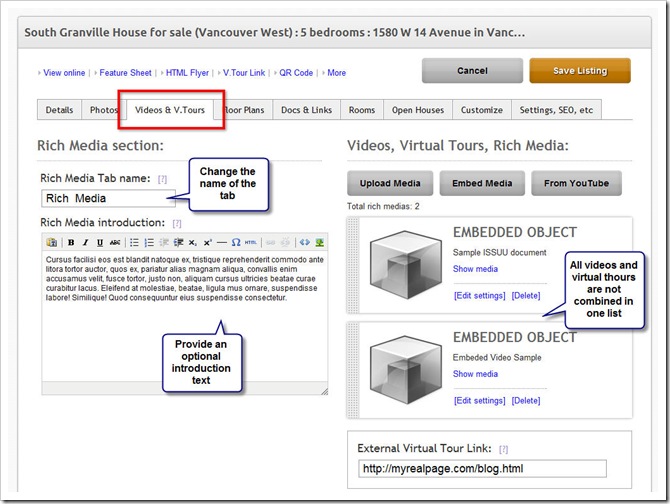 New Rich Media support in the Web Private Office: more flexibility and convenience
FINE-TUNING DIALOG FOR GOOGLE STREET VIEW
It is obvious that you would like your listing to have best possible presentation online. You can now use our integrated, convenient dialog to fine-tune how the Google Street View of your listing looks online. You can simply launch this dialog and use the standard Street View controls to zoom in, pan and rotate the view to get the best possible look of your listing. Our system will remember exactly what you have done and will apply it to the listing.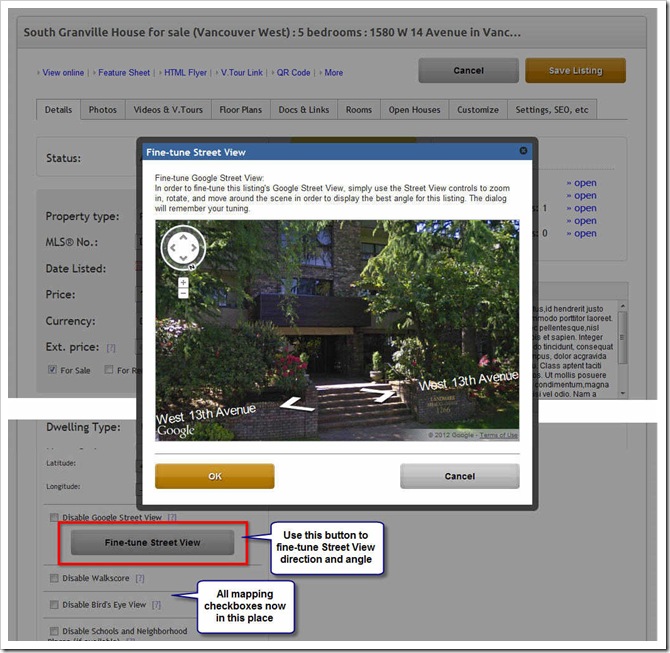 New integrated Google Street View dialog for fine-tuning
STANDALONE VIRTUAL TOUR (MEDIA) PAGE FOR YOUR LISTING
We have long offered a standalone media presentation for your listing which you can add to your listing's information in the MLS® system. Many MLS® systems allow you to submit such external links to feature virtual tours, images, etc. We have modified this listing presentation to include Floor Plans support, better image gallery and more.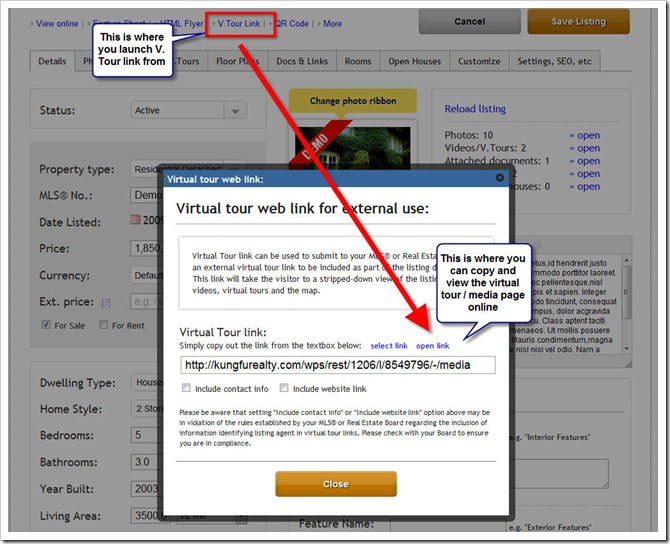 How to access the Standalone Virtual Tour / Media page in the Web Private Office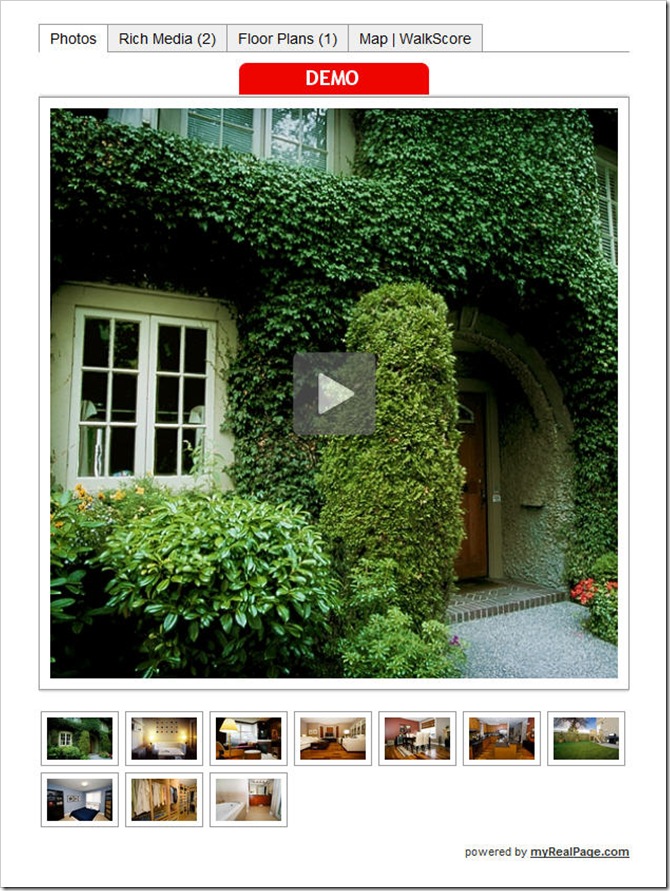 New streamlined look for the Virtual Tour / Media page for your listing.
---
We hope you will enjoy using these new features as much as we enjoyed building them. Let us know what you think: feedback@myrealpage.com