Listings: Images, Videos, Virtual Tours, Banners, Galleries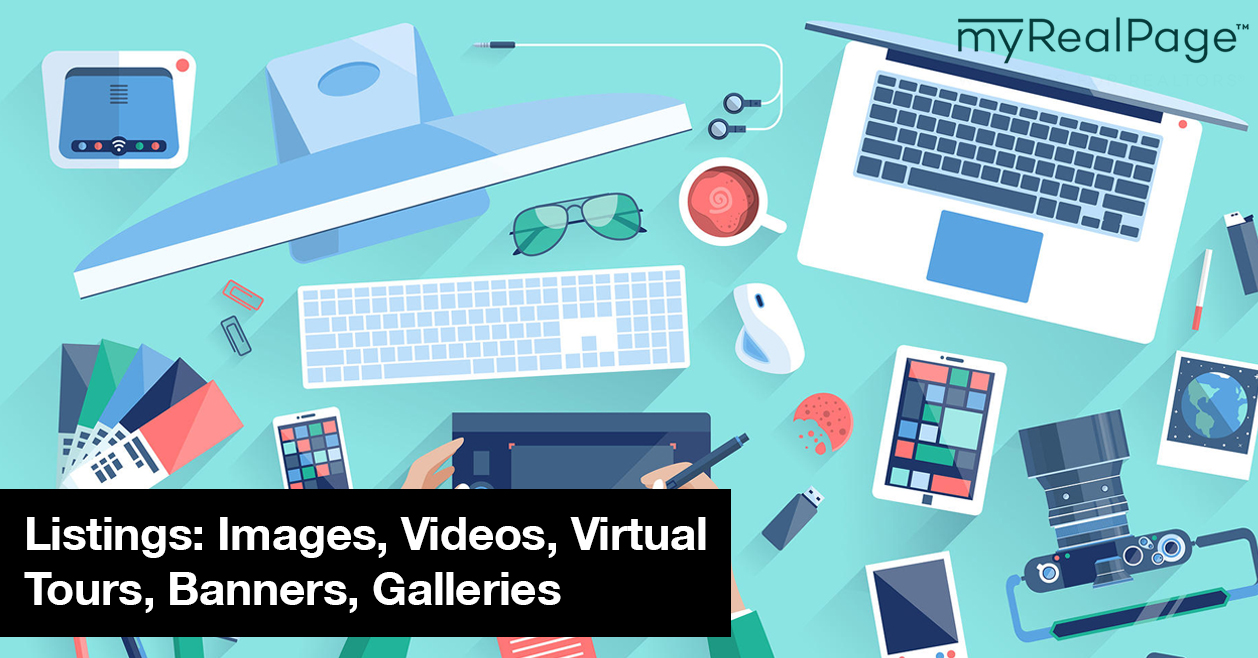 MyRealPage has just made a major update to its Listings System. The focus of this update was listings media: images, videos, virtual tours, banners, galleries, mapping, etc. It is hard to over-estimate how great of a role the visual media play in promoting your listings, so we wanted to give you the most flexible and attractive way to package your listing visuals and present them to your web public. Here, we'll give you a brief overview of the new features and we will continue to publish additional HOW-TOs on specific scenarios which you may encounter.
Flexible Handling of Auto Imported and Manual Photos
Most of our customers enjoy the benefits of auto imported listings. These listings come with photos, but, the quality of the photos often varies by Real Estate board system; and this quality may not be satisfactory if you want to showcase your listings. Now, you can take full control of your listings photos:
Add photos to the already imported listing photos, and re-order the photos. If your listing is co-listed, the co-listing agent will not be affected by your ordering choice or your additional photos.

Fully disable auto-imported photos and upload your own versions of the photos. We support higher photo resolution for better quality than most Real Estate Boards.

Convert imported listing photos to manual and edit them by removing unwanted artifacts, such as borders, white bands, etc.
Online photo editing
We have extended the photo editing capability which we have recently introduced into our Website System to your listing photos. You can now edit manual photos online: it's especially useful if you want to remove unwanted borders or "bands".
Six photo galleries to choose from
You have the ultimate control of how you would like to present your photos. We have packaged 6 different galleries: 2 javascript based ones, and 4 flash based ones to give you a wide range of photo presentation possibilities. The galleries can be easily changed for Listing Results or Listing Detail views independently. The Gallery Picker can be found in Listing Options.
Upload or Embed up to 9 Videos and up to 9 Virtual Tours
You can now feature Virtual Tours and Videos about your listings which you can either upload or embed from other video websites. There are up to 9 available slots for Virtual Tours and 9 for videos for a total of 18 (we think that should be sufficient!). The uploaded or embedded videos can be managed just like any other listing documents in your Private Office.
Create your own custom listing banners
MyRealPage has provided automatic listing banners, such as "NEW" and "SOLD" for some time now, but now you are able to create your own, along with your custom text and your choice of color. This is a great way to feature your listing and make sure it stands out. The banners will show up on your listing photos in both Listing Results and Listing Detail views; and they will also slide out as a tab in your galleries for greater visibility.
New exciting mapping options: Google Earth (in the browser) and WalkScore
We have also added new exciting mapping options which are automatically provided to your web visitors. If they have Google Earth plugin installed (very easy to do), they can experience the total 3D "fly-through" to your property in the Google's Earth virtual environment. This is truly a futuristic experience! In addition, we have integrated with the WalkScore service which shows how "walkable" your listing's location is: it shows amenities close to the property and gives it an overall score:
We hope you will enjoy these new features which are included free of charge in your standard Listings package. (Our customers that have subscribed to our "listings-only" option, will also be able to enjoy all the benefits of these improvements).