How to Make Your Real Estate Business Paperless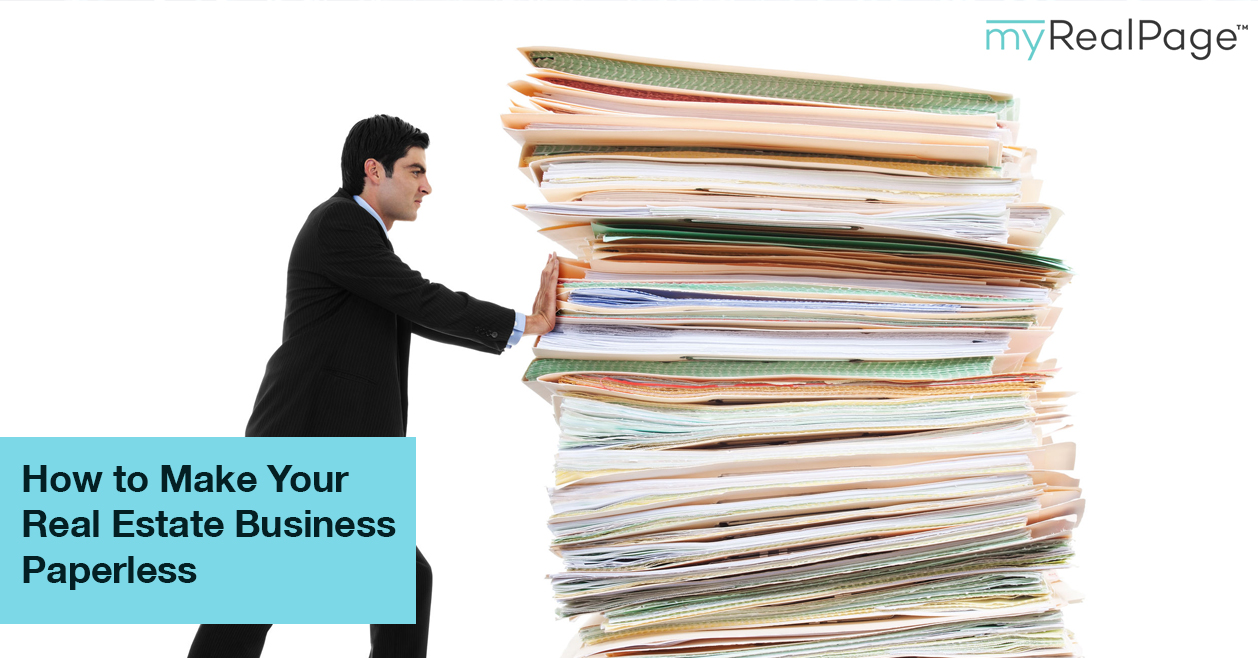 This blog post was updated on 09/02/2017.
A paperless real estate business = a business that uses and stores little to no paper documents.
The environmental benefit is obvious, but there are other benefits for realtors too, like:

Improved organization

Less clutter

Digitized, searchable files

Less scanning and faxing
Going paperless in real estate is way easier than it was six or seven years ago. There's always a new application or tool that promises to reduce the amount of paper you use and produce.
Here at myRealPage, we try to reduce our paper usage by taking advantage of a few of the following options.
Storing and sharing files
If you are going the paperless route, the biggest and most important change you can make is to begin storing and sharing files with a cloud-based storage tool.
(Not sure what we mean by cloud-based? As per Webopedia, cloud-based "refers to applications, services or resources made available to users on demand via the Internet from a cloud computing provider's servers.")
Our favourite solutions for storing and sharing files are Google Drive and Dropbox.
If you have a Google account, then you have access to Google Drive. To find your Google Drive, visit drive.google.com and sign in with your account.
You can use Google Drive to upload and store files from your computer – like documents, spreadsheets, photos, and videos.
You can also use it to create and store new files with Google Drive tools like Google Docs (similar to Microsoft Word) and Google Sheets (which is like Microsoft Excel).

Each user gets 15GB of free storage. That storage is shared with your Gmail account, though, so if you're storing lots of emails with attachments, you might need more space. And if that's the case, it's pretty easy (and affordable) to upgrade your plan.
You can also download Google Drive for your Mac or PC computer, which gives you the ability to sync files in the cloud and on your desktop — meaning that if you or someone else makes a change to a spreadsheet in Google Drive and you have the sync option turned on, that same file will automatically be updated on your computer. Pretty cool.
The biggest reason we love Google Drive? It makes sharing and collaborating ridiculously easy.
Sharing is as easy as entering in the email address of the person you wish to share with. You can give someone rights to make comments, edit, or read only. Then, you can collaborate on files and both be editing at the same time.
From storing to sharing to syncing to collaborating, Dropbox's features are highly similar to those of Google Drive.
In our opinion, the biggest difference between the two is that Dropbox does not offer its own complete suite of tools for creating new presentations and spreadsheets directly in the platform (though it does offer integrations with apps that let you do this).
Dropbox does only come with 2GB of storage for unpaid users, which you may burn through quickly, depending on the types of files you're uploading. If you want to upgrade, monthly plans are available.

Both Google Drive and Dropbox allow you to choose which files and folders are shared with whom, and which are for your eyes only. Both are highly secure, and you won't have to worry about someone accessing your files, unless you decide to share them.
Signing Documents
Once your files are backed up and easy to access and share, what about contracts and signatures? Do you still need to print, sign and scan these back into the computer?
That depends. Some contract senders will specify that an ink signature is required. But, in the modern era, most will allow documents and contracts to be signed with a digital signature (also called an eSignature) which, if you go with the right provider, is considered 100 per cent legally binding.

Docusign, HelloSign, Adobe Sign and Eversign are amongst the most popular tools for creating your own eSignature. Many digital signing tools offer integration with other tools, like Google Drive and Dropbox, and even make it possible for your clients to sign documents via a tablet, in person. This saves you from using a printer and scanner when you're handling offer negotiations.
Keeping Track of Meetings
For those of us keeping it vintage with a paper calendar, the time is now to make the switch to an online calendar.
An online calendar enables you to make changes to events, dates and times on the fly (no more scribbling out, or erasing).
Our preferred online calendar, Google Calendar, makes it possible to share calendars with multiple people. You can invite people, making meeting invites a cinch. It also offers its own mobile app and integrations with other tools, transforming it from a simple calendar to a fully fledged digital tool.
Other options for paperless calendars include the calendars available as part of your computer operating system, such as Apple iCal and Calendar for Windows, but Google Calendar offers more extensive capabilities.
Have you become a paperless realtor? What tools do you recommend?