MyRealPage lets you put videos and photos into a "Media Wall" gallery; brings YouTube to your Private Office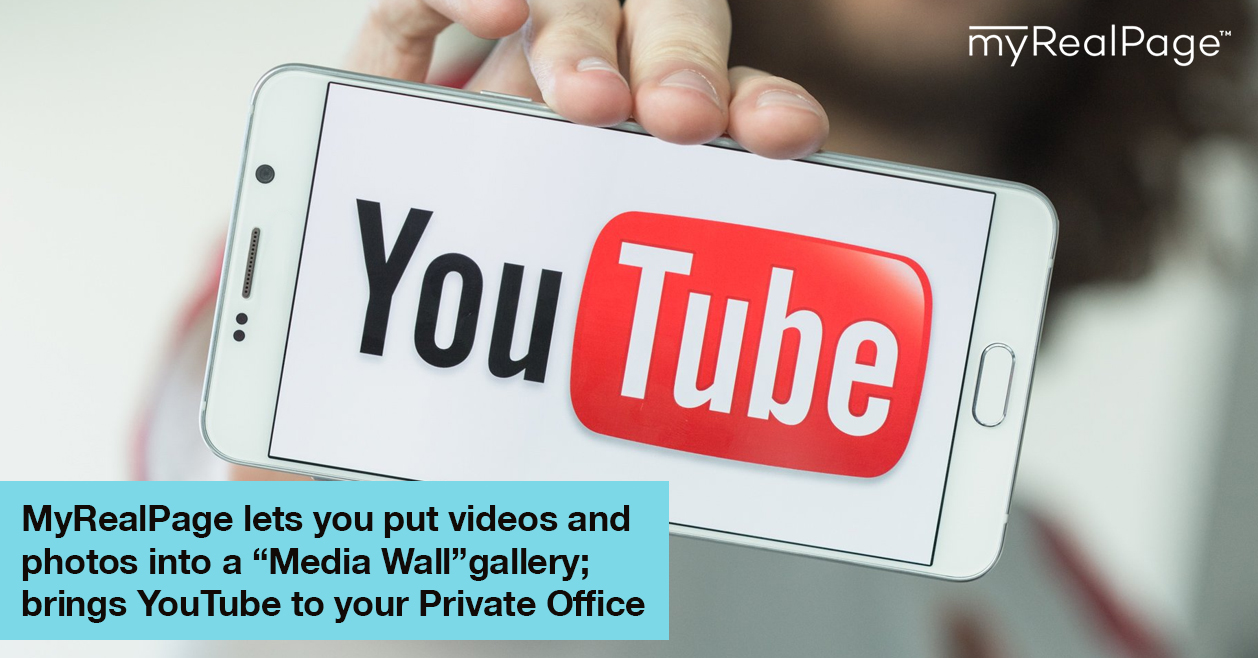 As your website increasingly becomes more media rich with photos and videos, we decided to make it easier for you to create great looking video and photo presentations, as well as manage your videos without leaving MyRealPage Private Office. in the past, MyRealPage has given you the ability to pick and choose a photo gallery for your listings; now, we are making it easy to create video and photo galleries and put them anywhere you like on your website.
"Media Wall" gallery
Below is an example of a Media Wall of MyRealPage videos on YouTube (it's a live example for feel free to browse and watch the videos, but keep in mind that most of them are without soundtrack):
Media Wall has been created as a weblet available to anyone with MyRealPage Website subscription. It allows you to display your YouTube videos, Flickr or Picasa photos. The videos and photos are presented in a user friendly gallery with the ability to play the videos right inside the gallery. The content of the gallery can be further refined by specifying tags or keywords to filter on. The helpful "Search" field in the gallery allows you to highlight any photo or video whose description matches what you are looking for. The gallery is powered by CoolIris which we have also incorporated as a Listing Gallery option.

Media Wall weblet will let you customize the gallery presentation, including the color, number of rows, etc. It will also helpfully preset the optimal width of the gallery based on where you are trying to insert it in your website.
YouTube: manage, upload and record videos from the Private Office; easily embed in your Listings and Website
In addition to the Media Wall weblet, MyRealPage has made it extremely easy to manage, record and embed your YouTube videos right within the Private Office. Here are some highlights:
Quickly access your YouTube videos, record or upload them right in the Private Office. There is no need to give MyRealPage your username and password: we are using special YouTube data API and you will be asked directly by YouTube to authorize our access to your videos (you will need to be logged into YouTube for that)
Nicely integrated "YouTube Picker" dialogs for embedding YouTube videos in your Listings or Website without the need to copy-and-paste anything. This picker has been plugged into your Listings and Website in all the places where you are likely to add videos. We have also added a new "Embedded Video" weblet to make things even easier
Helpful "wizard" to configure your YouTube video for embedding, including suggesting optimal size, helping you set standard or wide aspect ratio, controlling "suggested" videos display at the end of the playback, automatically enabling HD high definition playback if available, and more.
We hope you enjoy these new additions!
— Brought to you by MyRealPage.com
Some screenshots highlighting the new additions: