MyRealPage overhauls Virtual Office Website forms, weaves into public searches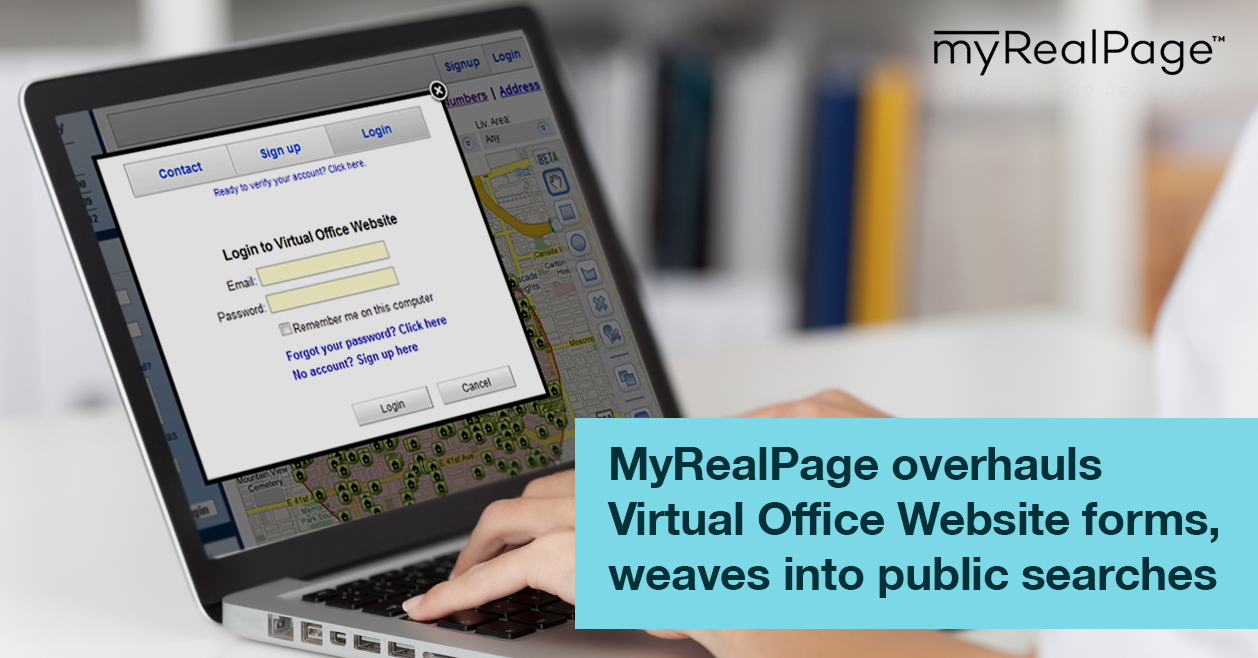 MyRealPage has overhauled all of its Virtual Office Website (VOW) forms and made the whole VOW signup "choreography" a great deal simpler. The motivation behind the update was to make the signup and login process for the Virtual Office Website (VOW) as easy and fun to use, as possible. The new forms have been brought in line with the new "lightbox" look-and-feel and appear in-place in the webpage without the need to navigate to a separate place to login or signup. It is now possible to complete the entire signup process without leaving one page. A considerable amount of attention was paid to ensure that the web user was given the most expected user interface interaction and the easiest path to become a member.
Besides the visual and functional overhaul of the VOW forms, they were also tightly weaved into the public search pages (Reciprocity). In fact, it is now possible to structure the entire website without having a separate "Members Only" link but rather advertise all signup paths via public searches. The "Members Only" link can still be used for regions where Reciprocity is not allowed by the local Real Estate Board, or if the website owner chooses to "lock down" listing search access and make it available to registered users only.
The VOW forms not only sport a new fun look-and-feel, but also provide an in-depth functionality; such as, among other:
In-place lightbox effect with animations; their focus makes the signup and login flow very intuitive
Fully automated password recovery system
Fully automated signup process with the option to verify account via an email link or in-place
Tight integration with saving searches while not logged in or signed up
Tight integration with all "lead-in" links that invite a web visitor to become a member, such as "Add to Favorites"; the web visitor will never need to navigate away from their current page
Fully automated account expiry extension system
Intuitively presented options for the user in case of the account being unverified, locked, or expired

Helpful support of logged in VOW users when they try to use other listing forms, such as "Listing Inquiry" or "Email Listing": they don't need to enter image verification codes and their personal info is pre-filled.
We hope you and your web visitors will enjoy the new forms. This functionality will benefit all current MyRealPage subscribers, as well as "Listings Only" customers.
–Brought to you by MyRealPage