MyRealPage widgetizes its entire Listings and IDX product: beta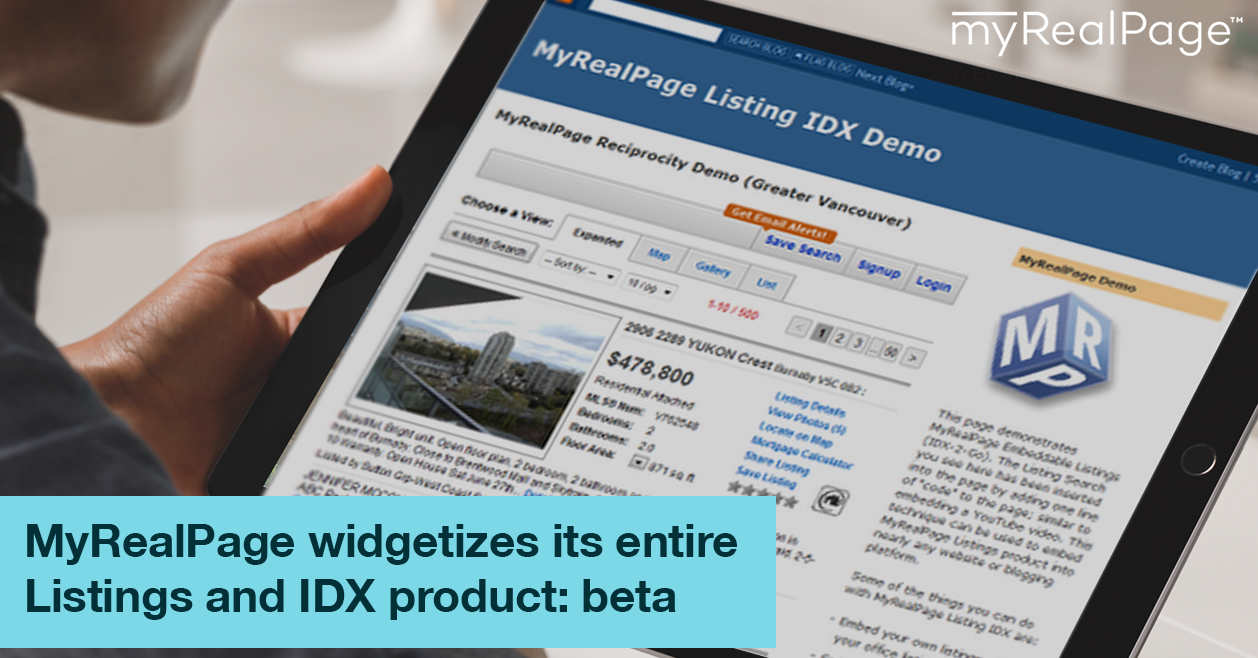 MyRealPage plug-and-play listings for WordPress, Blogger, Point2Agent, Joomla, Drupal, or any other website. Pop it in like a YouTube video: simple as that!
Have you ever wished you could pick-and-choose how your website should look and behave and where your website should be hosted by simply picking the best-of-breed plugins and widgets? Ever wished you could avoid the "all-or-nothing" vendor lock-in with some of the providers of real estate websites?
To those who did: we heard you and that's why we have taken our entire Listings and IDX product and condensed it into a series of embeddable code snippets, much like YouTube videos. And much like YouTube videos, you can now simply embed any section of your Listings with MyRealPage into any page on your website hosted on WordPress, Point2Agent, Blogger, Joomla, Drupal, or any other*. Isn't that what the Web2.0 mashup promise was about? Except, in our case, the typically small "widget" is a full-blown smart application with lots of features, pages, forms, galleries, google maps, walkscore, etc: all rolled into a single line of embeddable code. How is it better than "framing" an IDX, you may ask? Here is a quick list:
Fully integrates into a "hosting" page with a single line of javascript code
Eliminates ugly double scroll bars or very tall pages that try to work around the ugly double scroll bars
Back button support on most modern browsers
Full CSS support to fine-tune the listings look-and-feel to match your website's.
Auto-boxing support: you can configure our Listing pages to auto-box themselves into your website when invoked directly (e.g. from emails)
Separate code snippets to embed "Your Listings", "Office Listings", "IDX/VOW Search", your Pre-Defined Searches, and your Pre-Defined Forms. Each of these can be on a separate page. It's easier than ever now to create a section of your website dedicated to a neighborhood and plug in your relevant Pre-Defined searches there (remember, you can create as many of these with us as you like; for free!)
We hope this new product feature will be of most use to those who subscribe to MyRealPage "Listings-only" product (which incidentally includes iPhone/Android mobile support) and also to those who maintain more than one website and want their listings to be on all of them. Our listings pages integrate seemlessly with the websites we host ourselves, but we do recognize that there can be many reasons why you may decide to host your website elsewhere or have more than one. We also recognize that many take this decision very seriously: I found that it's especially true for those who embrace WordPress. This new feature is designed to support your choice and ultimately give you more freedom and let you avoid various forms of vendor "lock-in".
Here are a few examples of our Listings running on various platforms:
WordPress (bare-bones installation)
I would also like to thank all of our early adopters who installed the widget and provided us with very valuable feedback and observations. It helped us make our first release better. Thank you!
Let us know what you think!
---
* Most of website platforms, open-source or otherwise, are supported, as long as they allow you to embed your own javascript (and if they don't, you are probably on the wrong platform 🙂