New Listing Web Forms and One-Click Leads
MyRealPage has released updates to its Listings Web Forms. The primary focus of this update was to make listing web forms more user-friendly, interactive, and fun for web visitors to use. We also wanted to make it easier for our customers to capture and manage leads generated by these forms. As a result, the following has been put in place:
One-Click Lead Capture: If you have ever found yourself copying and pasting lead information from your notification emails and was wondering if there was an easier way; then you will be pleased to work with the One-Click Leads. Your forms will extract all lead information, including details on how the lead was captured and give you a simple link in the notification email which you can use to easily review and create the lead (don't forget that by using Outlook Synchronization and import/export functions in the Lead Manager in the Private Office, your leads become "portable").
 "Listing Inquiry", "Send this Listing", and "Calculate Mortgage" forms were updated to behave and display in an attractive animated manner.

"Listing Inquiry" forms will perform as expected for Brokers and large Teams with Agent Directory subscriptions. They will display the agent photos from the directory, as well as direct the email appropriately.

Brokers' "Featured Agents" will also be honoured if they were configured to receive listing inquiries; showing their appropriate photos. Tier 3 broker agents will also benefit from Lead Capture links in their notification emails.

Even though the web forms appear and behave in a "rich" manner in the browser, they are also "visible" and accessible to search engine bots; that is, they are SEO-friendly. They can also be accessed and used without javascript.

Our customers with "Listings Only" subscription will equally benefit from the new and improved forms.
Here are a few screenshots that show an example of a Lead Capture: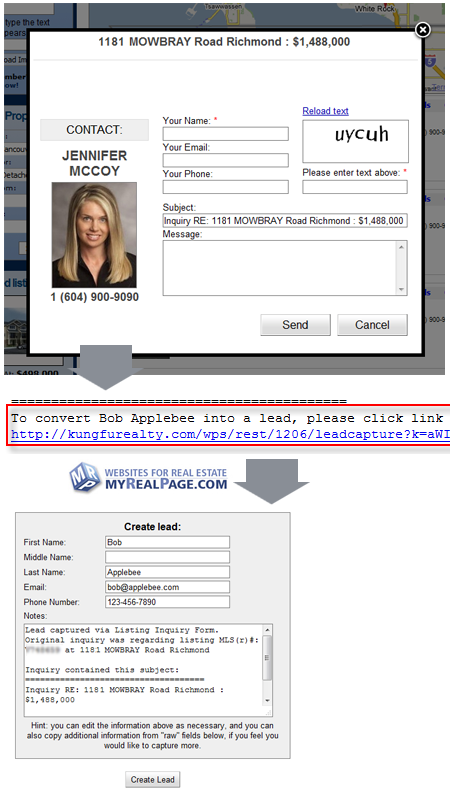 We hope you and your web visitors will enjoy the new and improved Listing Web Forms.
— Brought to you by MyRealPage.