QR codes: a case for an odd case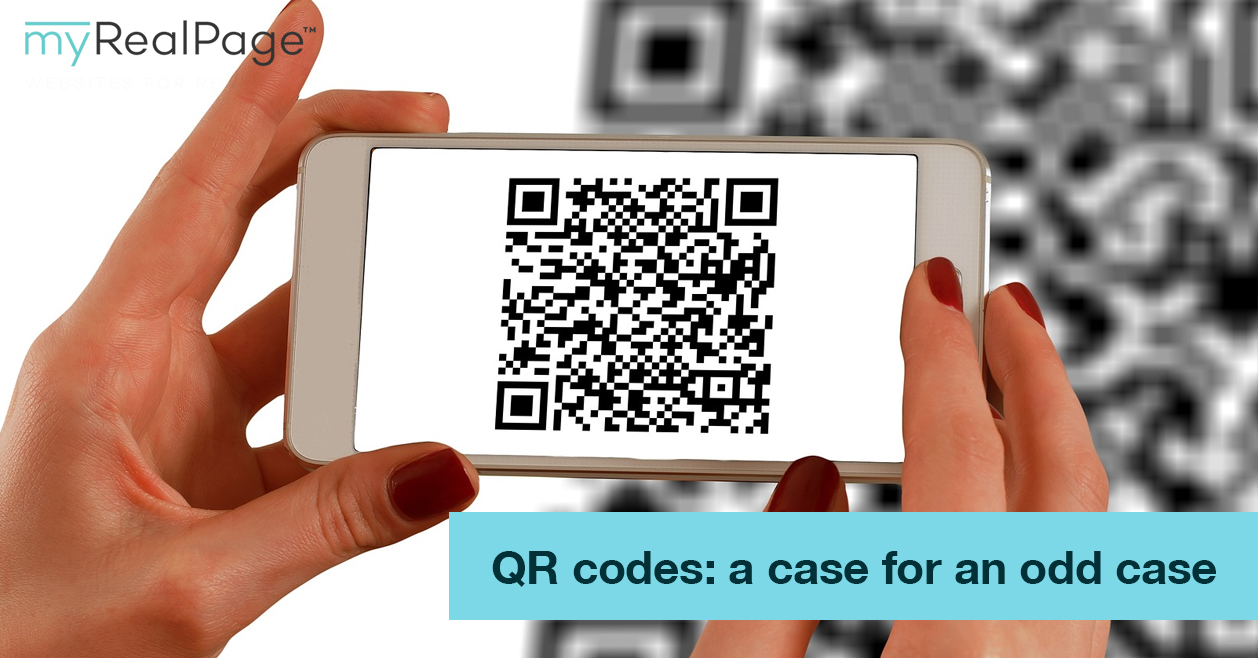 This post looks at some possible uses of QR codes not through the printed media but online; for example, when displayed on a web page.
In case you haven't heard, QR codes are the square looking tags like the one on the right that can be "scanned" by a smartphone, like iPhone, or Android, or BlackBerry via the built-in camera and a QR code application. After these codes are scanned, they are translated by the smartphone into a web link or other structured information, such a contact information.
There was a conversation thread on Twitter that was triggered by a question whether it's valid to use QR codes directly online; say, you display a QR code on your webpage. My immediate reaction would be to say "mostly no", and the arguments for that would go along these line:
If I am looking at a QR code on my computer, I already have access to the information electronically, so there is little use encoding that information into a QR code.  If it's a link, I should be able to simply click it, or bookmark it, or email it. etc.
If I am on a laptop, it's not likely that I would want to look at the information behind the QR code on my mobile device, as generally, my laptop has a larger screen and is more capable than my smartphone (this, of course, is flawed, as we'll see later).
If I am looking at the webpage already on my smartphone, the QR code is also not useful, since I am already interacting with the content.
However, there are indeed cases when QR code is useful even when shown directly online. There are, indeed, cases when it's preferable to look at the online information on your smartphone rather than your laptop. Here are few plausible scenarios:
Contact Info. It is arguably more useful to have contact information in your phone than on your laptop, since you can interact better with that information on your phone, i.e. call or SMS the person. If you find a contact info on a website, it may be useful to have the QR code next to that information so a visitor can easily get it into their phone's contact book by simply scanning it right from their laptop screen. For example, the QR code below does just that:

Map Location. If you are showing your business location on the map on a webpage, it may be useful to show the QR code to that location as well, so that your visitors can scan it into their phones, especially if they are actually going drop by and it may help them find the place. For example, the QR code below should show a Google Maps location on your phone:

Geo Location. Your smartphone can do a much better job determining your exact location than your laptop. If you are able to deliver information to a web visitor based on their current geographic location, then it's preferable that they see this information on the phone. So, for example you can include a link on your webpage that says, "See current listings around you right now" and provide a QR code for that link. With myRealPage mobile search, it would be this:

Special smartphone links. There are special links that work best on a smartphone. For example, all Apple's AppStore applications have their own special URL and even though you can open them in iTunes on your laptop, they are most useful to view on your iPhone, as you can download and use the application right away. For example, providing a QR code for you iPhone App on your website may make it easier for someone to download it right away by scanning the QR code on the iPhone right from their laptop screen.

It would also be really cool if you could scan a calendar event in a similar fashion, but it appears that at least on the iPhone it's not yet possible. If you know if this can be done on Android, let me know. I think it's just a matter of time though before this becomes possible.
I am sure these are just a few of the possible applications of QR codes online. However, I would still keep in mind that QR codes really shine when they help transfer information from a printed medium, such as a poster or signage, into a smartphone as that's what they were designed for.
QR codes appear to be really catching on. Even though they are not universally adopted, it's hard to argue with the fact that they are useful and can make access to information simpler for your audience. They don't incur any cost as they can be easily printed and incorporated into your existing marketing materials or signage. As QR codes become more prominent and visible, people will get more curious and many will come to expect them, much as they now come to expect a mobile friendly version of your website or services.
In case you have missed, you have been able get the QR code for your contact information and for every listing in your Private Office from myRealPage for over a year now. See this post on where to find these QR codes in your Private Office.
Let me know if you know of other creative ways to use QR codes.