Smart Ways Realtors Can Use Social Media for Business in 2017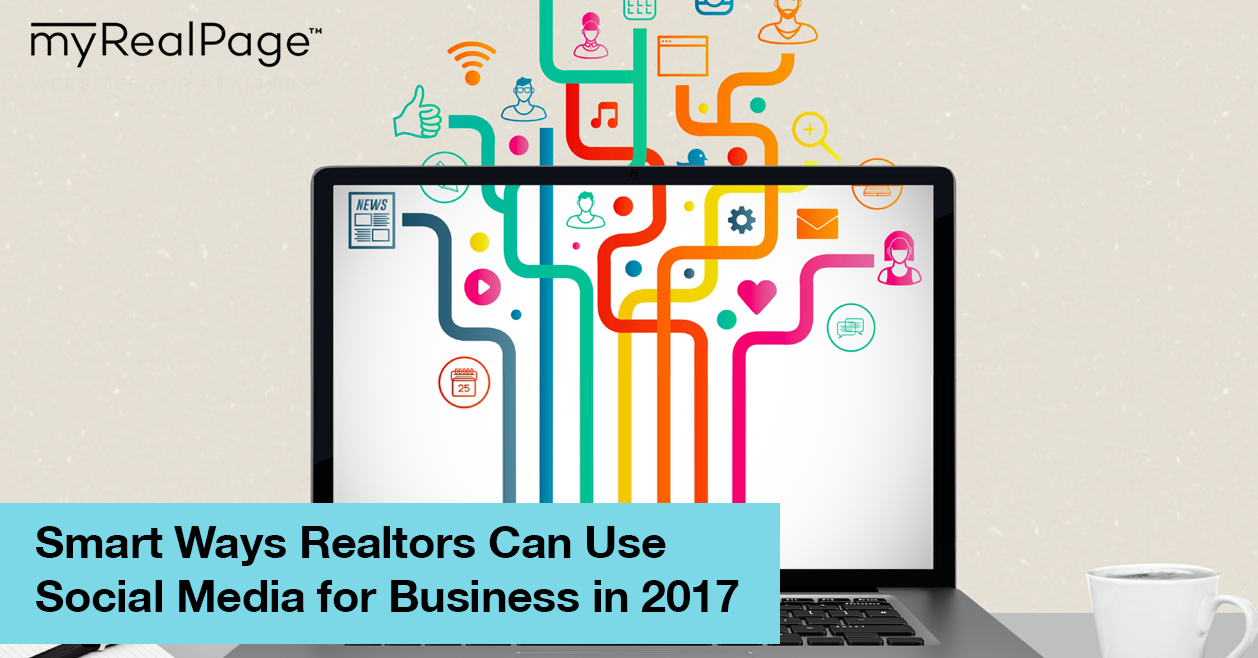 Just when you think you have this whole Facebook social media marketing thing figured out, you read about some new feature or algorithm that has come along and changed the rules of the game.
And then it happens on Instagram.
And on Twitter.
And on Pinterest.
It's enough to leave the social media-friendly realtor feeling jaded.
Don't give up! All you need is a refresher. And we've got one. Here are the five smart ways a realtor can successfully use social media for business in 2017.
1. Stop relying on organic results
In response to increasingly cluttered, overwhelming feeds, social media platforms are continually adjusting their algorithms, changing what each user sees first and foremost when they log in. This can be bad news for marketers like you, since your posts may not ever be seen by audiences.
The solution: paying to play.
Instead of crossing your fingers that your posts organically attracts views, likes, comments and shares, you'll need to be prepared in 2017 to take out your credit card and pay to put your posts where people will see them. Every social media platform offers paid methods of boosting your content and getting eyeballs on it; start on the platform where your audience is most likely to be hanging out and spending their time.
2. Turn your clients into content
Social media and blog content generated by your clients and audience is an all-around win; it reduces your workload, boosts engagement and can lead to high click rates and a spike in new visitors, thanks to social sharing amongst users' own networks.
User-generated content for realtors can take many forms, including:

A blog post that one of your past clients writes about their specific buying or selling experience, edited by you and published on your site (or even easier? Record your client talking about their real estate experience and transcribe it into a blog post)

An Instagram contest where you ask your audience to post photos of a certain theme (like home renos, or their home's best feature) with a specific hashtag

Questions about home buying, selling or the state of the market, submitted by your audience using a specific hashtag. This could feed into a live Q&A video hosted on your Facebook page, which can then be embedded and transcribed into a blog post for your website
3. Use social media messaging
In response to the swath of millennials who are entering the housing market for the first time, realtors have to adjust their communication styles.
While a good, old fashioned phone call or email might be your preferred method of contact, we suggest you get onboard with social media messaging channels in 2017.
Be available to provide information and book appointments via Facebook Messenger, Instagram and Twitter direct messaging, and even Snapchat.
4. Don't ignore live video
Live video wasn't just a 2016 trend.
News organizations, brands and influencers are all continuing to use it to share updates, promote themselves and engage with their audiences. Real-time content will dominate in 2017 and realtors will need to figure out how to harness it to stay relevant. Make it your goal to offer at least one livestream per week in 2017, on Facebook (our recommendation), Instagram or Periscope.
Not sure what to stream about? We have some ideas to get you started.
5. Get analytical on Instagram
If you haven't yet switched your realtor Instagram profile over to a business account, try it out. If you don't like it, you can always switch back to a personal profile.
In having a business account, your audience will be able to contact you directly through the app, you'll be able to pay to promote your posts and, most importantly, you'll have access to analytics about your activities. Instagram's fairly new business analytics feature will let you monitor engagement rate and audience growth, empowering you to change your strategies as necessary.
If you prefer to keep your personal profile intact but are still curious about those analytics, we suggest using Iconosquare – its free trial will give you the analytics you seek.