Social Media Trends 2022: The Four Biggest Things Real Estate Agents Need to Know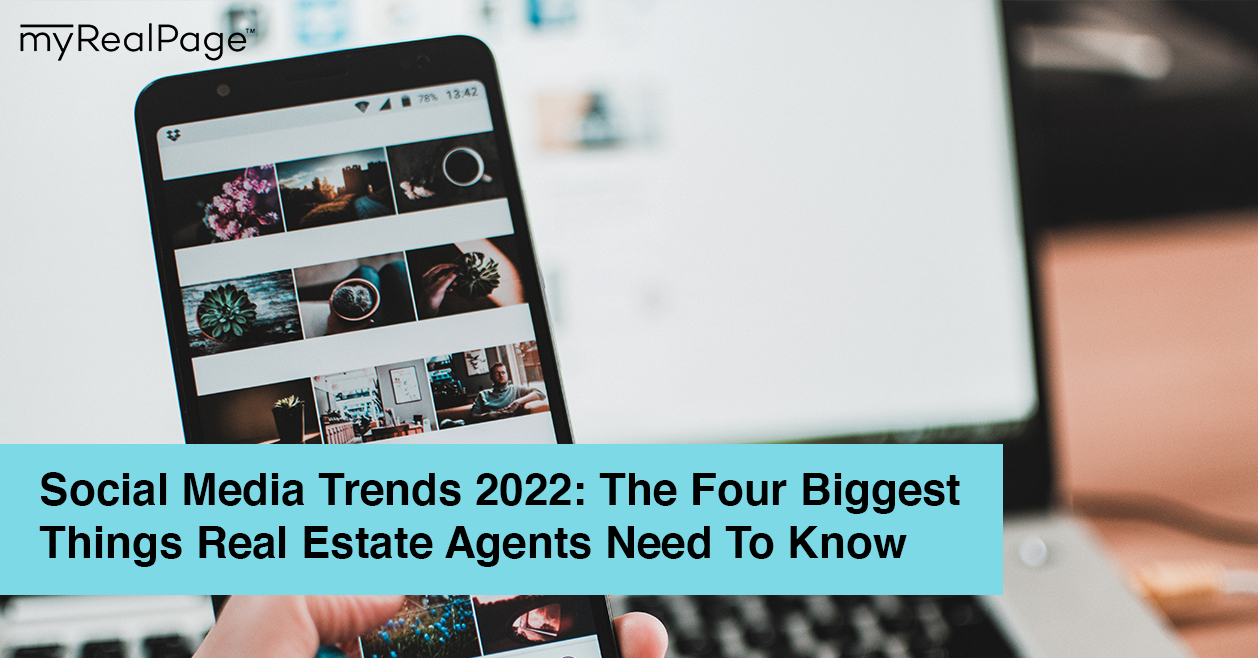 Social media isn't static. 
Like food and fashion, social media evolves. It changes with the times. What was an effective tactic on Instagram last year may no longer be so effective this year.
For people trying to use social media to market their business — we're looking at you, real estate agents — this evolution is a good thing. 
It means there are always new ways to reach your audience, build connections, raise awareness of your services and turn followers into clients.
So, what are the new opportunities this year? Let's dive in. 
These are the four biggest 2022 social media trends that real estate agents need to know.
Video Content: the Short and Tall of it All
Vertical videos used to be a social media no-no. 
Then TikTok and Instagram Reels came along. Now, vertical videos are the norm. And not just vertical, but short. Quick, bite-sized videos that last less than a minute.
These short, vertical videos are going to define video content on social media in 2022. 
Here's why:
The Instagram algorithm rewards Reels.

Open your Instagram Explore tab. See the video playing on the top-right side of the grid? That's a Reel. See the centre icon at the bottom of your Instagram app, the one that looks like a "play" button? Tap that and you'll be taken to an endless feed of Reels. Instagram has gone

all in

on Reels, giving them major real estate and prioritizing them in the app.



Instagram Reels get more engagement than regular Instagram video content

. Creators of all types are noticing that their Reel content is getting way more action than their regular video posts. Take NBA teams, for instance. ​​Their Reel content receives 43% more engagement, on average.



TikTok was the most popular downloaded app around the world in 2020 and 2021

.

Most downloads. Around the world. Two years in a row

. What was once an app used mostly for sharing choreographed dances has become one of the most dominant apps in the social media landscape — and everyone is using it, for every imaginable type of content.



167 million videos are watched by TikTok users every minute

. 167 million videos. Every. Minute. It's a number that's hard to fathom. 
If video hasn't been a part of your real estate social media marketing efforts in the past, make 2022 the year you try it out. 
If you do use video content in your marketing strategy, try focusing more of your efforts on Instagram Reels and experimenting with TikTok — you might get more bang for your buck.
Users Want Authenticity
When Instagram first became popular, filters, perfectly edited photos and punny, highly crafted captions defined the content.
Everything looked perfect.
In recent years, the tide has begun to turn. #nofilter became commonplace. Users began sharing "real life" content (and not just moments from the highlight reel). Captions started to become more honest and unvarnished — less perfectly constructed.
It's not just influencers that are adopting this more authentic style of content on Instagram. Many brands and businesses are doing the same. 
They're sharing behind-the-scenes photos and videos, being transparent about their processes and operations, and telling the real stories behind their products and services, rather than just trying to sell sell sell. 
This trend of authentic, less polished content is only going to continue in 2022. We predict that soon, highly polished content is going to feel out of place, as it won't resonate with users in the same way.
What does this mean for real estate agents? Don't be afraid to get personal on social media. Give your followers a sense of who you are as a person and what your life is like in and out of real estate.
It could give you a leg up. By being your authentic self on social media, your followers will feel connected to you. And if you can establish connections with your followers, your odds of turning them into real-life clients are much, much greater.
Organic Isn't Good Enough
A recent survey by Hootsuite found that, according to 43% of respondents, the decline of the content's organic reach is their biggest challenge on social media. 
Meaning, the comments, likes, shares and follows that their content used to get organically — without the use of promotion or advertising — has gone way downhill. 
This isn't a new phenomenon, but it's a decline that's likely only going to continue in 2022. 
To really play — that is, to bring in meaningful traffic to your social media accounts and/or to your website — you're going to need to pay.
This means that in 2022, it's time to dip your toe (or keep expanding) in the world of paid social media advertising if you want to start really seeing results.
If you haven't created Instagram Ads or Facebook Ads before, we understand that it can be intimidating. But what makes these social ads so great (besides their potential) is that you don't need to be a graphic designer or advertising pro to take advantage of them. 
Customer Service Is Happening on Social
It used to be that real estate leads came in over the phone, or by email, or via the contact form on your website.
That all may still be true, but now, more and more customer service interactions are happening over social media. We expect 2022 to be the year that social media as a customer service tool really takes off.
Think Instagram direct messages (or even comments). Facebook Messenger chats. Messages sent over LinkedIn or through Twitter.
Why? Because it's convenient. Your audience is engaging with your content on social media, so it's only natural that they'd use the same platform to reach out with a question or for more information.
The takeaway for real estate agents: be prepared and be available. If someone sends you an Instagram DM, asking a question about one of your listings, don't direct them to your website — be prepared to answer through the app.
Which 2022 social media trend do you want to take advantage of most?