Stephen Foster's www.stephenfoster.ca: a fully featured custom website with myRealPage
We are very excited to showcase Stephen Foster's custom website that was built on myRealPage web and listings platform. It's a truly unique, fully branded website that completely detaches itself from prefab templated looks, thanks to our custom layout and templating facilities.
Stephen's website is a clean, uncluttered space with concise information, and dynamic multimedia content. He serves his clientele by using the most up to date technology in Real Estate tools such as MyRealPage smart phone mobile searching, advanced MLS search, hosted video tours, home buying and selling guides.  Stephen's goal is to develop an online community using social media for sharing city and neighbourhood info and RSS-specific Real Estate & Community news. His personal vlog features hosted neighbourhood tours and soon-to-come spotlights on local businesses (and because he uses embedded YouTube videos, his website looks great on iPad where all videos are functional!)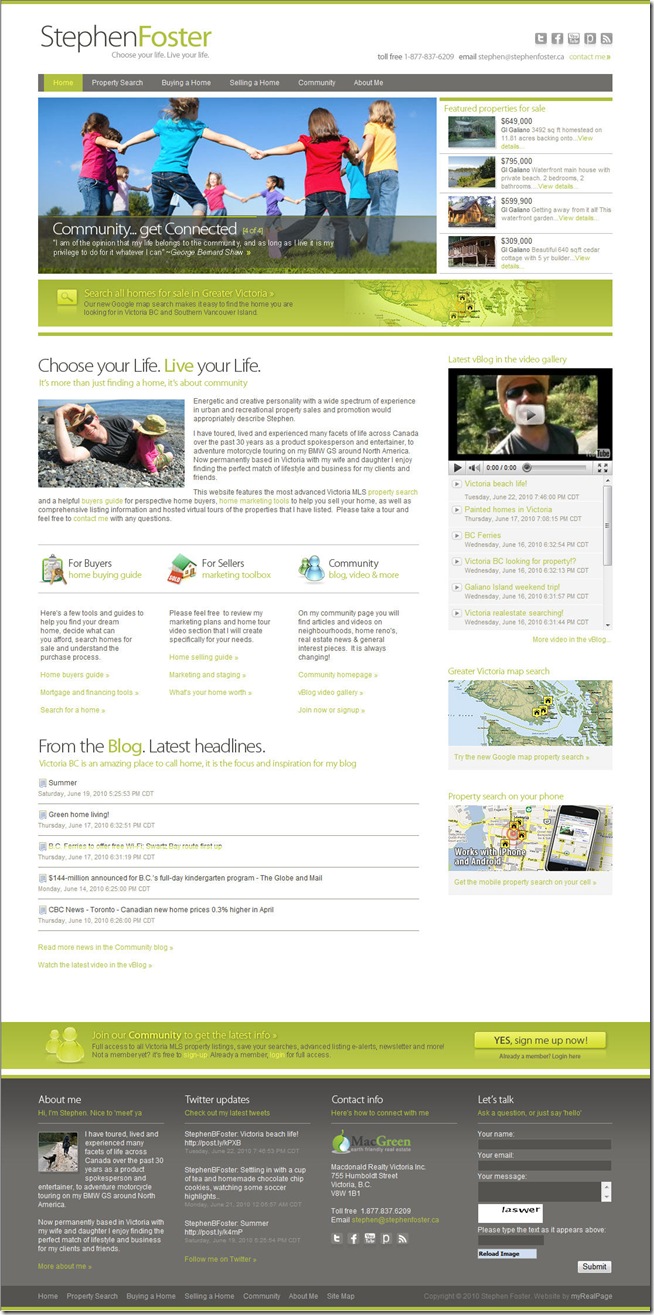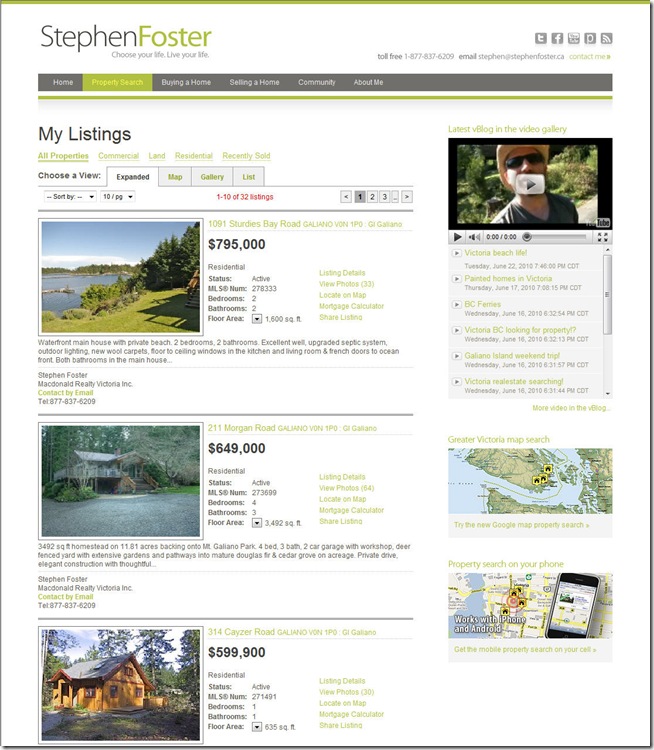 Stephen has aligned himself with MacDonald Realty in Victoria, BC.  After award-winning years selling recreational properties in the Gulf Islands, he now lives with his family in Victoria, where he helps his clients buy and sell homes in Victoria, Oak Bay, Fairfield, James Bay, Cadboro Bay and other great neighbourhoods surrounding Victoria.
The website was designed by myRealDesign (myRealDesign.com). In their own words:
myRealDesign is a boutique agency in Vancouver BC that provides elite real estate services, home staging, custom home marketing solutions and niche-branding solutions for select properties, real estate agents and new developments. myRealDesign specializes in apartments, condominiums, townhomes and other strata properties in downtown Vancouver including Yaletown, Coal Harbour, West End, Kitsilano, False Creek and new developing neighbourhoods such as Crosstown.
Do you have a custom website or would like to build one? You can easily have it migrated or developed on myRealPage platform. Have you heard about our support for custom mobile websites? Have you heard about our mobile listing searches? Did you know that these are included in your regular  subscription? Give our sales a call at : 1-888-478-8797 or drop us a line to sales@myrealpage.com