Tips For Building Your 2022 Real Estate Marketing Strategy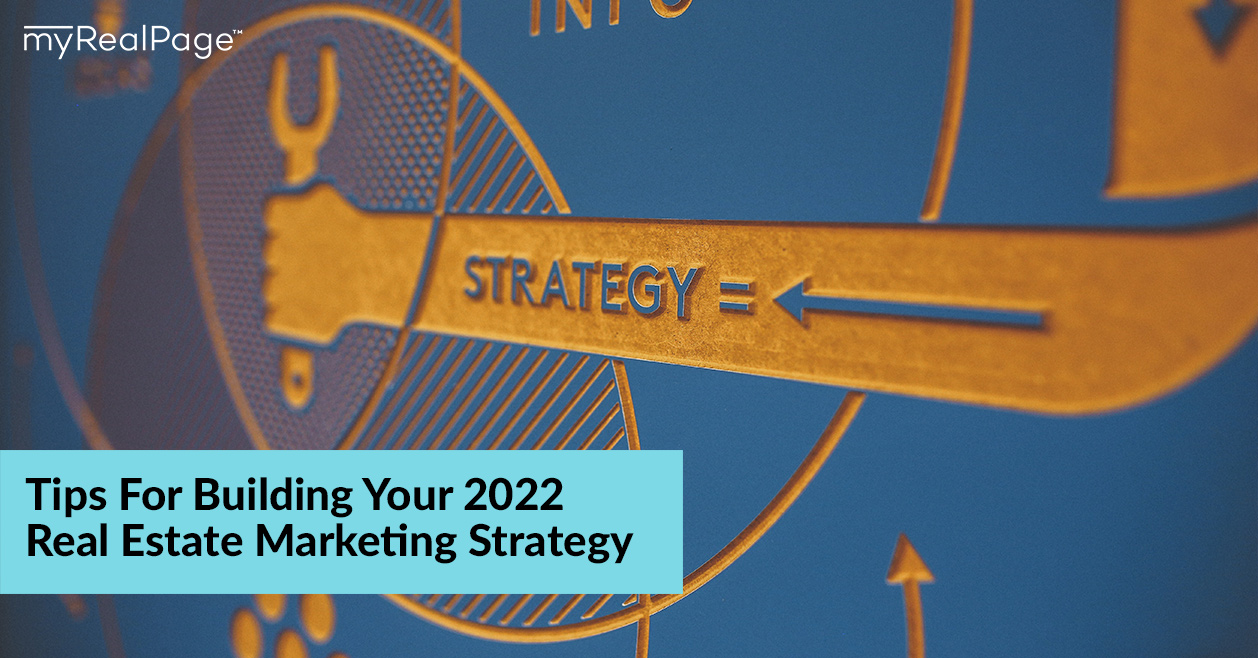 Fail to plan, plan to fail.
The saying is cliché more than it is inspiring.
But for anyone with goals — including real estate agents looking to grow their business in 2022 — the saying also happens to be true. 
Which is why real estate agents need a 2022 real estate marketing strategy. 
Ever see awesome Instagram content or a sponsored post from a fellow real estate agent and think "Wow, wish I did that?"
Ever find yourself scrambling at the last minute to create marketing materials for an event, holiday or open house?
Ever look at your business goals and wonder why none of what you're trying seems to be getting you any closer to achieving them?
That's why you need a real estate marketing strategy. 
Because with a real estate marketing strategy in place, you're never scrambling or wishing you had tried something or feeling like you're directionless. Because you've got a plan.
Make 2022 a big year for your real estate business by building a 2022 real estate marketing strategy using our tips below.
First — A Refresher on Marketing Strategies
Let's quickly recap what exactly a marketing strategy is. 
Here's how HubSpot defines it:
A marketing strategy describes how a business will accomplish a particular mission or goal. This includes which campaigns, content, channels, and marketing software they'll use to execute on that mission and track its success.
In short, for real estate agents, a marketing strategy outlines what marketing tactics you'll use to achieve your business goals and how you'll execute those tactics. 
Know Who You're Marketing To
Your marketing strategy needs a target audience. That is, a group (or groups) of people you're specifically hoping to reach and to turn into clients. Like a real estate niche.
Your targets could be first-time homebuyers. Young families on the hunt for their forever home. People looking for investment properties. Empty-nesters wanting to downsize. Or perhaps a couple of different demographics. 
Once you've identified your target groups, you should write up profiles (often called "buyer personas") for each of them. These profiles can include details such as age, income, interests, challenges, location and, of course, what they need and want from a home.
Your target audiences and the profiles you write about them are what help you tailor your marketing efforts so that you can be sure you're reaching the right people in the right way.
Research the Competition
The best marketers know what their competition is up to. Real estate agents need to know, too.
Here's why researching your competition helps you put together a solid marketing strategy:
It shows you what you're up against.

You and the other agents in your area are going after the same thing: clients. And there are only so many to go around. To up your chances of success, you need to know your competition's strengths and weaknesses. 

It can inspire you.

Taking a good look at other agents' marketing efforts can help get your own creative juices flowing. (The operative word here is

inspire

, not

steal.

)



It can help you find a gap/opportunity

. During your research you might find that there's something your competitors

aren't

doing — an opportunity that you can take advantage of.

It can give you a sense of what works and what doesn't.

Just because a blog post didn't net great results for your competitor doesn't mean that you should avoid trying something similar.





But checking out your competition's performance does give you some real-world perspective and insights into what

may

be more likely or unlikely to resonate with an audience. 
Identify Your Platforms
You'll need to be specific about what platforms and channels you'll use to execute your marketing tactics. 
You might choose to use a combination of any of the following:
Be Realistic About Your Tactics…
Your marketing strategy shouldn't be an aspirational document — it should be a roadmap. One you actually follow.
On that note, make sure that the marketing tactics you outline are realistic. Doable. Affordable. They need to be things you can actually execute.
It's fine if they require a little more elbow grease, time and budget than you've been able to afford in the past, so long as you're willing to put it all in. But don't draft tactics that you can't feasibly make happen. 
… And Make Sure Your Tactics Support Your Goals
Your real estate marketing strategy needs to directly reflect your business goals. Your marketing efforts are there to help you achieve those goals.
If you haven't identified your real estate business goals for 2022, do that first. Make sure they're specific, measurable and realistic. Then, connect them to your marketing strategy. Here's an example.
Real estate business goal: Have 50+ people attend every open house. 
Marketing strategy: Use social media to drive awareness of each event; use an open house landing page to collect registrations.
Each one of the marketing tactics you outline in your marketing strategy should be connected to one of your business goals. 
What's your #1 business goal for 2022?