10 of the Best Real Estate Memes (and How You Can Make Your Own)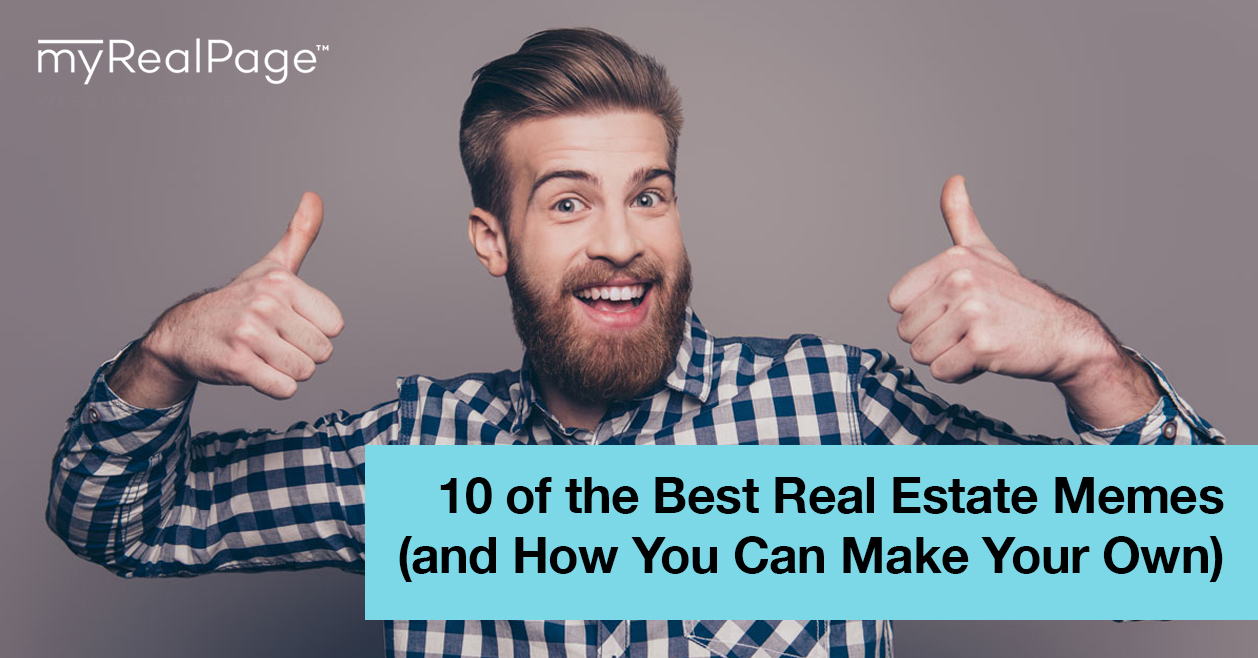 Nothing brings the people of the Internet together like a good meme.
There's something about those instantly recognizable images overlaid with bold text that perfectly convey a feeling or thought, and give people a way to relate to one another with a genuine funny moment.
Real estate has plenty of its own memes that "insiders" — both realtors and clients — find hilarious. And guess what? They can be a fun marketing tool, too.
Occasionally sharing memes on your Instagram, Twitter and Facebook accounts can be a great way to engage your followers in some camaraderie, and net yourself some shares in the process. Just remember your audience: a snarky meme about annoying clients is definitely not good content for your Facebook community made up of local homeowners and potential clients.
To honour the power of the meme, we've rounded up 10 of the very best real estate memes, PLUS the tools, tips and tricks you need to create your own.
The Best Real Estate Memes
Dear clients: you don't have to take

everything

with you on open house day

Don't get stuck at the red light, don't get stuck at the red light…

Flipped frames = creepy

If you really want to see houses in this blizzard, I'll do it!

Clients and realtors alike, we've all been there

Let's play harder-to-get than that

This sale is quickly becoming a pipe dream…

Just say the word

Fine, just don't let me catch you with binoculars

Do you enjoy your house lingering on the market and selling for less?
Tools for Making Your Own Hilarious Real Estate Memes
You don't need fancy software to create your own real estate memes. And thanks to a variety of meme generator and creator tools, you don't have to get too DIY, either.
We like the following sites and apps for fast and simple meme-making:
This free site has a database of popular meme images to choose from, or you can upload your own. Then, add your caption and customize the positioning, font and colour as you like.
A watermark is added to your final images. If that's a dealbreaker for you, there's a watermark-free paid version.
Like the site above, users of this tool can access a database of photos or upload their own to create a meme. They can also check out hundreds of other user-created memes for inspiration.
Text colour and size are customizable, but not positioning. Images will bear a small watermark in the bottom right corner.
Take your meme game to the next level with this app for Android devices that lets you create video and GIF memes.
Upload your own video, GIF or static image content, then trim files, adjust speed, customize captions and save the file as a video or GIF. You can also share the file directly to Facebook, Instagram and Twitter, or save it to your device.
For iPhone and iPad, this app is focused on turning video clips into awesome memes.
Upload your own clip or add a URL for a clip you like. From there, you'll select a segment up to 15 seconds long and then add text above or below, and, if you want, a voiceover, recorded in the app or chosen from your iTunes library.
It's free to use, but the final product is watermarked.
Dos and Don'ts When Making Memes
Don't

be raunchy or drop F-bombs: you don't know who you'll offend, and playing it safe is better than alienating your audience

Do

be short and sweet: more than a few lines of text becomes work for the reader and automatically makes your content less funny

Don't

just assume you're funny (we mean this in the nicest way possible). Sometimes memes fail because the author's text is unrelatable or truly unfunny. If you're not sure people will "get" your meme, run it by someone first.

Do

make sure you know how to use the meme correctly as you might be missing why the meme was funny in the first place.

Overly Attached Girlfriend

, for example, is only truly funny when the captions are about being obsessive or clingy. Use

Know Your Meme

as a reference guide.