10 Effective Real Estate Postcard Ideas That Every Agent Should Steal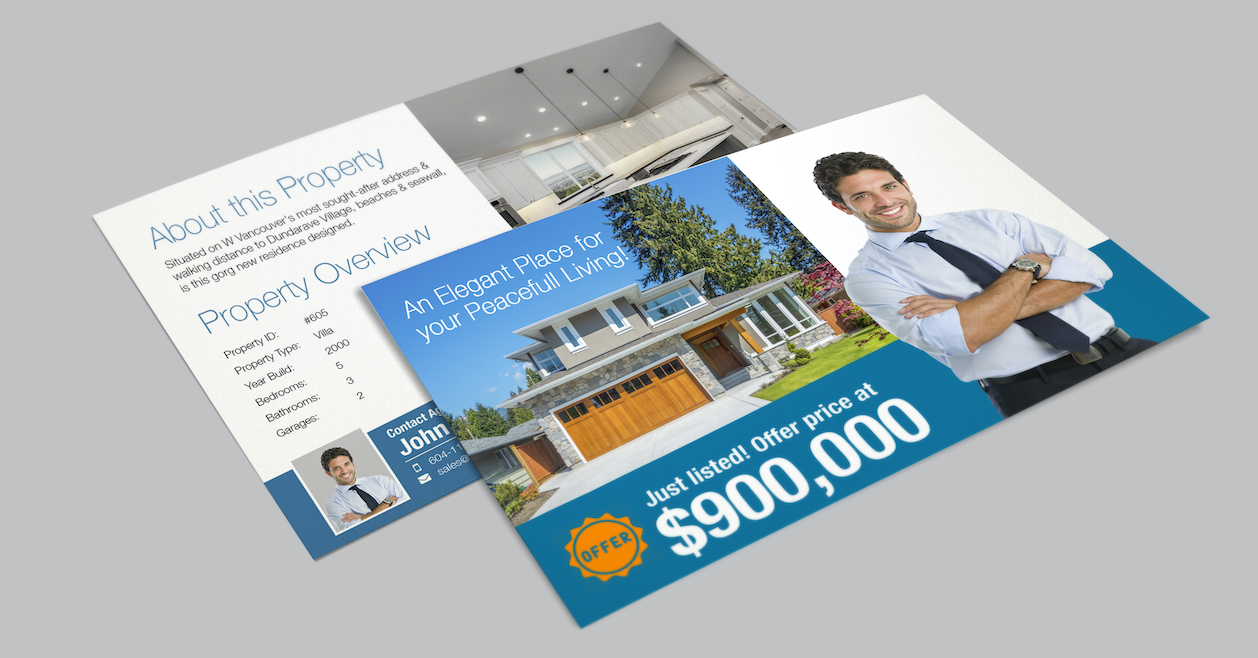 Nowadays, real estate postcards often get overlooked as a marketing strategy.
Why go to the effort of creating a printed marketing tool when everything happens online?
For one very good reason: real estate postcards work. 
In this post, we're dishing up 10 of the most effective real estate postcard ideas that every agent should steal — plus, the online tool that makes creating postcards a breeze.
Just Sold
Creating a real estate postcard that spotlights a property you've recently sold is an effective way to generate seller leads. Here's why:
It lets everyone know that you're a

successful

real estate agent

It piques the interest of neighbours who have been considering selling 
If the property sold quickly, attracted multiple bids or sold over asking, make sure to highlight those details on the postcard to further impress your recipients.
Just Listed
A postcard promoting a new listing can generate both buyer and seller leads. 
Someone on the hunt for their new home could have their interest piqued, while someone interested in selling may be impressed by your commitment to getting your clients' homes sold.
A just-listed postcard should feature the most impressive listing photos, standout details about the home and a prominent call-to-action to learn more about the listing.
Free Home Valuation
Who wouldn't be curious about what their home could sell for?
Tap into that curiosity with a real estate postcard that offers homeowners a free home valuation.
An effective real estate postcard offering a free home valuation should include:
An enticing headline (e.g., "Psst: want to know how much your home could sell for?")

A strong and clear call-to-action (e.g., "Call or email me to find out")

Your headshot

Your contact information and website 

A beautiful photo of a home
Coming Soon
Have a unique, rare or luxury listing hitting the market in the coming weeks? Create a dedicated real estate postcard to give it an extra promotional boost.
Specialized listings need specialized buyers; sometimes they can take a bit longer to sell. A postcard can help get the word out to potential buyers who might not have otherwise seen the listing.
"Coming soon" is an effective real estate postcard for regular listings, too, especially in desirable neighbourhoods or when listings are scarce.
Market Statistics
Sharing timely market statistics that could help sway a prospective seller or buyer is a great postcard strategy that isn't listing dependent. 
The key to making this real estate postcard effective is to be selective and honest. Meaning…
Selective: Too many statistics will overwhelm a postcard. Choose a handful that are the most impactful and the easiest to understand.
Honest: You should, of course, choose statistics that work in your favour. What you shouldn't do is frame the statistics in a way that misrepresents the true state of the market. 
Community Event
Organizing or participating in a community event is always a great idea. It gets your name out, positions you as a supporter of your community and is often a great networking opportunity. 
If you've organized or are playing a leadership role in an event, you should absolutely create a postcard to promote it.
Make sure to send the postcard two to three weeks ahead of the event date. The postcard should prominently feature the event name and details, and a call-to-action to get more information or buy tickets. Include your name, headshot, contact information and website URL on the back.
Reasons to Sell
Homeowners on the fence about whether to sell are a prime target for real estate postcards.
A card that lists a few of the most convincing reasons to list now is one way to target those prospective sellers.
This card should lead with a prominent and bold headline (e.g., "Leslieville is booming — don't miss the boat!") and make use of a couple recent statistics to support your point (such as average selling prices in the area, homes going over list price, and etcetera).
Don't forget a call-to-action that invites a homeowner to get in touch.
Unique Value Proposition
Ever heard of real estate farming? It's a strategy for generating leads that focuses on targeting a specific neighbourhood within your market, with the goal of making you top-of-mind in the area.
The idea is that you farm now so that you can reap later. 
Postcards are key to a real estate farming strategy. One effective real estate postcard idea for farming: promote your unique value proposition in a specific area.
This postcard idea distills your services and selling points into an engaging and convincing few lines.
Best practices for this postcard include:
Keep your tone lighthearted and friendly

Choose a casual, smiling photo over a formal headshot

Don't overload the card with text

Feature your name prominently

Put your contact information and website URL near the bottom 
Local Love
Another great postcard idea for farming: partner with local businesses on co-promotional postcards.
Treat this idea like a series and partner with different businesses on a regular basis. You can give the postcards a series title, such as "Reasons to love [neighbourhoood name]."
The postcard content should share why the featured business is another reason to love the neighbourhood you're targeting. If the business can offer a discount to recipients who show the postcard at time of purchase, even better.
Just don't forget to promote yourself, too. Your name and information, along with a locally focused tagline such as "I know, love, buy and sell [neighbourhood name]" should be fairly prominent.
Game or Puzzle
Turning a promotional real estate postcard into a game for your recipients is one fun way to get them to actually read it. Add a prize element and you might succeed in turning them into a lead.
Consider a brain-teasing riddle (if you can make it real estate-themed, even better) or a quiz featuring locally-focused questions (e.g., "What's the secret ingredient in the famous cinnamon roll at Bob's Buns?"). 
Invite recipients to submit their answers to you to be entered to win a prize, such as a gift card to a local business. To turn it into a true lead-generating opportunity, create a landing page for contest entry submissions.
The Easy Way to Create Effective Real Estate Postcards
The font, the colours, the way your text and photos are laid out… good design is crucial to making your real estate postcards effective. 
But you don't have to be a design whiz in order to make real estate postcards a part of your marketing strategy. 
All you need is the right tool. Like myRealPage's Marketing Tab.
myRealPage's Marketing Tab tool lets real estate agents create attention-grabbing, professional-looking postcards with just a few clicks.
Marketing Tab offers ready-to-use, professionally designed postcard templates that can be customized to suit any of the postcard ideas above. Plus, they can be tailored to match your own real estate branding. 
Choose a template, add your copy and images and tweak the design elements until the postcard is just right. 
Don't see a template you love? Simply reach out to the myRealPage team to get a template designed for you. 
If you have a myRealPage website, you're ready to use Marketing Tab to create postcards.
Not a myRealPage user? No problem! We'll make switching a breeze so that you can take advantage of Marketing Tab ASAP.
We'll transfer your content over from another provider so that you can get started stress-free — AND we'll give you 50% off for three months, plus waive the set-up fee. 
Ready to build the most effective real estate postcards using Marketing Tab? Click here to get started.