INFOGRAPHICS: August 2018 CREB City And Region Market Reports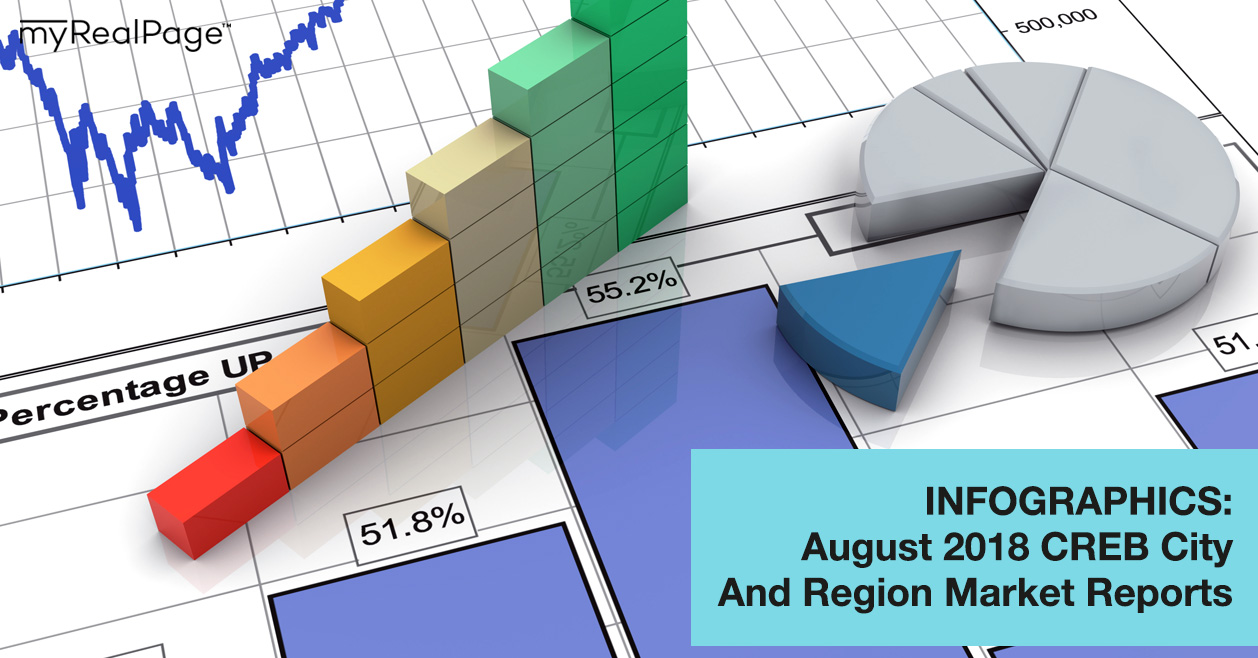 It's September, and we've got this month's market report for areas covered by the Calgary Real Estate Board (CREB) for you.
According to CREB's most recent press release, we are still seeing a slowness on the housing market's recovery. Benchmark prices have been edging down as well, and a continued oversupply within the Calgary housing market has been affecting prices in August.
CREB's Chief Economist Ann-Marie Lurie points to the area's employment rates, the energy sector, as well as present lending conditions, as important factors:
"Calgary's employment market has persistently high unemployment rates at 7.9 per cent and recent job losses in full time positions. The struggles in the employment market are one of the factors weighing on our local housing market.
A slow recovery in the energy sector combined with tighter lending conditions and competition from the new home sector are also contributing current housing market conditions."
Meanwhile, CREB President Tom Westcott reminds the public to keep a level head during this period.
"Both buyers and sellers need to be realistic about their objectives. Buyers need to be aware that price changes differ depending on what and where you are buying. The decline in sales does not mean price declines across the board.

Sellers need to be well informed to be competitive. They need a good understanding of what has been selling around them and how their property compares to homes that have successfully sold."
---
The following data is a comparison between August 2017 and August 2018 numbers, and is current as of September 6, 2018. For last month's numbers, check out our previous infographic. Or follow this link for all our CREB Infographics!
Click on the images for a larger view!
(Protip: Make sure to grab the printable PDF versions, too! It fits best when printed on A4-sized sheets, AND we've added an area on the sheet where you can attach your business card! 🙂 )