MyRealPage adds two new weblets to its website arsenal: Folding Sections and Blog Navigation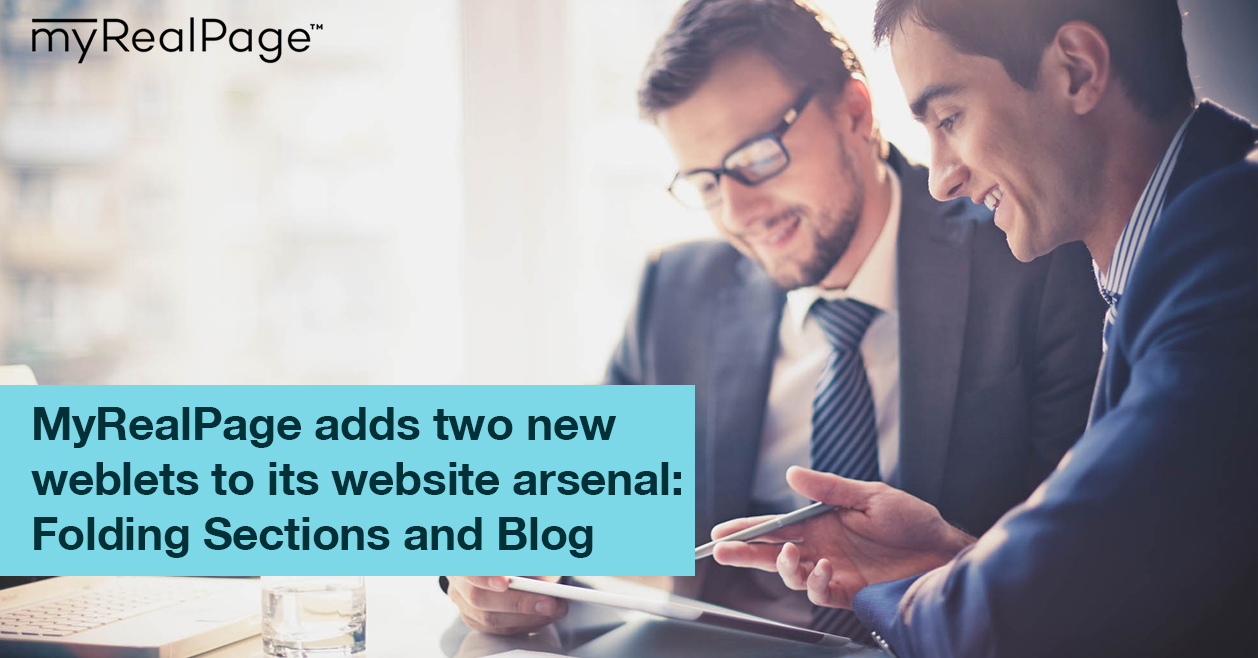 Please welcome two new weblets to our website arsenal: Folding Sections and Blog Navigation. In case you haven't heard: weblets (think widgets) are the little building blocks out of which all MyRealPage websites are constructed. What gives our sites their flexibility is the ability to "assemble" your pages from various useful weblets, such as "Menu", "Banner", "Contact Info", "Quick Search" and many more. Even blogs and your page content are weblets. Weblets can be added, removed and dragged-and-dropped on the page to rearrange its look-and-feel. They can also be individually configured as appropriate to what each weblet does.
Today, we have released two more weblets which we hope you will find useful:
Folding Sections
Folding Sections is a useful weblet if you would like to include a lot of content on your page but don't want to overwhelm the visitor with all the information. Folding Sections will allow you to organize your content into sections which can be "folded" and "unfolded" (collapsed and expanded). This may help make the page less cluttered and still provide all the information you intend to keep on the page. This weblet will let you provide the heading, a short introduction text and specify whether you would like the section to be initially expanded or not.

Blog Navigation
Blog Navigation is a useful weblet if you decide to put the links of your blog archives, categories and links to other blogs on a page sidebar. Because each weblet is given a rectangular space to occupy, until now the blog navation links have been "floating" inside the content of your blog. Now you have much more flexibility in how you would like your blog navigation to look. Of course, as you would expect, you have the ability to fine-tune which links you would like to show. Subsequently, you can uncheck all navigation link in your blog weblet configuration to disable any "old-style" navigation.

Oh and another thing…
Our last updates to the Listing Details pages (read New Listing Details pages on MyRealPage websites) included a change which caused the Listing Details pages to display all available listing information in public searches (Reciprocity) and hide the actual values, instead displaying a "Signup for access" link. This was done to increase lead conversion paths on your website by displaying the wealth of listing information that would be available for signed-up members.
Today, we have introduced a setting which allows you to control the display of those "advertisement" links on your Listing Details pages. If you choose to display only available information (as per the rules of your local Real Estate Board), you can opt to do so: the choice is yours!
We hope you will find these updates useful!
–Brought to you by MyRealPage.com