4 Reasons Why Your Realtor Website Must Be Responsive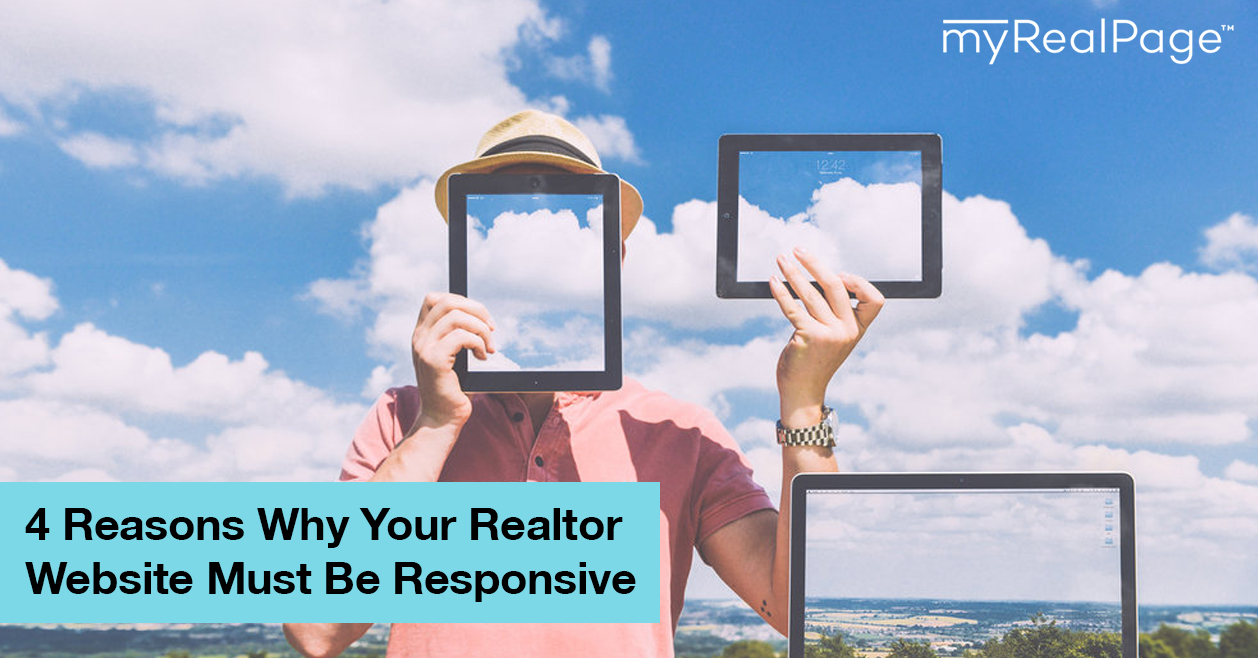 Ready for this?
If you don't have a responsive realtor website — one that works well on all devices — you're potentially losing out on dozens, if not hundreds, of prospective clients.
You've likely heard the stats before: 51% of people are using smartphones, not laptops, to browse digital media. That means that if you have a website that doesn't fully function on a smartphone or tablet, 51% of your audience is receiving a less-than-optimal experience.
"Well I can't afford to build a responsive website," you might say. We get it (and we can help). Your marketing budget is only so big and there are plenty of other business activities that need addressing.
But having a responsive website is a worthwhile — dare we say necessary? — investment that can help you increase your reach and connect with prospective clients. Here's how.
1. It will meet Google's requirements
Google is a particular animal, with very specifics tastes. What's one of the things it likes most? Websites that are fully optimized for use on mobile devices.
It likes it so much so that in 2015, Google announced that mobile-friendly websites will be ranked higher in mobile search results.
That means that if a soon-to-be home seller is searching for local realtors on their phone while at the dentist or in line at the grocery store, your non-responsive website may appear much lower in the results than a comparable realtor with a mobile-friendly site.
2. It shows that you're up-to-speed with technology
We've all had the experience of trying to access a website from our phones, only to be frustrated when it looks bungled or there's an obvious lack of information and options.
The impression made by a non-mobile friendly site is that its owner either doesn't care about mobile users, or is behind the times. With a responsive website, you show that you're on top of technology.
3. It keeps new users on your site for longer
All websites, responsive or not, have a very short window of time in which they can hook a new visitor. There's a lot of competition online, and realtor websites are no exception.
That's why it's key that your website makes a strong first impression, no matter what device a visitor is accessing it from. The easiest way to turn them off is to offer a user experience that looks sub-par, barren or confusing.
If your website looks clean, well-structured and is easy to navigate from a desktop, laptop, smartphone or tablet, you've increased the odds of a visitor staying around long enough to learn about you and your business.
4. It makes it easier for prospective clients to connect
Your website should make it obvious and simple for visitors to get in touch with you.
Perhaps your website, accessed from a desktop computer, has a prominent "Contact me" link. Have you checked to see what happens to that link when your site is viewed on a smartphone or tablet?
If a visitor has to search for more than a few seconds to find your contact information, then it's too late — you've lost them. A responsive website ensures that the call-to-action remains apparent and accessible.
If you're in need of a responsive realtor website, save yourself time and energy trying to put a site together – because we have everything you need.