INFOGRAPHICS: March 2020 VIREB Vancouver Island Market Reports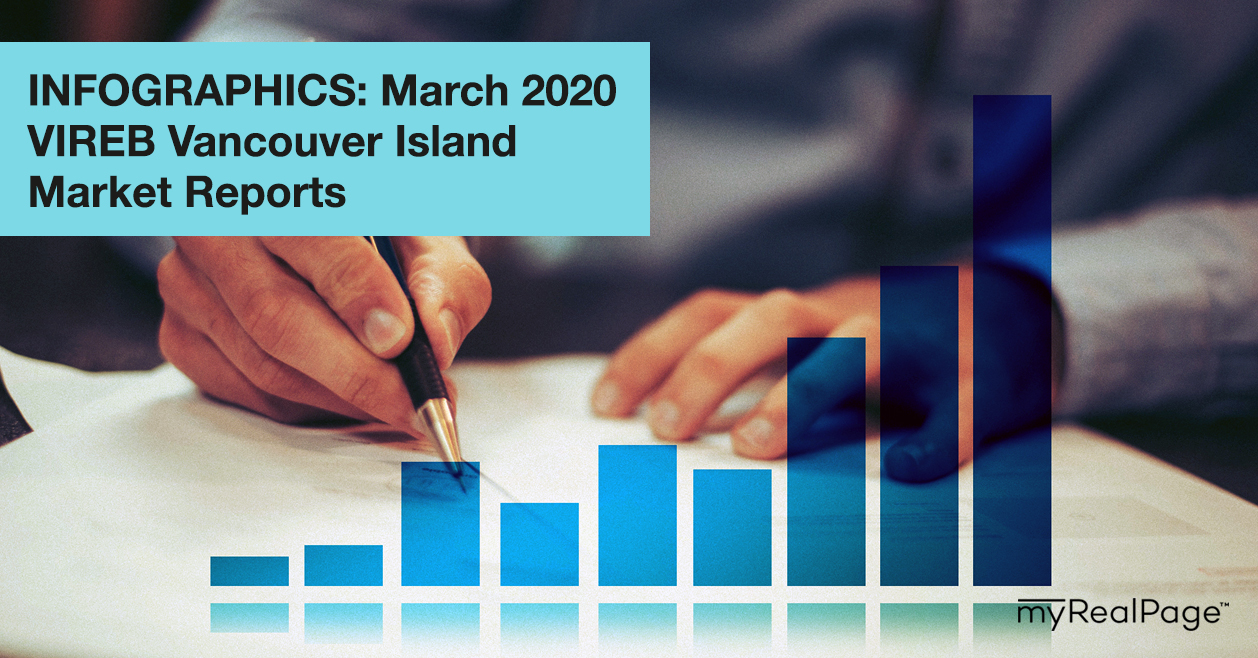 We hope everyone is healthy and safe during this challenging period. For now, it's time for our monthly market updates for areas covered by the Vancouver Island Real Estate Board (VIREB)!
As per VIREB's latest market update, the Vancouver Island Real Estate Board (VIREB) reports that the virus had little impact on March sales.
Last month, 333 single-family homes sold on the Multiple Listing Service® (MLS®) System compared to 259 in February 2020 and 308 in March 2019. Apartment sales in March did drop by 44% year over year, but there was a 40% increase in townhouse sales from one year ago.
Inventory of single-family homes last month was slightly higher than one year ago (1,174 to 1,181). Active listings of apartments rose by 41% (284 to 400) year over year, while townhouse inventory dropped by 18% (181 to 147).
The benchmark price of a single-family home board-wide was $521,400 in March, a 4% increase from one year ago and marginally higher than in February. (Benchmark pricing tracks the value of a typical home in the reported area.) In the apartment category, the year-over-year benchmark price rose by 7%, hitting $314,700, which is around 1% higher than the previous month. The benchmark price of a townhouse in March rose by 4% year over year and was 2% higher than in February, climbing to $417,900.
Regionally, the benchmark price of a single-family home in the Campbell River area last month was $441,300, an increase of 5% over last year. In the Comox Valley, the benchmark price reached $516,800, up by 2% from one year ago. Duncan reported a benchmark price of $478,700, a 2% increase from March 2019. Nanaimo's benchmark price rose by 2% to $564,500 in March, while the Parksville-Qualicum area saw its benchmark price increase by 4% to $590,700. The cost of a benchmark single-family home in Port Alberni reached $328,300 in March, a 12% increase from one year ago.
Although it is certainly not business as usual, real estate has been declared an essential service by the provincial government as long as licensees comply with health and safety guidelines, which VIREB members are doing.
As per 2019 president Kevin Reid,
"The reality is that there are always clients who, for various reasons, must buy or sell now, and REALTORS® are uniquely poised to help those individuals do so safely. inspired from The real estate industry's embrace of technology, such as virtual tours and electronic document signing, makes it possible to conduct a large part of the real estate transaction without face-to-face interaction."
---
The following data is a comparison between March 2019 and March 2020 numbers, and is current as of April 2020. Click here to check out last month's infographics.
You can also view all our VIREB infographics by clicking here.
Click on the images for a larger view!
(Protip: Make sure to grab the printable PDF versions, too! It fits best when printed on A4-sized sheets, AND we've added an area on the sheet where you can attach your business card! 🙂 )