INFOGRAPHICS: November 2019 TREB Toronto Market Reports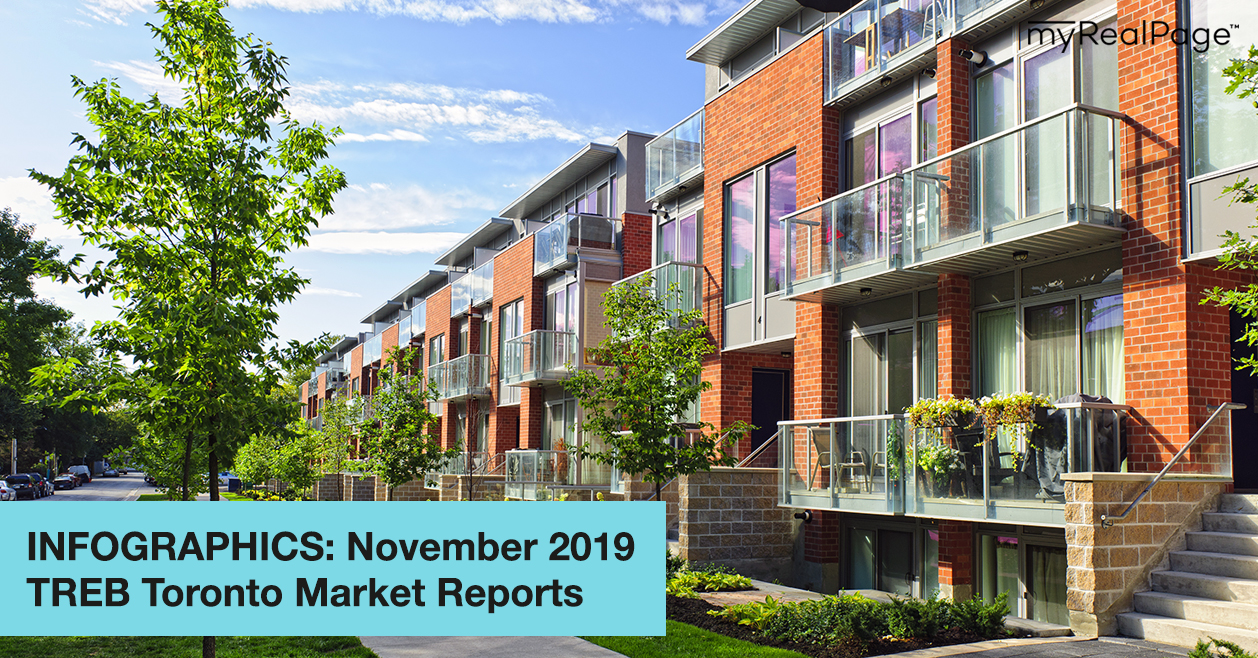 And just like that, an entire year has zipped by. Are you ready to welcome the new year? For now, here are the latest real estate market updates for areas covered by the Toronto Real Estate Board (TREB)!
According to their most recent market report, TREB President Michael Collins announced that Greater Toronto Area REALTORS® reported 7,090 sales through TREB's MLS® System in November 2019 – a 14.2 per cent increase compared to November 2018. On a GTA-wide basis, sales were up year-over-year for all major market segments. Annual sales growth in ground oriented home types, including detached houses, led the way.
According to Collins,
"An increasing number of home buyers impacted by demand-side policies over the past three years, including the 2017 Ontario Fair Housing Plan and the OSFI mortgage stress test, have moved back into the market for ownership housing. Based on affordability and stricter mortgage qualification standards, many buyers may have likely adjusted their preferences, changing the type and/or location of home they ultimately chose to purchase."
TREB's Chief Market Analyst Jason Mercer also adds,
"Strong population growth in the GTA coupled with declining negotiated mortgage rates resulted in sales accounting for a greater share of listings in November and throughout the second half of 2019. Increased competition between buyers has resulted in an acceleration in price growth. Expect the rate of price growth to increase further if we see no relief on the listings supply front."
UPDATE: In January 2020, TREB has since rebranded to TRREB, the Toronto Regional Real Estate Board.
---
The following data is a comparison between November 2018 and November 2019 numbers, and is current as of December 2019. For last month's numbers, check out our previous infographic!
Or follow this link for all our TREB Infographics!
Click on the images for a larger view!
(Protip: Make sure to grab the printable PDF versions, too! It fits best when printed on A4-sized sheets, AND we've added an area on the sheet where you can attach your business card! 🙂 )