INFOGRAPHICS: November 2019 VIREB Vancouver Island Market Reports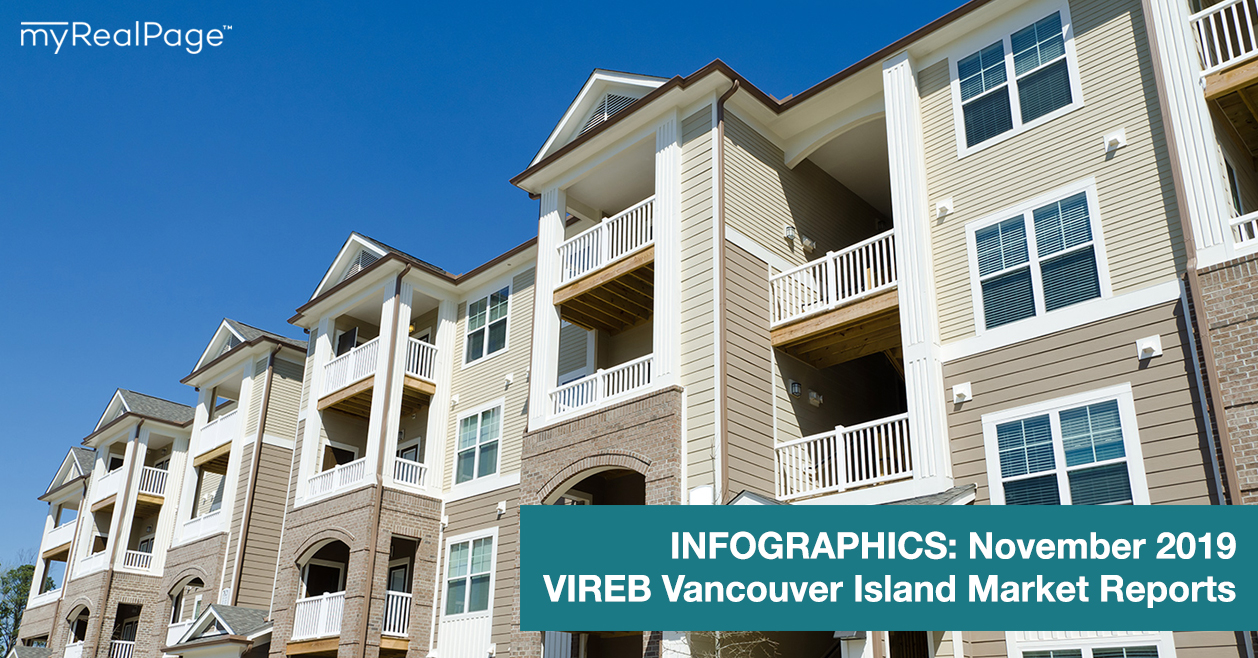 Can you believe it's already December? 2019 is winding down and it's time for our monthly market updates for areas covered by the Vancouver Island Real Estate Board (VIREB)!
According to their latest market release, sales of single-family homes in November rose by 3% from 2018 and were 9% lower than in October. Apartment and townhouse sales dipped by 8% and 33%, respectively.
Last month, 312 single-family homes sold on the Multiple Listing Service® (MLS®) System compared to 343 the previous month and 304 in November 2018. In the apartment category, 65 units sold last month, while 26 townhouses changed hands.
Inventory of single-family homes in November rose by 8% from one year ago (1,065 to 1,155), the lowest since March, which saw 1,172 properties for sale. Active listings of apartments increased by 15% (319 to 368) year over year while townhouse inventory dropped by 31% (177 to 123).
The British Columbia Real Estate Association reports that after a slow start to 2019, MLS® home sales in the province embarked on a sustained upward climb in the spring, returning to trend after adjusting to market shocks caused by federal mortgage rules and provincial tax policies.
Trend-wise, VIREB's housing market is balanced in most areas and inching towards a buyers' market in a few zones. Overall, however, home sales and listing activity are at typical levels for our region. REALTORS® across the Island are reporting that there is interest among buyers; however, they are price-savvy, not in a hurry, and willing to walk away from deals. Some buyers and sellers are also choosing to wait until spring, hoping for more favourable conditions.
---
The following data is a comparison between November 2018 and November 2019 numbers, and is current as of December 2019. Click here to check out last month's infographics.
You can also view all our VIREB infographics by clicking here.
Click on the images for a larger view!
(Protip: Make sure to grab the printable PDF versions, too! It fits best when printed on A4-sized sheets, AND we've added an area on the sheet where you can attach your business card! 🙂 )