myRealPage Page Editor gets extended options: drag-n-drop, layout editor, more…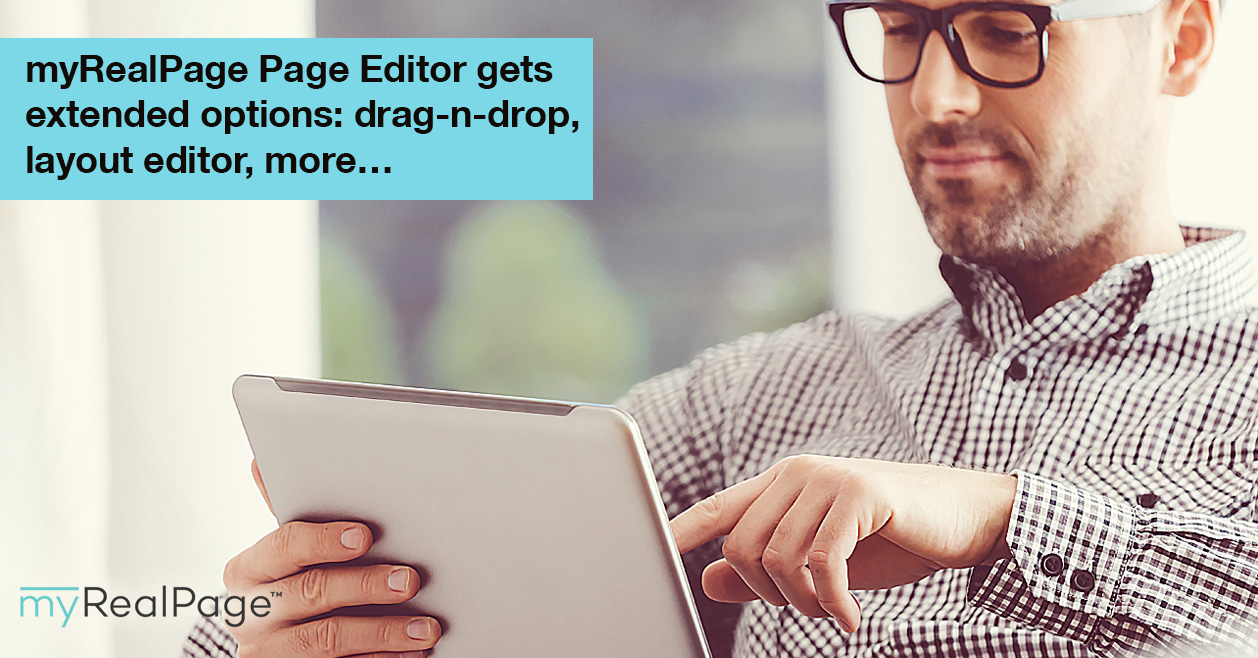 We are very thrilled to release extended options for our Page Editor in the new Private Office. These new updates are intended to make some more advanced options for page layout and design more accessible for less technical folks, and give additional power and ease of use to HTML and CSS gurus.
The new extended options are also designed to retire our old Page Editor which has now come to the end of its "lifecycle". It's a bit sad to see it go, but it's handing over the torch to a good successor!
The new extended options are largely captured in a little sub-toolbar that hangs just below the main Page Editor "ON/OFF" switch. You will notice that this toolbar will also always remain anchored at the top of the screen, even if you scroll way down (we didn't want you to keep scrolling up and down and waste time):
The new functionality can be broken down into the following sections:
"Re-arrange elements": the new drag-n-drop for weblets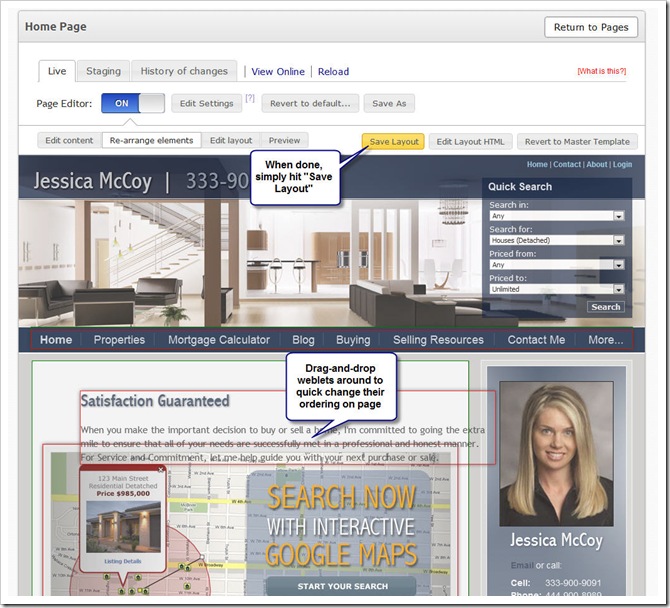 "Re-arrange elements" button will put the editor into a drag-n-drop mode, where you will be able to quickly change how the weblets are arranged on the page. Even though we have long had drag-n-drop in our old editor, this new functionality has been re-designed from ground up and was built to be smart and take into account, as much as possible, how the elements can be re-arranged without breaking the layout. When you are done, simply hit the "Save Layout" button which will be highlighted.
"Edit layout" : modify or add grid based layout visually and interactively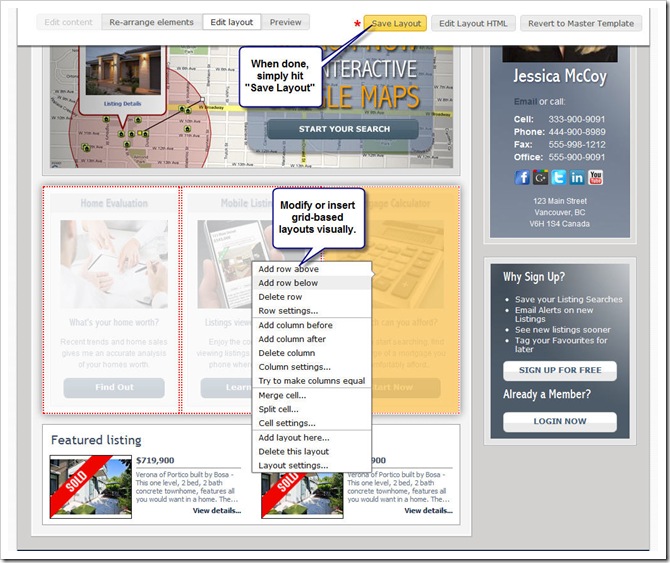 When you click on "Edit layout" button, you will be able to either modify or add grid-based layouts to your page. This includes practically anything you would expect to be able to do with columns, rows, cells, merging, splitting, etc. Again, even though this functionality has always been available as part of our old editor, it has been completely re-designed and made much more tolerant of common mistakes.
This visual layout editing delivers a pretty unique capability that is very uncommon to find in modern web page editors (CMSes). It addresses such common needs as, for example, to create 3 columns, in order to display graphics and text side by side.
"Edit HTML Layout": a down-to-the-metal tool for the pros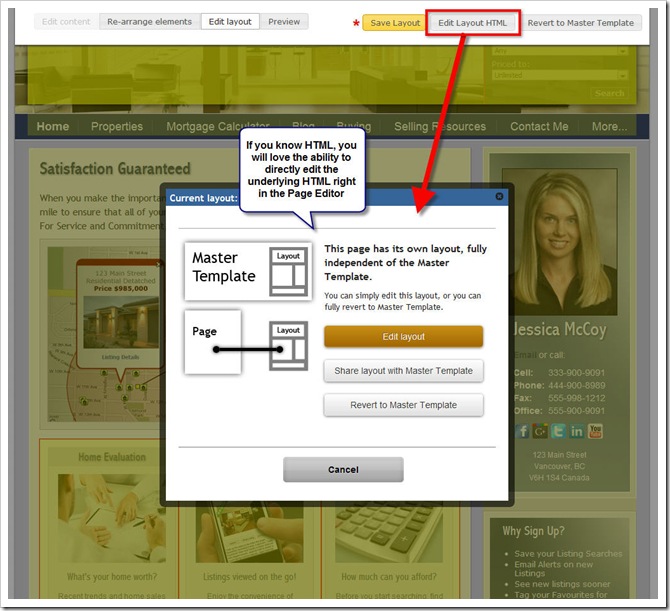 If your page is based on an HTML layout (which will be the case if you opted for one of our modern themes), the Page Editor will display an "Edit HTML Layout" button. This button will allow someone with HTML and CSS knowledge to manipulate how the HTML layout is handled by our system; whether it is shared by the Master Template and pages; and, most importantly, will be able to edit the underlying HTML code right in the Page Editor.
When using this feature, you will see a sequence of dialogs that will explain and visually graph what actions you may be taking, as they relate to associating HTML layout to pages and templates.
Quick way to create Page-Specific Templates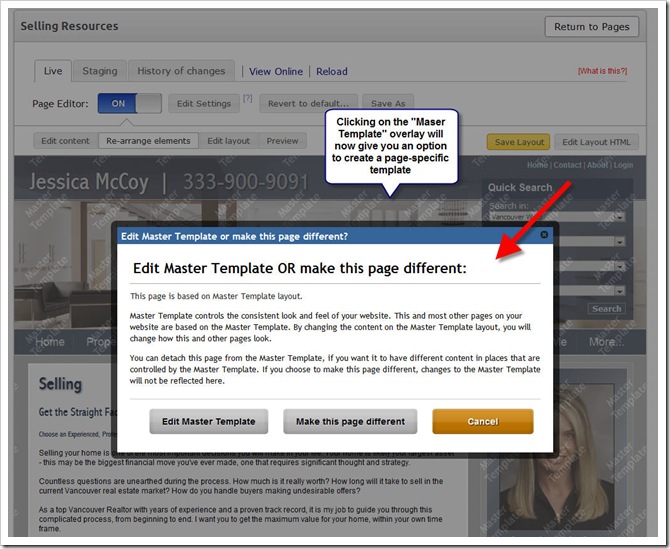 Our system has always had a notion of a Master Template: a template on which most pages on your website are based. Of course, not all pages are created equal: for example, your home page or blog page are different. This is achieved via a Page-Specific Template: which is also a template but applicable only to one page.
Now you can create Page-Specific templates much easier; although, this is something you shouldn't need to do often. If you now click on the "Master Template" overlay in the Page Editor, you will be prompted with a dialog on whether you would like to edit the Master Template or create a Page-Specific Template.
—————————————–
We are very pleased about these updates as they nicely wrap up the modern Page Editor in our website editor (CMS). Be sure to check them out and let us know what you think: feedback@myrealpage.com