myRealPage WordPress Listings Plugin is released in beta: gives your WordPress blog full IDX, VOW and Listing solution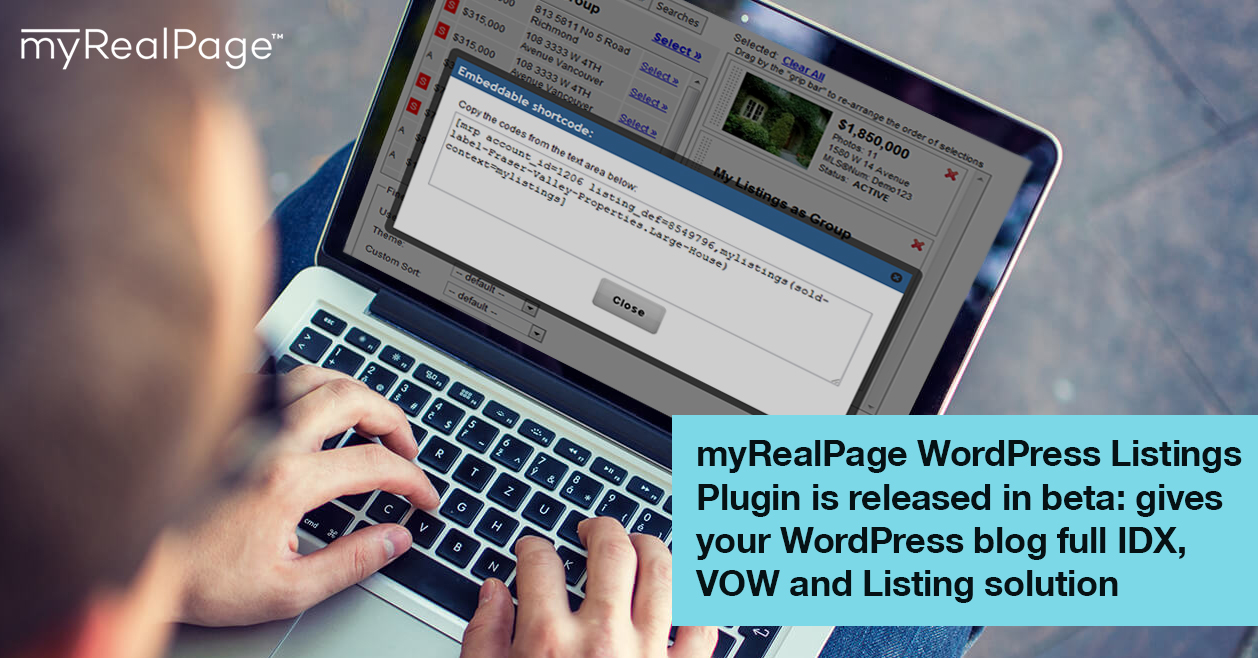 We are very thrilled to publicly release the first beta version of our IDX and Listings WordPress plugin. This plugin is designed to give your WordPress blog or website the full power of myRealPage Listing solution, including support for Reciprocity (public searches*), Virtual Office Website (VOW*), Predefined Searches* for your niche listing pages, and much more.The plugin is specifically designed to inline the listing content inside your WordPress pages in order to make it fully visible to search engine crawlers and make it SEO friendly. We have taken special care to generate descriptive dynamic titles for pages that you don't directly control, such as Listing Details pages into which your visitors will navigate by browsing listing.
Currently, the plugin provides IDX WordPress integration in select regions in Canada and the US, including: Greater Vancouver area, Edmonton and Calgary areas, Saskatchewan, Victoria, Vancouver Island, San Diego, Greater Phoenix area in Arizona, Chicago and some others (call us for full details: 1-866-512-3876 or drop us a line to support@myrealpage.com)
myRealPage WordPress plugin utilizes the power of WordPress "shortcodes": special placeholders which are dynamically turned into useful content by the WordPress rendering engine. Our plugin comes bundled with a very flexible and powerful Listing Shortcode Wizard which will help you create all sorts of listing configurations, including functional and visual options, such as custom width for the listing content, basic color theme, custom sort order, and much more. The Listing Shortcode Wizard also includes a Preview button to make sure you got your configuration right.
Use the Shortcode Wizard to include such listing content as:
Your and your office listings, including your listings optionally split by status and custom defined categories, as well as combined with other hand-picked listings
Any predefined search, on its own or combined with hand picked listings
A number of hand-picked listings which you can look up in Shortcode Wizard by MLS® numbers
An individual listing, including specifically details, photo, video or map view (great for building single property websites)
A standard or custom configured search form
We have also bundled out-of-the-box support for twentyten theme which comes as the default theme in new WordPress versions, as well as Thesis 1.8 theme which appears to be one of the more popular ones out there. If you are CSS-savvy or work with a designer or developer, you can also adapt this plugin to work with other themes: read more on our technical blog.
We have also published a full HOW-TO on the installation and use of the plugin on our Tech Blog.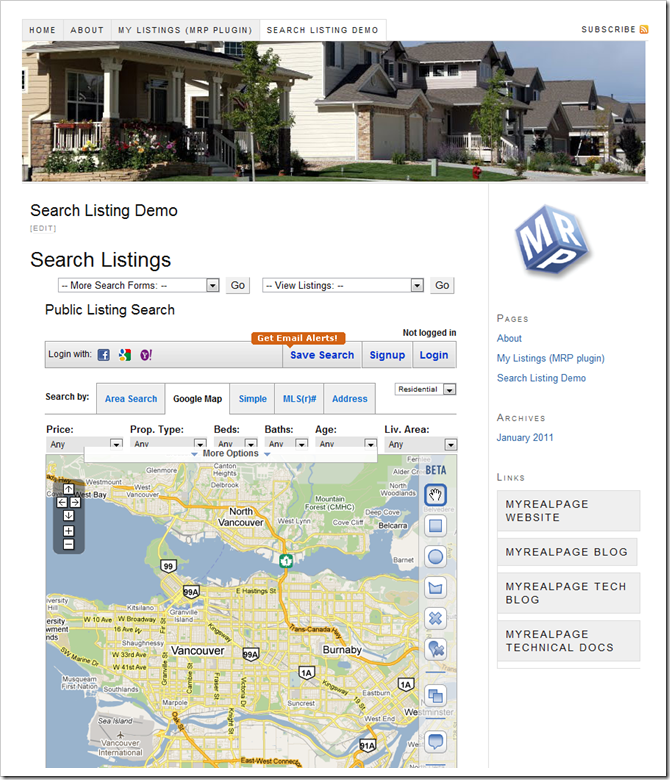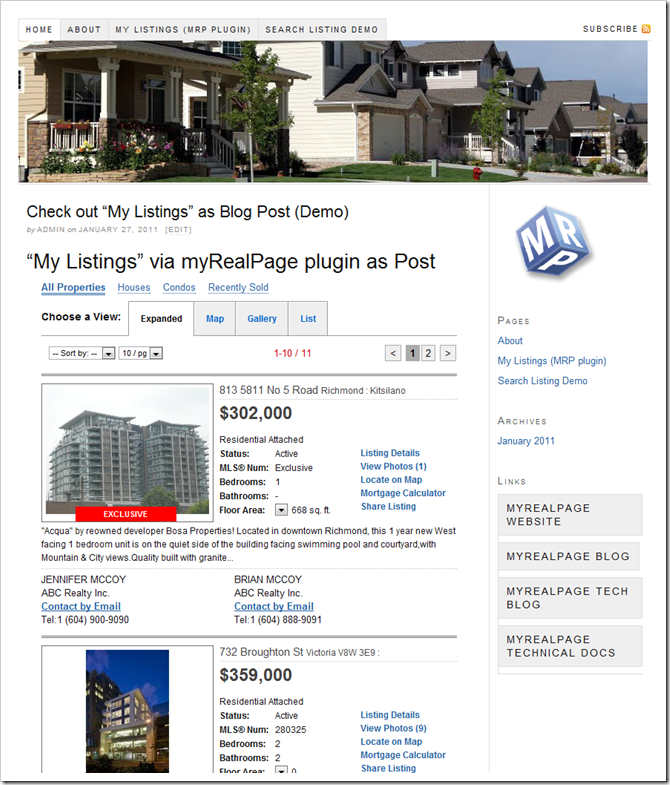 myRealPage WordPress Shortcodes Wizard: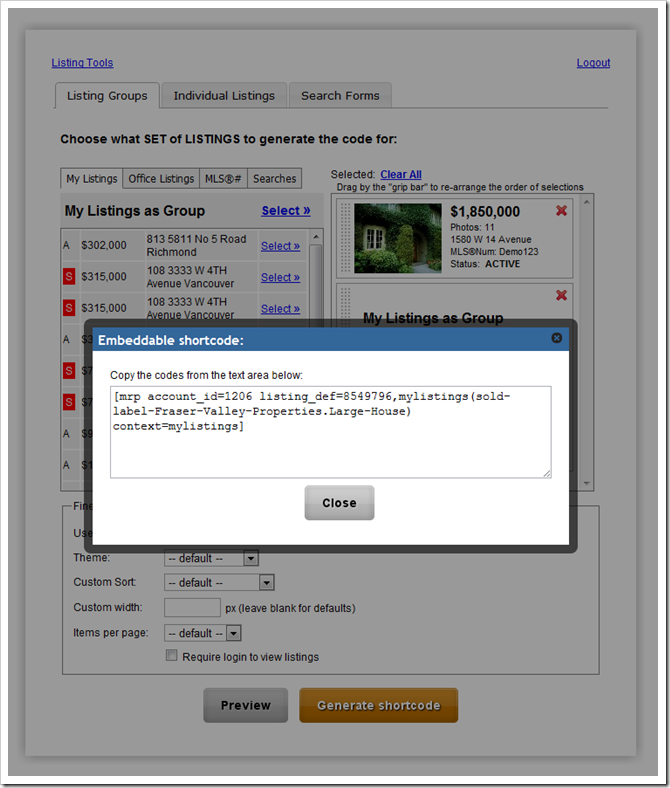 We hope you will find this product useful. Let us know what you think: you can leave your comments here to send them to feedback@myrealpage.com
— brought to you by myRealPage.com
* For availability of Reciprocity and VOW in your region, please contact us at sales@myrealpage.com