Should You Join a Real Estate Team?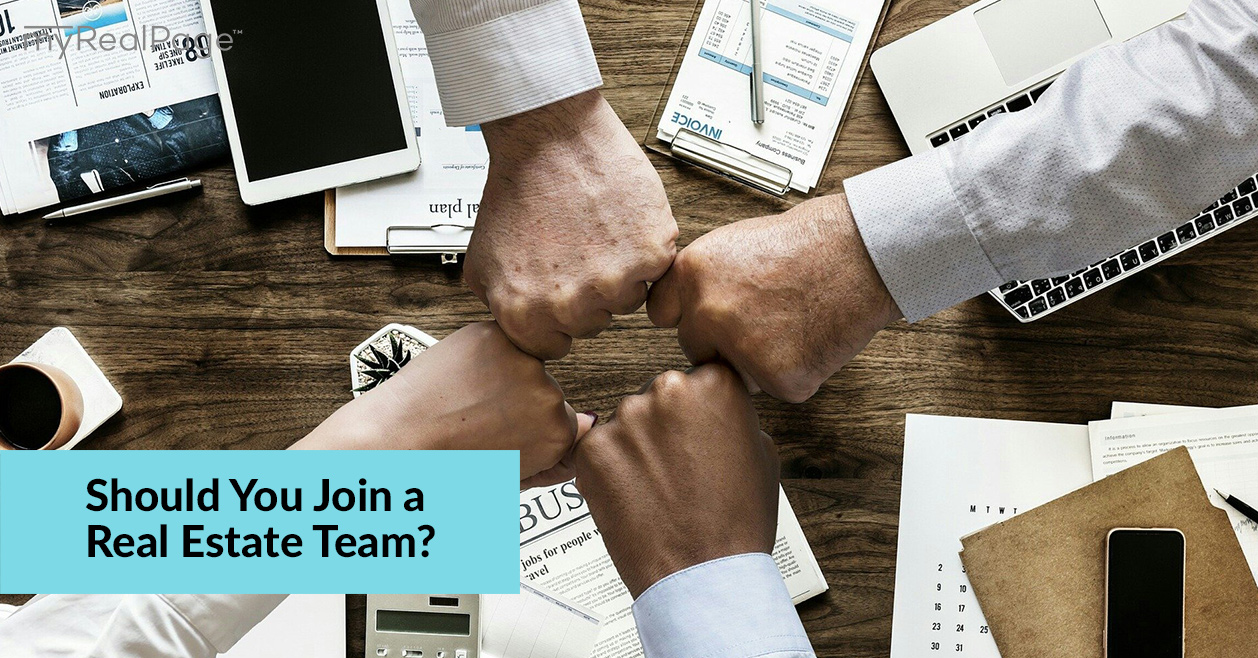 Should You Join a Real Estate Team? Ask Yourself These Questions First
The question of whether to join a real estate team usually happens at one of two stages in a real estate agent's career:
At the very beginning, with a freshly issued real estate license; or,

Somewhere in the middle, when things are beginning to feel a bit tedious, humdrum or difficult.
Wherever you're at, it's a big question — with big consequences. It requires serious research and thoughtful contemplation. 
Find yourself wondering whether joining a real estate team could be the right move for you? Before you go further down the path, pause to ask yourself these key questions.
What Do You Need to Be More Successful?
This question is more relevant to agents who have been in the industry for a while.
Look at the state of your business. What do you need to take it to the next level?
More (and more effective) marketing?
Access to a larger pool of leads?
Mentorship?
Administrative support?
If you answered yes to more than one of the above, then it might be worth seriously considering joining a real estate team. 
While working as a solo agent comes with a lot of perks, it does mean that you are chiefly responsible for every one of those things above. It's a lot to manage, and it's difficult to be proficient in all aspects.
A real estate team can provide support in every one of those areas. 
The shared marketing budget is often bigger, with better resources and professional support. More reach = more leads. Mentorship happens naturally when working closely with more experienced, highly successful real estate agents. And admin support is almost always a given.
What Are Your Personal Goals?
There are clearly many perks that come with joining a real estate team. But are they worth it?
Whether joining a real estate team is worth it or not depends both on whether the team can help you become more successful and whether the team can support your personal goals.
You might be thinking But isn't becoming more successful a personal goal?
Sure it is. But you probably have others, too.
Like maybe you're striving for better work-life balance. Maybe you really want to stand out and make a name for yourself. Or maybe you're aiming for exponential growth and income.
Not every personal real estate goal is well served by a real estate team.
Better work-life balance? Joining a real estate team can absolutely help you meet the goal. You have teammates to help carry the load and cover your bases.
Looking to become a local household name? You might be better off flying solo. Being a part of a real estate team means just that — being a part of a team. Unless you're the leader, you might not achieve the sort of recognition you're after.
Do You Enjoy Collaborating?
While every real estate team is unique in terms of how they operate, one thing tends to be true about all of them:
There's no "i" in team.
It's pretty much a requirement that real estate team members actually enjoy working as a team. That means collaborating. Brainstorming. Sharing. And being flexible.
It may sound uncomfortable or unnatural for an agent who has only ever worked alone, but the team nature provides a safety net that can be refreshing and reassuring.
But not everyone enjoys collaborating with others in a professional setting, and that's okay. In that case, the feeling of a safety net may not be worth the frustration.
Are You Prepared to Give Up Some Independence? 
You'll not only need to be comfortable with working in a collaborative setting, but you'll also have to be okay with sacrificing a bit of your freedom.
As an agent working solo, you become accustomed to setting your own schedule, making your own financial decisions and having complete creative control over your real estate brand and real estate marketing strategy.
When you join a real estate team, you lose some of that autonomy. 
Whether what you gain in return — a safety net, access to resources, and a chance at better work-life balance, for instance — is worth it will depend on how much you value independence.
Are you a solo agent or a real estate team member? Tell us in the comments.