The Trick to Taking your Instagram Followers from Passive… to Warm Leads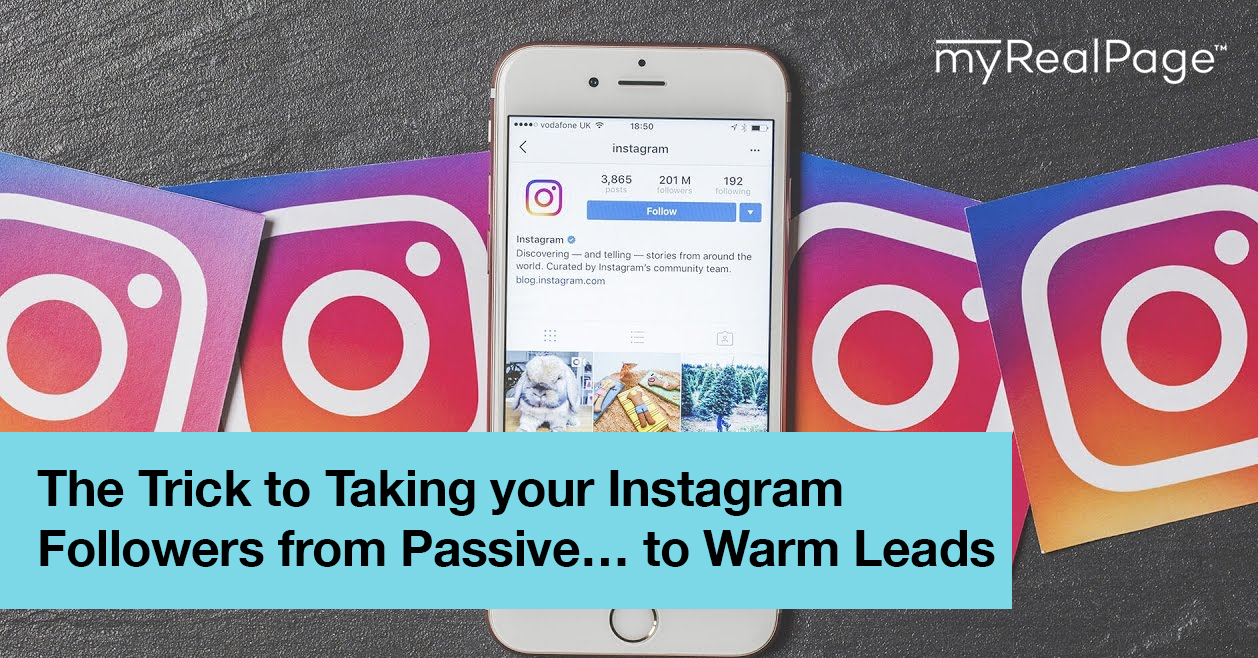 If you're like most people on Instagram, there's a lot of fast flicking of the thumbs. Downward scrolling is a new skill. But beyond that – there's not much action being taken.
How do you take your Instagram followers from passively looking at your real estate-related posts to taking action on your website – and becoming a new lead?
The trick is your Instagram bio.
The Instagram bio is the first thing people see, and it's a great indicator of not only your contact information, but of the brand and personality of your company.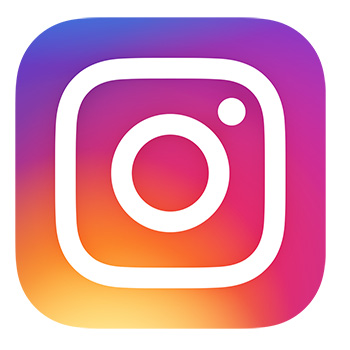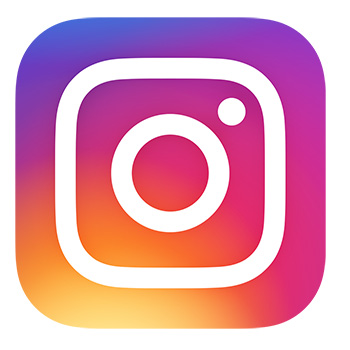 The bio is also a perfect place to engage visitors, and help transition them from passive followers into potential clients.
Too good to be true? Try out our top tips for optimising your Insta bio — to make it stand apart from all the snores.
1. Use the
easy
business button
If you haven't already switched over, consider a business profile for your account.
It's free and easy to make the switch, and can be connected to your Facebook page.
With a business profile, you get the addition of a Contact button, allowing users to take action directly from your Instagram profile. Ensure you have a dedicated support person or a "hello" email address set up to receive these leads.
In your captions and posts, you can highlight your bio's Contact button as the place to go for any additional queries, comments or direct questions. It's like having new clients slide into your Instagram DMs — but more professional.
You can also select the type of service your company falls under, and include your city in the business bio.
Still not convinced? A polished business profile offers you more space, detailed info, and even analytic information on all your posts. That way, you can really dig into the demographics of who your followers are.

2. Don't be afraid to show your emotions
Since you're already on Instagram, you're obviously tapping into your inner millennial. And what do millennials love more than anything, aside from selfies? That's right – emojis.
Use emojis to create visual space between text, and use them to enhance your bio.
Do you specialize in tropical properties? Add a palm tree! Do you work remotely? Add a drop pin with your current location! Do you want to include your fax info? Use a fax emoji! (No guarantees that anyone will actually recognize it.)
Not expressive enough? Spice up your bio even more by using a fancy font from Textizer.
Take realtor @bavanrealtor's bio as an example of how to incorporate emojis creatively.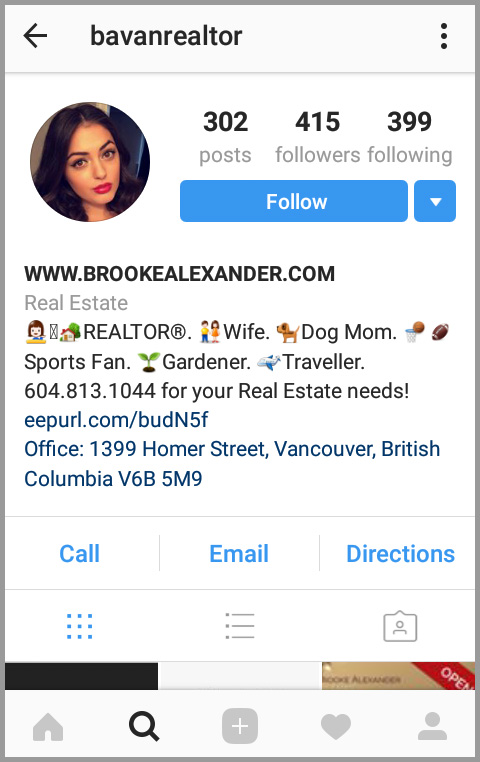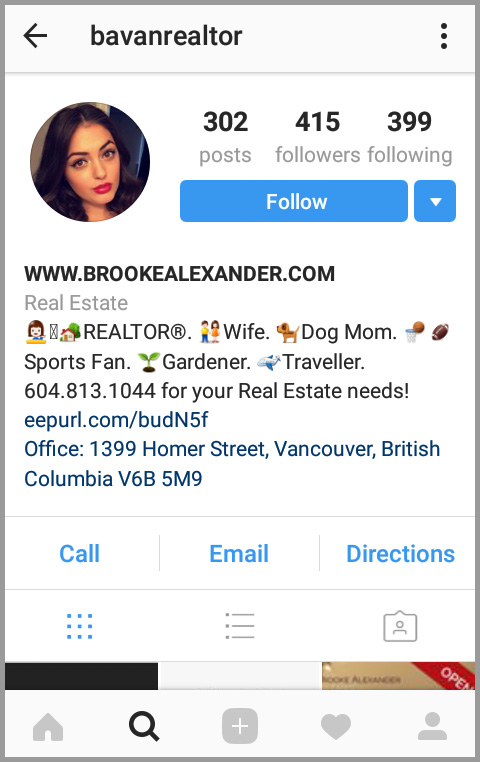 3. Can you say it in a sentence?
Instagram is a visual medium, so there is nothing worse than a bio that is a paragraph long, and packed full of text (we have Reddit for that).
Try to keep your bio sweet and simple.
Can you describe your company or brand in just one sentence? The more concise you are and the more focused your brand message is, the better. You can add a bit of personality here, but don't overdo the fancy jargon, and let your posted content do the talking!
Take team communication app Slack's Insta bio as an example — straightforward and friendly.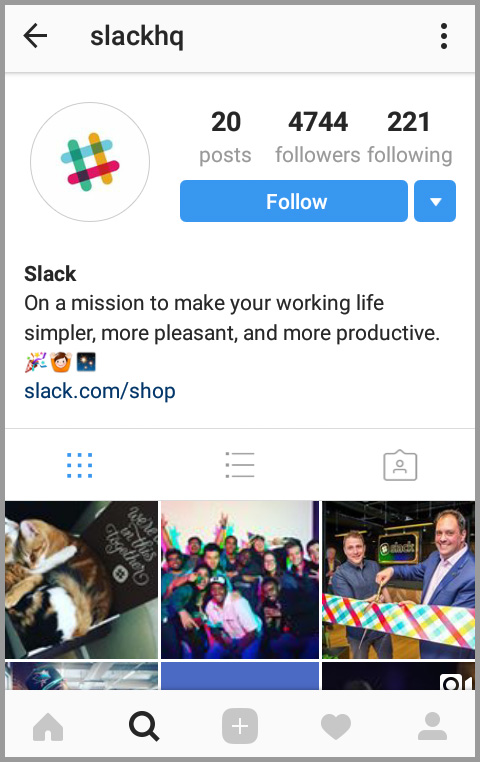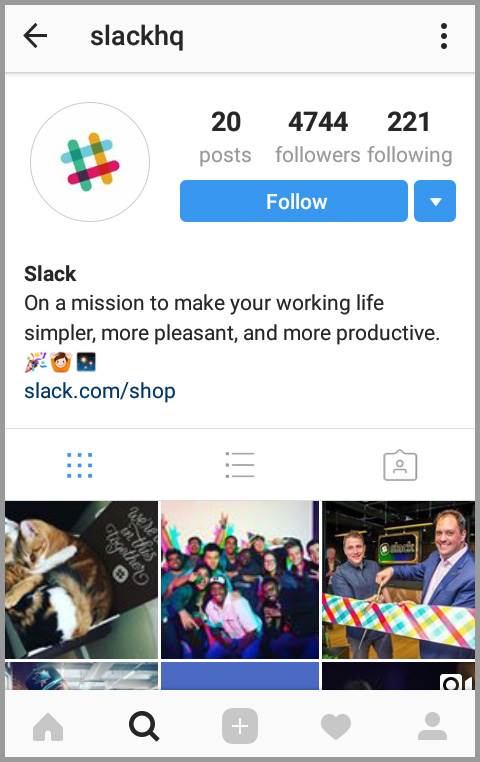 4. Use keywords and be search-friendly
Add some search-friendly keywords related to your business in your "Name" field, and a maximum of 2 branded hashtags in your bio.
From desktop, any hashtags you include will be clickable, so pick something that is relevant to your industry and ties back to your own brand. The US realtor Keven Stirdivant uses both a brand hashtag, and a hashtag that encourages user submissions and social sharing in his bio.


And for your followers who aren't checking you out from their laptop or computer, having your branded hashtag in your bio is a good way to let them know that they can search that hashtag to see more about you!
5. Incorporate your skills in your name
Your Name and Username are the only two searchable fields for users to find you on Instagram via search, so be sure to actually list your business name in full.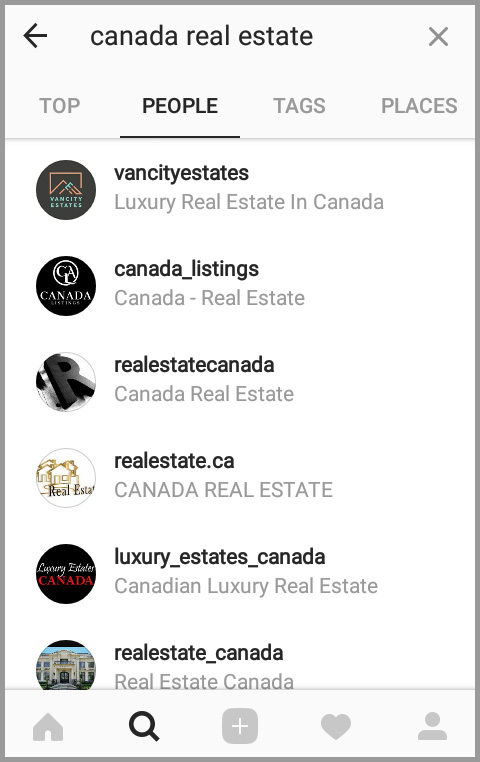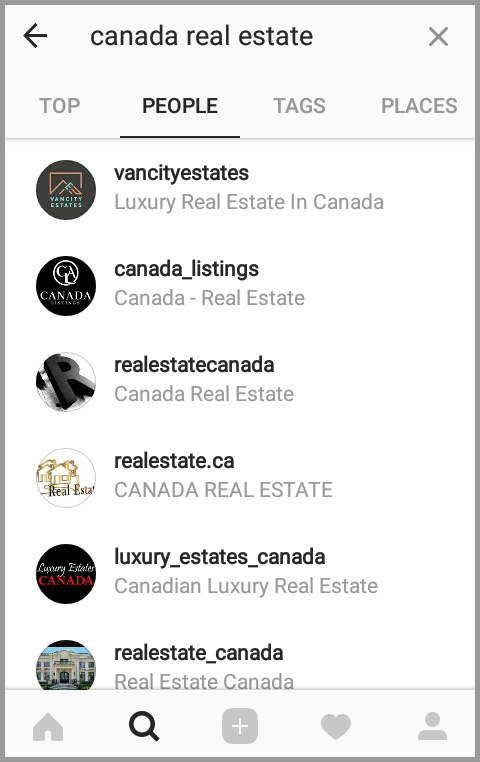 If you run a personal account as the face of your business, you can add a distinct descriptor of what you do to stand out, as well.
Take realtor Dimitrios Kalogeropoulos, for example. He not only incorporates his occupation into his Instagram username, but also has a username that surmounts the challenges posed by his rather long real name. He can even use his own username as a hashtag, and best of all, it's easy to remember!