Updated "Area Search" form, better search form selector, and more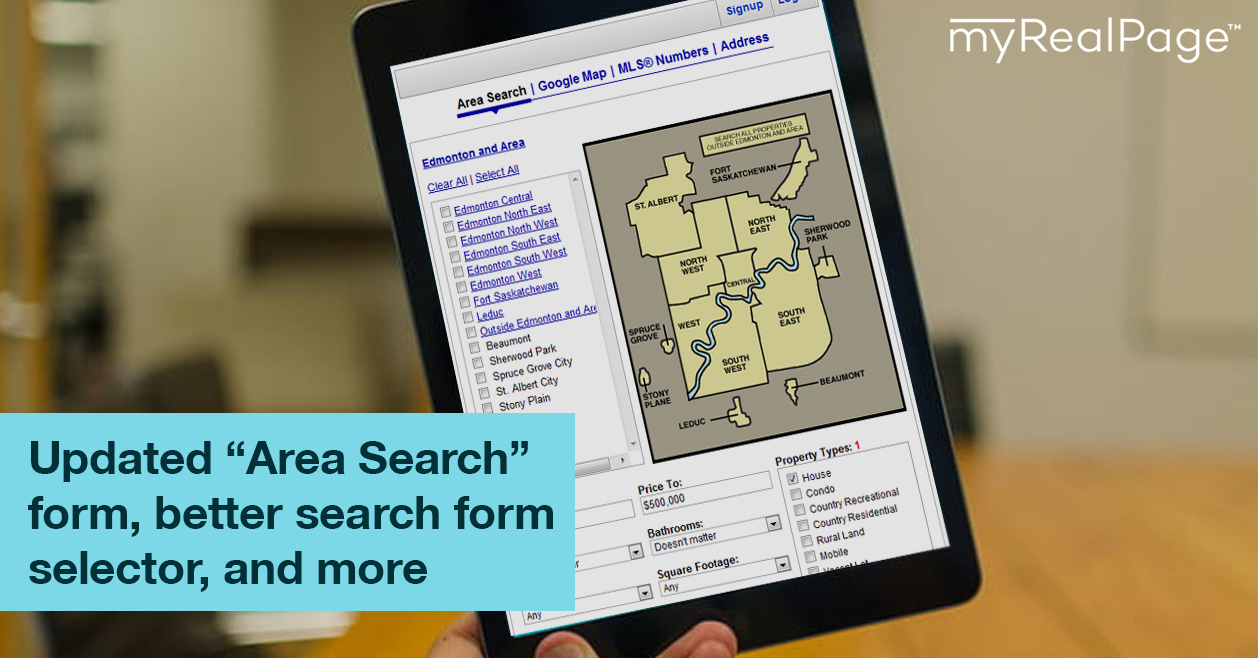 MyRealPage has released another update to the listings product which included more polish and improvements to the search forms. There was a lot of cleanup work done "under the hood", but primarily the following changes will be immediately visible to the website users:
Cleaner, crisper look and better usability for the MyRealPage's oldest search form: what used to be called a "Map Search" form, prior to the arrival of our Google Map Search. This form is now called "Area Search"; it now sports more streamlined single page behavior, better area navigation and bigger, more visible controls: all to let your visitors get to the listings faster.

Updated, more intuitive search form selector which we believe better reflects its use. The search form selector can be found just above the search forms: it allows a user to switch between various available search forms.
Improved listing loading in the Private Office. When the listing tab is clicked now, the listing category tree shows up immediately, allowing you access to the Listing options and the "New Listing" button right away. The listings will then load progressively from Active and Sold, to the rest. This will be most welcome by larger teams, brokers and agents with large listing inventories.

Better support for Lease and Rental properties. This includes correct "Leased/Rented" status, as well as the automatic banner. Lease and Rental properties will also show as "FOR LEASE" and "FOR RENT" instead of "ACTIVE".

Better support for IE8. We have found and resolved a number of issues that affected the new version of the Microsoft's Internet Explorer 8.

San Diego search forms have been updated to enable the search for sold properties, including a period range to limit the search (this feature was implemented to accomodate the local Real Estate Board's policy regarding the sold listings and the local market expectations).
(above is the screenshot of how the "Area Search" looks in Edmonton. Of course, each region we support gets its own regional form).
As we ramp up for more updates and improvements, we hope you will find the most recent ones useful.
— Brought to you by MyRealPage.com