Your Listings in Your Blogs: Automatically!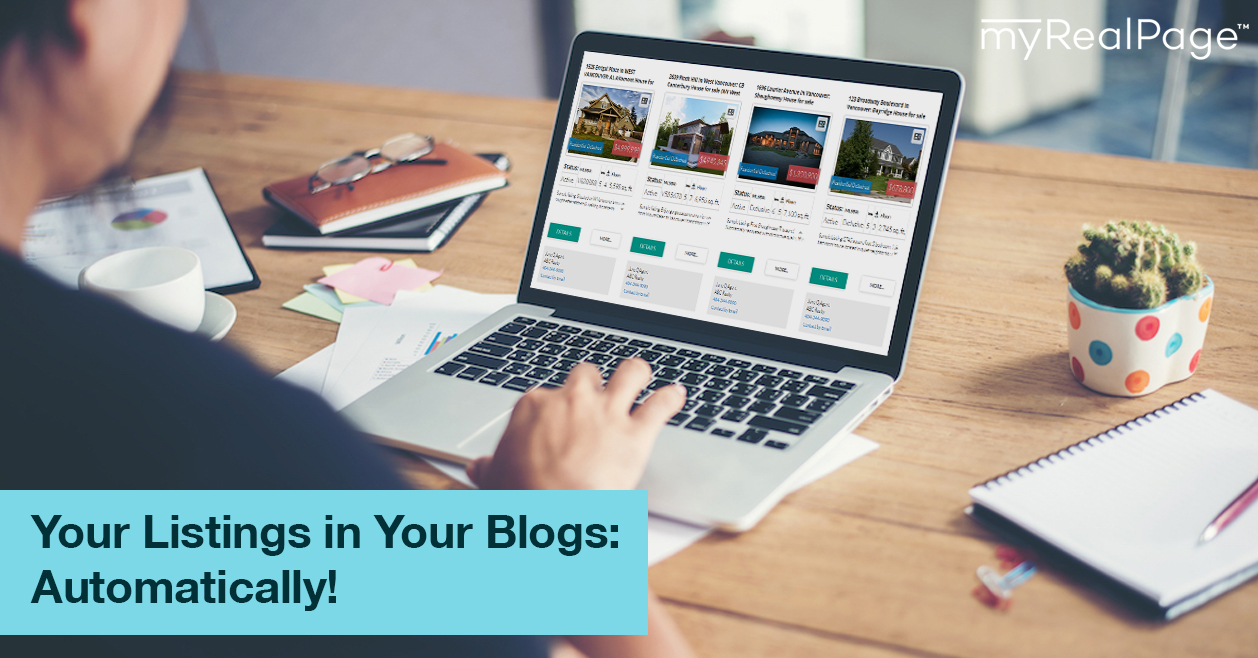 Blogging is a great online tool to promote the dynamic nature of your website, offer your opinion on a subject of your choice, be heard! If you offer interesting content, your web visitors will come back for more, search engines will favor you, and you will get the satisfaction of having an audience!
Wouldn't it be great though, if your listings could automatically be published to your blogs, as you sign up new properties, sell them, and hold open houses! Each listing already has important information in it; and publishing it by hand is repetitive and boring. Well, enter Automatic Listing Blogs…
Let's take a moment to see what you can already do with MyRealPage blogs:
Create Unlimited blogs, Unlimited postings and publish them on Unlimited number of pages

Allow comments to be posted by web visitors; invite feedback, stay connected to your visitors

Stop automatic "spambots" from posting annoying ads in your comments (that "goobly-goo" text image that you need to re-type before you post, it's called CAPTCHA, and that's what it's for!)

Filter and approve comments to prevent manual spam or abusive content from making its way into your blog comments

Syndicate your blogs by offering an RSS feed to web visitors

Ping back well known blog aggregators, including custom ones that recognize blog pings

Save and publish your blogs later, only after you review them; unpublish postings if needed

Provide full archive links, blog category links, and links to other blogs you may have

Oh, and yes, it's included in your standard package at no extra charge. Enjoy!
Great, but what about Automatic Listing Blogs? Well, in addition to the above, this is what you can do now:
"Opt in" to have MyRealPage automatically monitor your listing activity nightly and publish all or any of the following changes: New Listings, Sold Listings, and Open Houses.

Remember that, in many markets, MyRealPage listings are brought in from your MLS Board automatically, so this becomes a fully automated process: no ongoing input from you is required

Customize and personalize your Automatic Blogs by editing the templates, including adding images, in order to promote your specialty and brand

Create automatic blogs "manually" if you would like them generated "right now!" or for your older listings; or experiment with the templates…

Listing location and neighborhood information will show up in your Blog Navigation, thus linking your Automatic Blogs to Neighborhood keywords (this is good for search engines)

Include these automatic postings into your main blog so that they show up alongside your manual postings, or dedicate individual page or pages to the automatic blogs

Oh, and yes, it's included in your standard package at no extra charge. Enjoy!
We hope you enjoy this great new tool! Below is a 10 minute video that shows you the many powerful features listed above. (We also have MORE great news coming, stay tuned!)