A little while ago, we have updated our blogging system to let you blog like a pro; today, we are announcing integration with the DISQUS commenting system. DISQUS created a blog commenting system which includes threaded conversations, user profiles, blog trackback URLs and much more and then turned it into a widget, much like MyRealPage did with its Listings product. MyRealPage blogs have had built-in comments from the start, but if you would like to take it up a notch, you can easily enable DISQUS comments. All it takes is creating a free "COMMENTS", profile here and enabling the setting in your Blog weblet. You will need to copy-and-paste the widget code into the Blog Weblet settings (don't forget to publish). The whole procedure should take you 5-10 minutes. After this, MyRealPage will automatically "inject" DISQUS comments instead of the built-in ones. If you had comments submitted via the built-in system, don't worry, they will still display, even after you switch on the DISQUS system.
In your list blog view, the DISQUS will insert the number of comments into the Comments link.

And in the blog detail view, an entirely different blog comment form and threaded comment view will be presented: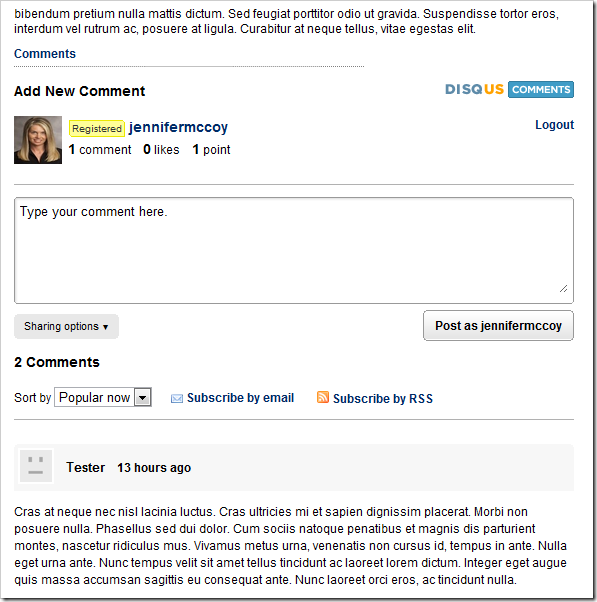 [UPDATE]: QUICK HOW-TO:
You will need to create a "Comments" profile with DISQUS here. When finished you will be taken to the "Install Instructions" screen. Choose "Universal Code" to access your "embed code":

HINT: if you already have an account with DISQUS, or ever need to find this place again; Click on "Overview" in the top right corner under your profile name. Then, click "DISQUS Comments –> Go to", then hover over the website dropdown in the top right corner and choose "Install Instructions".
In the Blog Weblet settings, enable the Comment Options and copy-and-paste the DISQUS "embed code":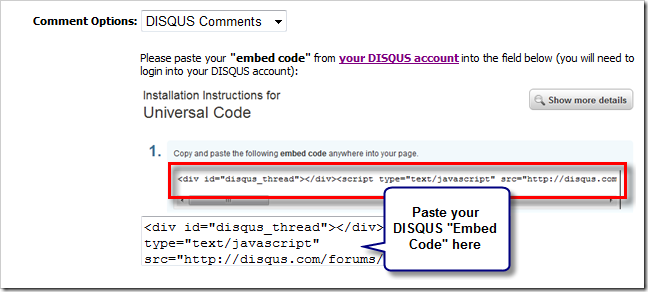 Does anyone use or would like to use JS-KIT Echo? Would you like us to integrate with their commenting system as well?
Have ideas or suggestions? Post your comments here or drop us a line at support–myrealpage.com.
We hope you will enjoy these new updates.
— Brought to you by MyRealPage.com