20 Ideas for Making Eye-Popping Conversation Happen on Your Facebook Page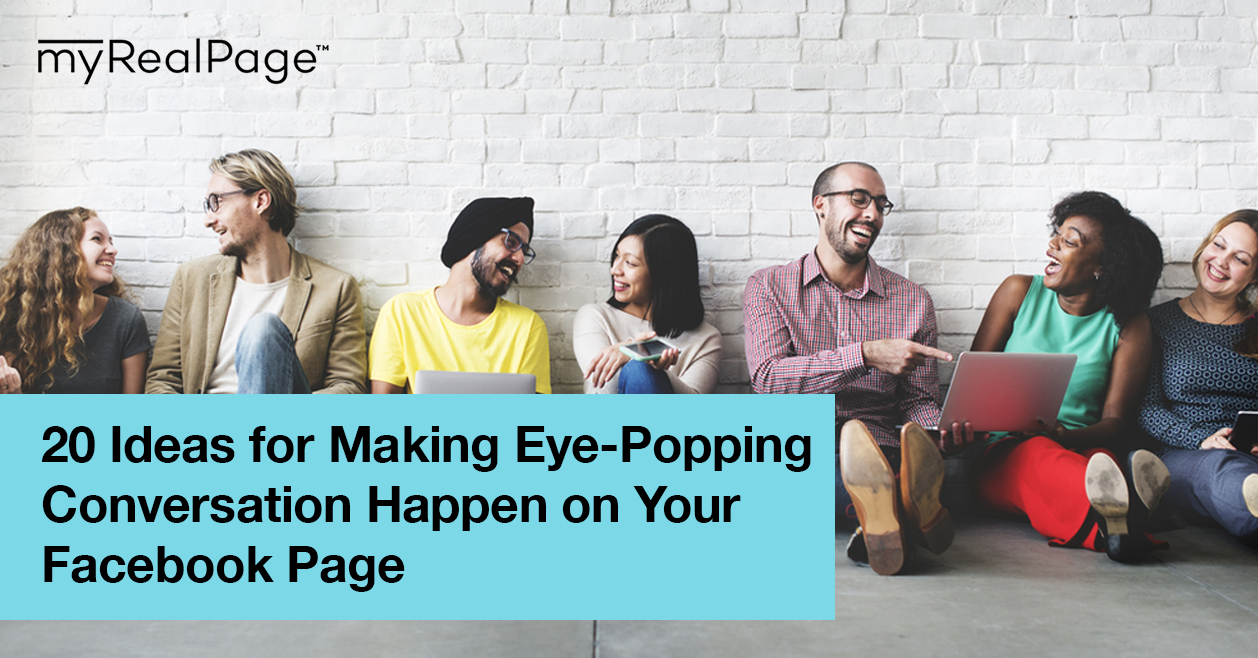 When it comes to what Facebook users see in their news feeds, Facebook's goal is pretty simple: show people the content that matters to them the most, and show it to them first in their feed.
To give users that tailored, first-things-first experience, Facebook uses an ever-adapting algorithm that ranks all the content available to a user according to how relevant it is for that particular person. It looks at factors like:
How often the user interacts with the person or page who posted the content (if it's someone they frequently interact with, chances are the post will appear higher in their news feed)

If it's the kind of content — a photo, video or link — that a user usually engages with

How much engagement the post is receiving, and if some of the comments (and likes and shares) come from people the user interacts with
For REALTORS® using a Facebook page to market their business, that last point is crucial.
Lots of conversation = high engagement = higher likelihood that your posts will actually make it to your followers' news feeds — and maybe even the news feeds of their friends.
Pretty easy equation right?
Not entirely. Creating conversation is tough!
So how do you get people talking? With the right questions.
And it seems like lately, Facebook's algorithm has returned to favouring conversations happening on business pages. Good news for us all!


To get the ball rolling for you and your business page, we've put together this list of #winning Facebook page prompts that you can publish to get people talking – and to get your posts seen.
Before we dive in…
The right prompts are key, but they're not a magic solution on their own. To help make your prompts effective, don't forget these other key guidelines to posting on your Facebook page:
Post regularly. Post at least once per day, every day, to keep your page active. Consistency is important

Add an image(s) or video to each post

Interact with your followers. Respond to questions, thank followers for nice comments, and comment on, like and share other users' posts

Regularly analyze posts that flop and posts that do well

Mix it up. You don't always have to post about real estate
Now onto the prompts!
The following 25 questions are designed to get the followers of your REALTOR® page typing, sharing, and liking.
What's your goal for today?

Or week, month, or year

True or false: black walls are almost always a bad idea.

What's been your biggest success this year?

Or week or month

What's your favourite thing about your neighbourhood?

Let's get to know each other better! What are three must-know things about you?

Give us your best life hack.

Where have you been finding inspiration lately?

The kitchen is the heart of the home. Agree or disagree?

It's the first day of [insert season]! What fun activity or trip do you really want to make happen this [insert season]?

What would you say you're an expert in?

If you could change one thing about your home, what would it be?

If you could instantly have any new skill, what would it be?

Of all the places you've lived, what's been your favourite?

It's National Ice Cream Day!

Find observances and dates

here

. What's your all-time favourite flavour?

Do you have kids? How much input do they get in decorating their rooms?

You win $1 million. Do you move or stay put and renovate?

Your signature dish. Go!

What are your favourite sites for online home shopping?

Would you rather have … a saltwater pool, a fancy home theatre, or a fully stocked home gym?

What's a foolproof housewarming gift?
Let us know how the prompts do on your Facebook business page! Feel free to tag us in the thread, and we'll chime in.