5 Essential Things to Do Before Launching Your Real Estate Website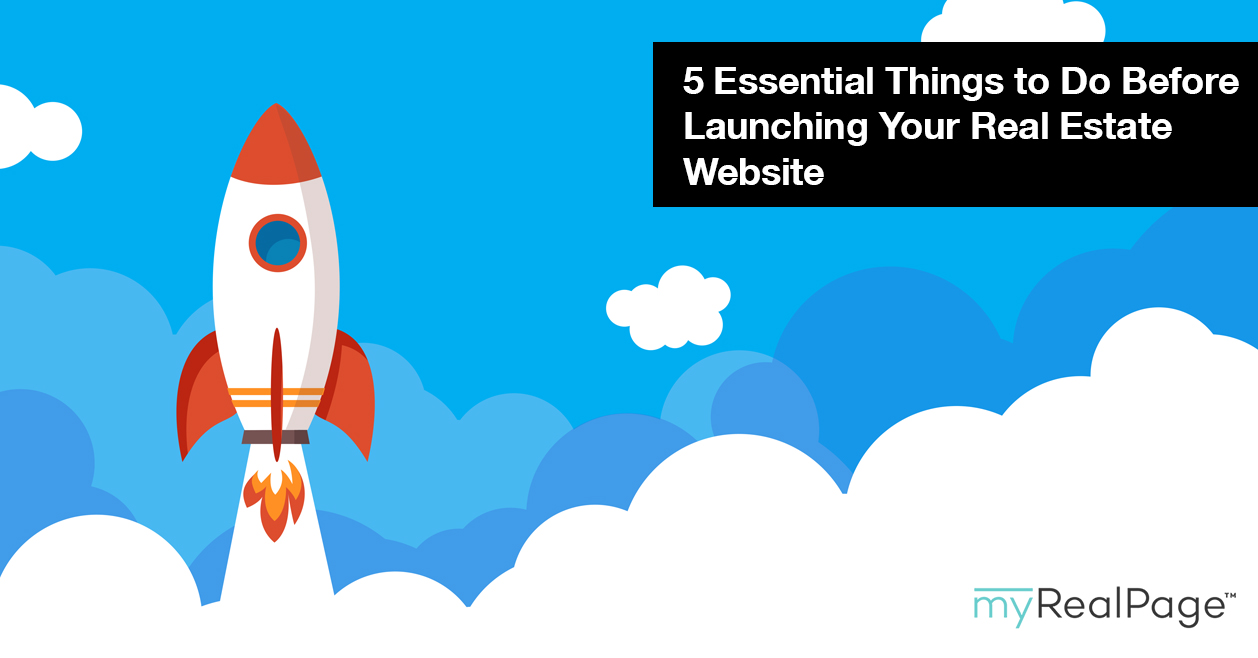 This post was updated on 09/05/2017.
You bought your domain name, built your website (or used myRealPage to create your custom real estate website), loaded your content and listings, and now you're ready to make it live for the world to see.
But are you really ready?
There are some pre-launch necessities you might not have thought of. Don't worry — we've got you covered.
Before you hit the proverbial 'Launch' button, read through our list of the five things you must do before launching your real estate website.
1. Edit your titles and metadata
Page titles let visitors know what kind of information they will find on each page. It's what search engine users will see in their search results. Each page on your site should have its own unique title and, if possible, your titles should contain a keyword of yours that you are targeting.
Another important element to edit before you launch is your meta descriptions. These are chunks of text – about 160 characters or less – that summarize what each of your pages is all about. It helps a search engine user decide whether they'll click to visit your site or someone else's in the results. It's effective to have a keyword or keyword phrase in your meta descriptions, too.
Both your page titles and meta descriptions will help Internet users discover your site, and then convince them to click through. If you're using a myRealPage website, we've got a guide for editing the meta titles and descriptions.
2. Proofread, proofread, proofread
Sure, this is a no-brainer, but many people rush through this step.
Spelling mistakes, obvious grammar errors, poorly formatted text … People do notice these, and these mistakes have an impact. They give the impression that you're less professional or careless with details (which you DON'T want them thinking when it comes to your contract-writing skills).
Read your website copy over several times, slowly and out loud, to catch any mistakes. Break up your text into short paragraphs for easy readability. Have a friend or colleague proofread your pages, as well, to catch anything you might have missed.
3. Test your links
After you've read over all your website pages, test each and every link on every single page. You want to make sure that:
Your links actually work

Links to external websites open in a new tab (this excludes links to other pages on your own website)

Your links are obviously links (meaning, they are consistently underlined or bolded in the same colour)
4. Get started with Google Analytics
Your myRealPage website comes with a basic web analytics tool, but to measure and track every activity on your website, we suggest adding Google Analytics.

This free Google tool is the industry standard for analyzing where your visitors are clicking, how long they're spending on certain pages, what page from your website they leave from, and other handy details in that arena.
It's a pretty comprehensive tool, so there's a small learning curve when you first get started. Luckily, both Google and the Internet offer plenty of tutorials. We've also got a step-by-step tutorial that shows myRealPage users how to get started.
5. Add a favicon
Favicons are those little icons that show up in the address bar and tabs of your browser.
How do they help? It's a small branding opportunity that lends credibility to your site.
Here's a tutorial for adding one to your site.

Once you've gone over this checklist, your site will be in top shape for launch time. https://cheapigfollowers.com/buy-instagram-followers/ Have you launched a website before? What other checks would you add to the list? Share them in the comments.