5 Real Estate Lead Magnets to Grow Your Email List From Average to Amazing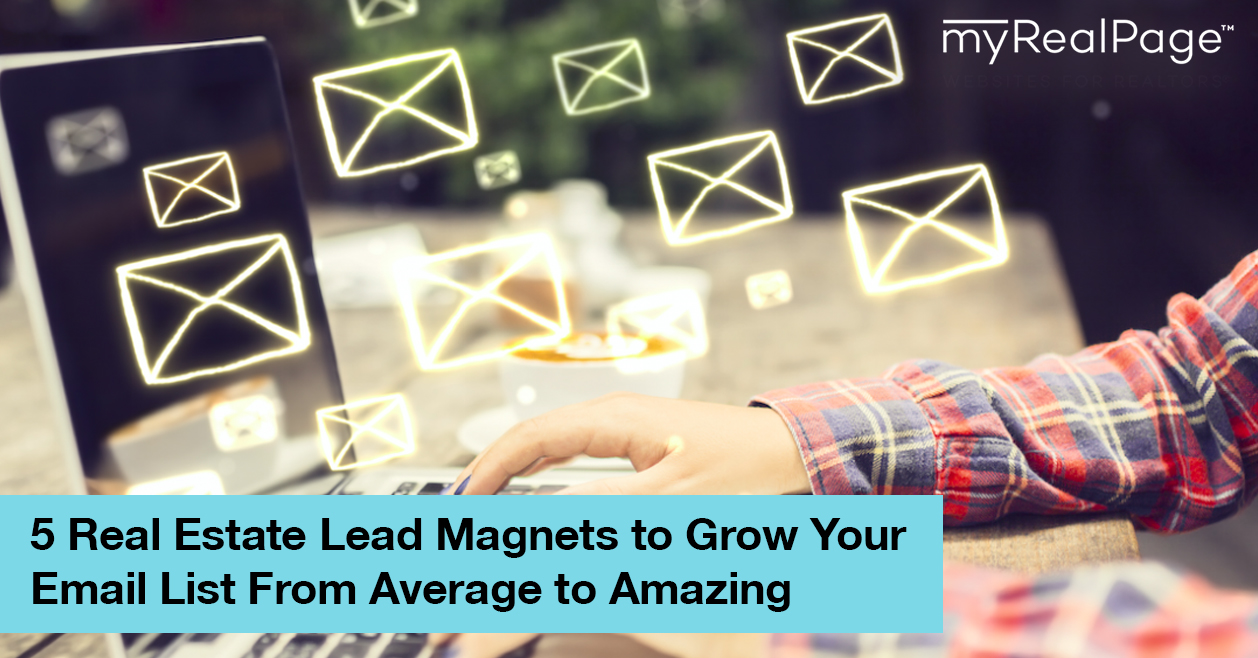 Your real estate newsletter is hugely valuable when it comes to keeping your name and business at top of mind for your existing clients and prospective ones. But only if your subscriber list is healthy — that is, filled with qualified and engaged people. Your mom and best friend don't count — sorry!
Growing your realtor newsletter list is important, but it's easier said than done. How can you convince strangers that they should subscribe to yet another regular email? The answer: lead magnets.
Think of lead magnets as a good trade: in exchange for someone's email address and permission, you'll give them something — a product, a service, an offer — that they want. If your lead magnet is truly valuable (we're not talking about a keychain or a beer cozy), it won't be long before you see your real estate newsletter subscriber list grow.
Here are five lead magnet ideas for real estate newsletters.
1. Host a Contest
You've probably seen this tactic employed by other websites — "Sign up for our e-newsletter to be entered into a draw for a laptop/vacation/puppy/lifetime supply of pizza."
It may feel gimmicky, but if the offer is good and relevant to your target audience, this is a lead magnet that works.
You don't have to spend thousands of dollars to make this tactic succeed on your realtor website. Don't underestimate how small an offer the average person will be reeled in by; pre-paid credit cards, e-readers and gift certificates all make good prizes.
2. Create Helpful Guides
Use your realtor expertise to create thorough guides about neighbourhoods, about how to shop for a home in today's market, or about the laws and terms used in the real estate industry.
Offer these publications for free on your website in exchange for a newsletter subscription. Detailed, easy-to-read guides on often intimidating subjects can be hugely helpful to your target audience of prospective home buyers and sellers.
Not sure what your audience wants? Hint: think about the questions people regularly ask you. Whether it's clients emailing with questions, what your friends are saying about real estate on Facebook, or what people in Facebook groups might be discussing, all of these places hold nuggets of information on what your target audience is wanting to know.
3. Offer Your Time
Time is money and as a real estate expert, yours is worth something. Offer up an hour of your time to local residents for evaluations and Q&A sessions, in-person or by phone.
While this requires more dedication on your behalf, it can be a great way not only to grow your subscriber list, but to turn information-seeking buyers and sellers into real clients.
4. Partner With Local Businesses
Cross-promotions can make excellent lead magnets. Reach out to businesses and organizations in your community that might be able to offer discounts and giveaways (which you would pass on to your newsletter subscribers) in exchange for promotion on your website.
Examples might include a dinner for four at a fancy restaurant, a gift card to shop at a high-end store, or a 30% off coupon.
If the offer is valuable enough, it could serve as a single draw prize (see "Host a Contest"); otherwise, smaller offers could be bundled together, or a coupon could be given to every new subscriber.
5. Share Checklists
Looking to get a lead magnet up on your website today? Checklists are probably the fastest and easiest option.
Brainstorm a few checklist ideas that might be helpful for a buyer or seller. For example: "The 10 mistakes first-time home buyers often make (and how to avoid them)." Or: "My 10 proven tips for getting your home sold fast."
Again, listen to what your network is already asking and they might spark some ideas for you.
With all these lead magnets, just be sure you're not giving the information away for free. Ensure there is an exchange for their email address. Programs like Leadpages or ConvertKit can help with this.