How to Create the Best Real Estate Feature Sheets to Help You Sell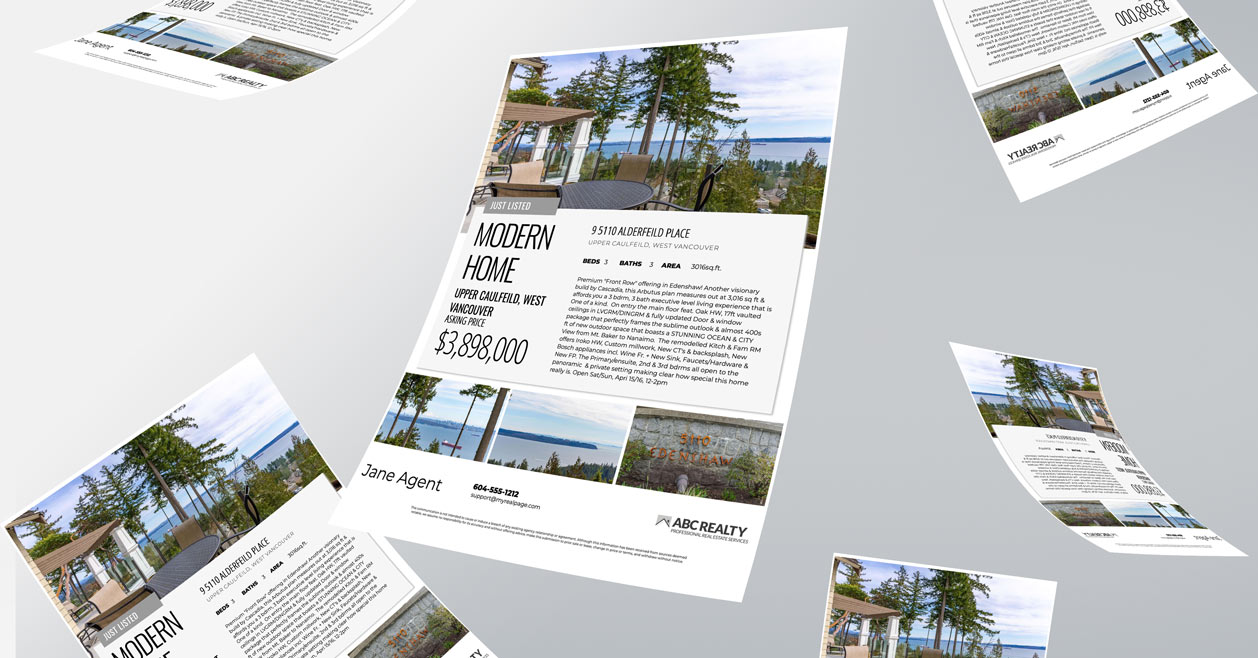 Real estate feature sheets are a mainstay of the real estate business.
The printed detailed summaries have been used forever by real estate agents to give prospects a take-home run-down of a listing.
Like anything that's been around for a long time, real estate feature sheets can easily get stale. You've probably been making them the same way for years without much change. 
Which means your real estate feature sheets might not be as effective as they could be in helping convince a prospect to seriously consider a listing.
Time to switch things up!
In this post, we'll guide you through how to create the best real estate feature sheets (plus, get the inside scoop on a tool that does all the work for you).
Create a Thoughtful Layout
How you structure and arrange the content on a real estate feature sheet can be the deciding factor in whether a prospect actually engages with the sheet at all.
Your goals when creating a feature sheet layout are to maximize visual appeal and readability. If it catches a prospect's eye and makes it easy for them to quickly comprehend key information, your real estate feature sheet is already working.
The best real estate feature sheets make use of:
White space

.

Dense blocks of text and overlapping images are visually overwhelming. Don't be afraid of white space — it supports readability.

Text hierarchy

. Use headings and subheadings to organize your text and help guide a reader.



Text boxes and sidebars

. Similarly, group text within borders or in sidebars (where it makes sense) to further structure information on your page.

Colours and emphasis.

Elements such as coloured backgrounds and bold or underlined text can be used strategically and sparingly to emphasize key facts.
When you have a layout you're happy with, use it consistently for all real estate feature sheets.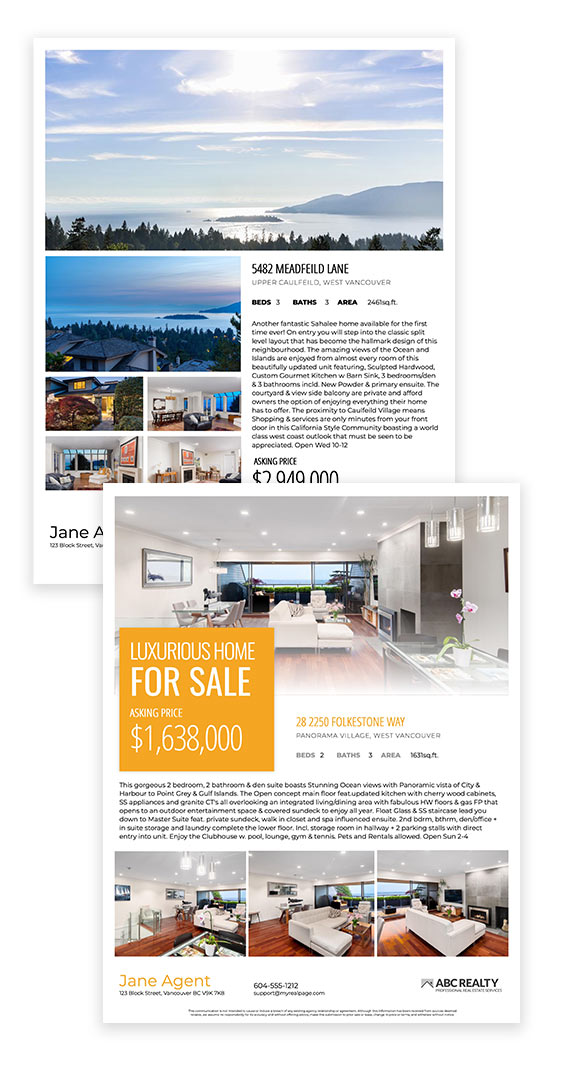 Use Storytelling Techniques
A good real estate feature sheet informs. The best real estate feature sheet sells.
The content on your sheet needs to sell the sizzle for your listing. Rather than simply list the facts about a home, you need to use those facts to help a prospect see how the house could be perfect for them.
This is where storytelling techniques come into play.
Real estate agents can use storytelling techniques in their copywriting to help forge an emotional connection between the home and the prospect. Your goal is to help a prospect picture themselves in the home and visualize how the home will improve their lifestyle.
This doesn't mean your real estate feature sheet needs to be packed with long-winded, flowery paragraphs. You can choose which details are fine as a bulleted list and which deserve the storytelling treatment.
Here's an example of how you could mention a chef's kitchen:
Version #1:
Recently updated chef's kitchen.
Version #2:
Miles of prep space, new appliances and backyard views make the kitchen a home cook's dream.
See the difference?
Don't start from scratch when it comes to copywriting for your feature sheet. Use storytelling techniques from the get-go when writing a listing description and you'll be able to make use of your great wordsmithing for your feature sheet.
Be Choosy With Photos
The best real estate feature sheets only use the very best listing photos.
Feature sheets only have space for a few photos, so it's essential that you select photos that:
Are visually straightforward (in other words, they can't be misconstrued in any way)

Are the right resolution for printing (they need to be clear and crisp)

Deliver the biggest "wow" factor

Depict the home's greatest attributes 
Let's say you can include three photos on your sheet. The lead image should be an exterior shot that captures the entire home as seen from the street or the end of the driveway. 
The second and third images should meet the last criteria from the list above — they need to pack a punch and they should depict the rooms that you feel are the listing's greatest selling points.
Apply Your Branding 
Don't go crazy with colours and fonts. 
They — along with the voice and tone of your copy — should be consistent with your existing real estate business branding. Your real estate feature sheets should look similar to your website, social media accounts, business cards, and so on. 
Like your layout, use the branding for your real estate feature sheets consistently.
Bonus: Use This Tool to Create the Best Real Estate Feature Sheets Quickly and Easily
The very best real estate feature sheets are eye-catching, convincing and can be created in just a few minutes… 
… If you use myRealPage's Marketing Tab.
myRealPage's Marketing Tab tool (formerly known as brandApp) lets real estate agents create professional real estate feature sheets with just a few clicks.
The tool offers professionally designed templates that can pull in content from live listings so that agents don't have to start from scratch.
Here's how it works:
If you have a myRealPage website, you're ready to use Marketing Tab to create the best real estate feature sheets.
Not a myRealPage user? No problem! We'll make switching a breeze so that you can take advantage of Marketing Tab ASAP.
We'll transfer your content over from another provider so that you can get started stress-free — AND we'll give you 50% off for three months, plus waive the set-up fee. 
Ready to build the best real estate feature sheets using Marketing Tab? Click here to get started.