INFOGRAPHICS: February 2019 FVREB Fraser Valley, South Surrey, Etc. Market Reports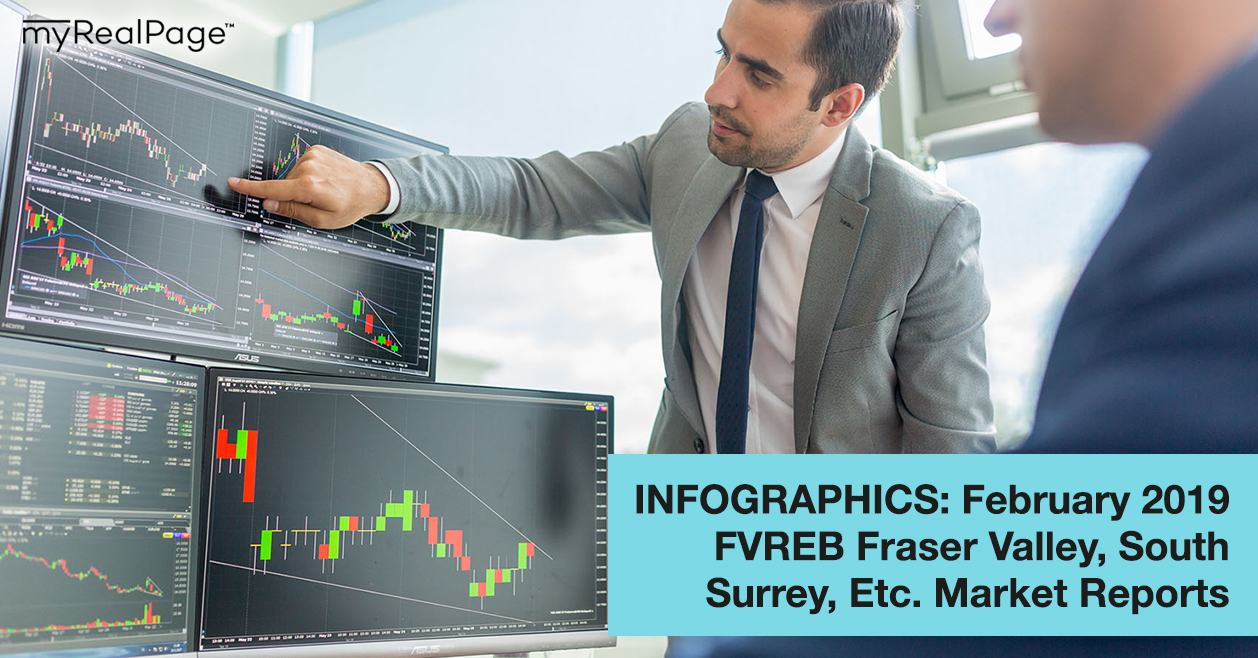 Here comes March, and with it are the latest market updates for areas covered by the Fraser Valley Real Estate Board (FVREB)!
In their latest media release, FVREB announces that the Fraser Valley real estate market saw an increase in sales activity and overall inventory in February along with decreased prices in several of its communities.
The Fraser Valley Real Estate Board processed 982 sales of all property types on its MLS® in February, a 25.3% increase compared to sales in January 2019, and a 29.1% decrease compared to the 1,385 sales in February of last year. Of the 982 total sales, 354 were residential detached homes, 236 were townhouses, and 288 were apartments.
According to President of the Board Darin Germyn,
"With inventory continuing to build, and prices softening across many of our areas and property types, buyers will be well positioned to make a move this spring. Demand within our region varies depending on the community, with both residential detached homes and attached properties garnering interest when priced effectively. If you're looking to list, contact a REALTOR® who can help you understand the local market and what price point will bring you the buyers you're looking for."
---
The following data is a comparison between February 2018 and February 2019 numbers, and is current as of March 2019. For last month's report, check out our previous infographic!
Or follow this link for all our FVREB Infographics!
These infographics cover current trends in Fraser Valley neighbourhoods that are within the FVREB.
Click on the images for a larger view!
(Protip: Make sure to grab the printable PDF version, too! It fits best when printed on A4-sized sheets, AND we've added an area on the sheet where you can attach your business card! 🙂 )