INFOGRAPHICS: February 2020 TRREB Toronto Market Reports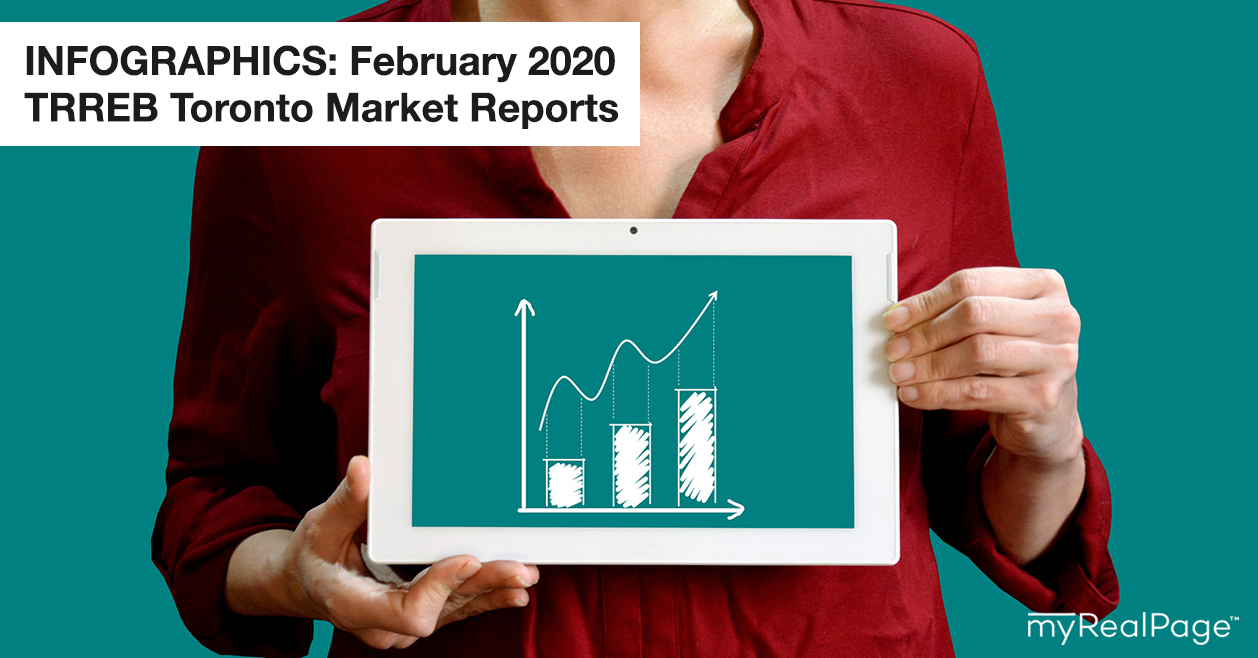 Ready for the spring season? Here are the latest real estate market updates for areas covered by the Toronto Regional Real Estate Board (TRREB, formerly TREB)!
As noted in their latest press release, TRREB President Michael Collins announced a very strong year-over-year sales and price growth in February 2020.
Greater Toronto Area REALTORS® reported 7,256 residential transactions through TRREB's MLS System in February 2020, representing a 45.6% increase compared to a 10-year sales low in February 2019. However, February 2020 sales were still below the 2017 record result. Year-over-year sales growth, for the GTA as a whole, was strongest for ground-oriented home types.
After preliminary seasonal adjustment, February 2020 sales also exhibited positive momentum, up by 14.8% compared to January 2020.
New listings amounted to 10,613 in February 2020, a 7.9% increase compared to February 2019. This moderate annual growth rate was much smaller than that reported for sales, which means market conditions tightened considerably over the past year.
As market conditions tightened over the past year, competition between buyers has clearly increased. This resulted in a further acceleration in year-over-year price growth in February. The MLS® Home Price Index Composite Benchmark was up by 10.2%. The average selling price for all home types combined was up by 16.7% to $910,290. Double-digit average price growth was experienced for most major market segments, including detached houses and condominium apartments.
---
The following data is a comparison between February 2019 and February 2020 numbers, and is current as of March 2020. For last month's numbers, check out our previous infographic!
Or follow this link for all our TREB / TRREB Infographics!
Click on the images for a larger view!
(Protip: Make sure to grab the printable PDF versions, too! It fits best when printed on A4-sized sheets, AND we've added an area on the sheet where you can attach your business card! 🙂 )