INFOGRAPHICS: January 2020 VIREB Vancouver Island Market Reports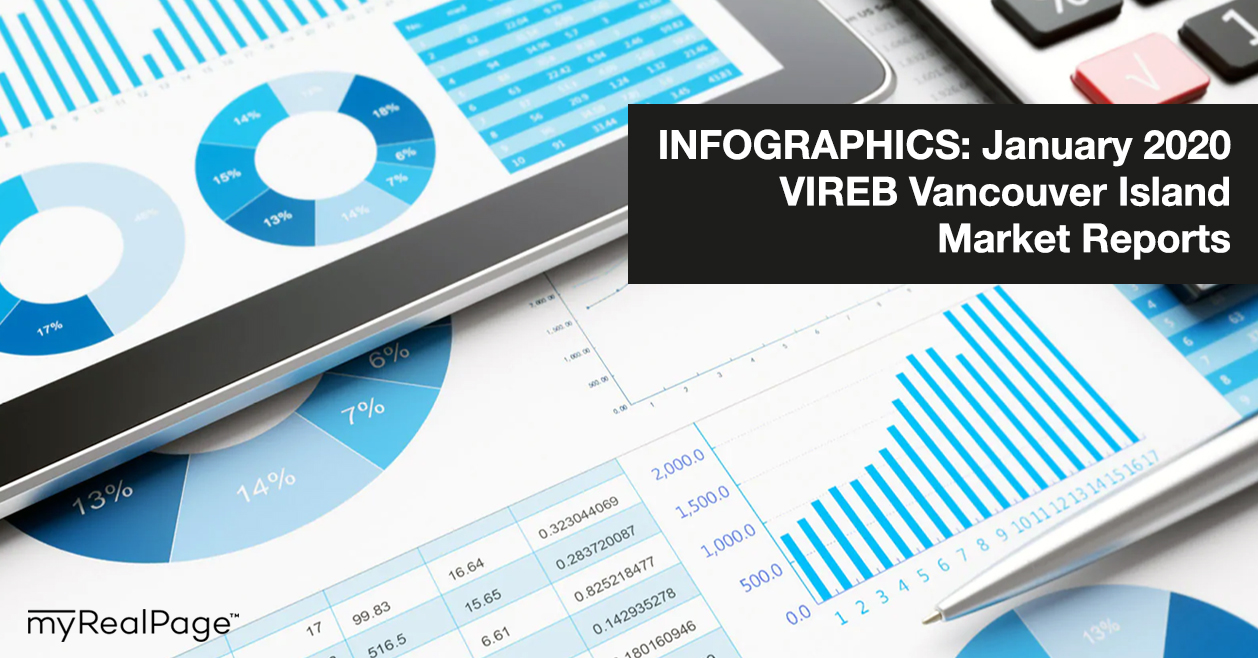 It's time for our monthly market updates for areas covered by the Vancouver Island Real Estate Board (VIREB)!
As stated in VIREB's latest market report, sales of single-family homes in January dropped by 16% from one year ago and were 26% lower than in December.
Last month, 174 single-family homes sold on the Multiple Listing Service® (MLS®) System compared to 235 in December and 208 one year ago. Apartment sales in January decreased by 3% year over year, while the number of townhouses sold dropped by 18% from one year ago.
Inventory of single-family homes last month rose slightly from one year ago (981 to 992) and increased by 6% from December 2019. Active listings of apartments rose by 3% (299 to 309) year over year, while townhouse inventory dropped by 24% (165 to 125). The benchmark price of a single-family home board-wide was $515,400 in January, a 4% increase from one year ago and marginally lower than in December.
In the apartment category, the year-over-year benchmark price rose by 5%, hitting $309,300, which is 2% higher than in December. The benchmark price of a townhouse last month rose by 3% year over year, climbing to $408,600, and was virtually the same as in December.
VIREB Past President Kaye Broens notes,
"The stress test is compressing more demand into our mid-and lower-priced property market. Lack of inventory in that price range is certainly curtailing some buyers from moving ahead with their home purchase. Unfortunately, without new construction, this gridlock may just be the new normal."
---
The following data is a comparison between January 2019 and January 2020 numbers, and is current as of February 2020. Click here to check out last month's infographics.
You can also view all our VIREB infographics by clicking here.
Click on the images for a larger view!
(Protip: Make sure to grab the printable PDF versions, too! It fits best when printed on A4-sized sheets, AND we've added an area on the sheet where you can attach your business card! 🙂 )