INFOGRAPHICS: March 2020 FVREB Fraser Valley, South Surrey, Etc. Market Reports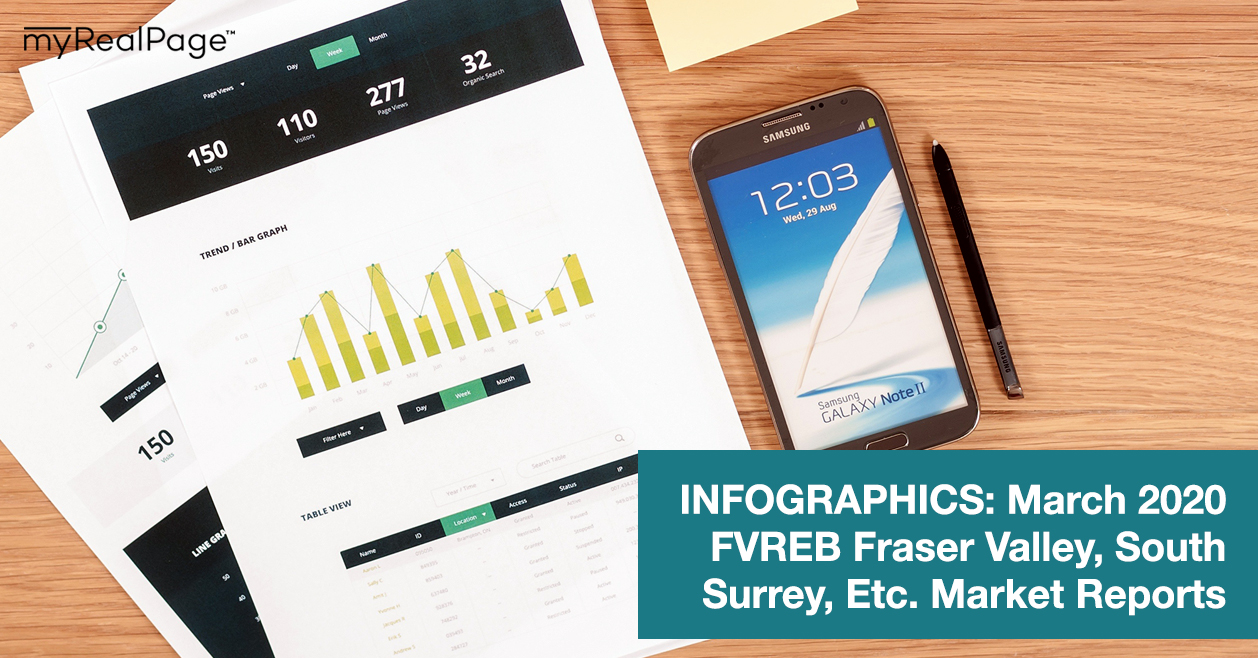 The last few weeks have been challenging for just about everyone, and we hope that you are all healthy and well during this time. For now, here are this month's market updates for the Fraser Valley Real Estate Board (FVREB)!
As indicated in their latest media release, March sales and new listing data is showing the preliminary impact of COVID-19 on Fraser Valley housing market.
The most up to date Multiple Listing Service® (MLS®) data from the FVREB indicates COVID-19 has put the market on pause, as REALTORS® and the public adhere to health authority rules and government guidelines on the pandemic.
By the end of March, the FVREB processed a total of 1,441 sales on its MLS®, a 7% increase compared to sales in February 2020, and an 18% increase compared to the 1,221 sales in March 2019. During the first seven business days of the month, property sales were tracking 60% higher compared to the same period in March of last year, however finished significantly lower.
The Board received 2,666 new listings in March, a 4% increase compared to February's intake of 2,557 new listings. In the lead up to March 10, new listings were tracking 3% higher compared to the same period last year.
By month end, new listings finished 7% lower compared to March of last year taking the number of active listings to 6,083, an increase of 6% compared to February's inventory and a decrease of 13% year-over-year.
As noted by Chris Shields, President of the Board,
"Sales were steadily increasing as is typical moving into spring, and then understandably and necessarily, they started to decline. We serve the public and we understand it is very challenging to buy or list a home while maintaining physical distancing, however if you need us, know that we are here for you.

We are grateful that the BC government has designated real estate an essential service, and accordingly, our industry has implemented numerous measures to mitigate and manage risk. We have suspended open houses, restricted showings, pivoted to using technology as much as possible, and are urging Realtors in the middle of completing transactions with their clients to do so electronically.

A Realtor's duty is to protect our clients. Now, as a society, we all have a duty. We are urging consumers to follow all recommended health and government guidelines and are committed to doing our part for as long as necessary."
(Below) WATCH: FVREB president Chris Shields and Communications Manager Shafiq Jamal join Stuart McNish to discuss housing market projections, how Fraser Valley REALTORS® are leveraging technology, and why nurturing relationships with clients is essential.
---
The following data is a comparison between March 2019 and March 2020 numbers, and is current as of April 2020. For last month's report, check out our previous infographic!
Or follow this link for all our FVREB Infographics!
These infographics cover current trends in Fraser Valley neighbourhoods that are within the FVREB.
Click on the images for a larger view!
(Protip: Make sure to grab the printable PDF version, too! It fits best when printed on A4-sized sheets, AND we've added an area on the sheet where you can attach your business card! 🙂 )