INFOGRAPHICS: November 2018 FVREB Fraser Valley, South Surrey, Etc. Market Reports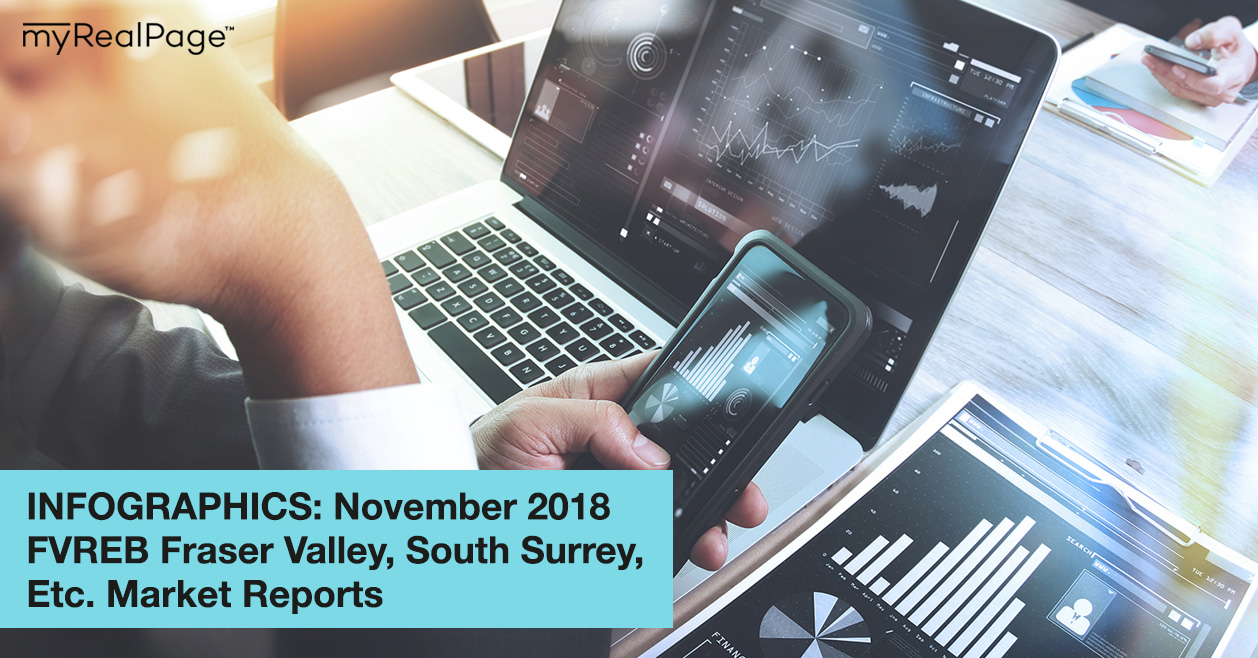 Here are the November 2018 market updates for areas covered by the Fraser Valley Real Estate Board (FVREB)!
According to their latest press release, the Fraser Valley market has remained quiet in November. Though it's been continuing at a slower pace and dropping compared to all-time highs in 2017, sales and inventory levels for the month were on par with historical averages for this time of year.
As noted by FVREB President John Barbisan,
"Lessening demand continues to impact our market significantly. In turn, that has given purchasing power back to buyers who now have more time and more options when it comes to making a decision."
November finished with 7,355 listings in its active inventory. This is a 5% month-over-month decrease, and a year-over-year increase of 43.4%.
Meanwhile, a total of 1,028 sales across all property types were processed in FVREB for the same month. This is an 11% decrease when compared to October 2018 sales, and a 41% decrease when compared to November 2017.
Barbisan adds,
"The market is shifting, albeit slowly. But while buyers are enjoying a more comfortable real estate environment, sellers will have to pay attention to how these changes will affect their chances at success. Work with a local REALTOR® who can help you put your home in the best position to move. There are always ways to elevate your home's appeal and potential to sell, even when the market is slower."
---
The following data is a comparison between November 2017 and November 2018 numbers, and is current as of December 2018. For last month's report, check out our previous infographic!
Or follow this link for all our FVREB Infographics!
These infographics cover current trends in Fraser Valley neighbourhoods that are within the FVREB.
Click on the images for a larger view!
(Protip: Make sure to grab the printable PDF version, too! It fits best when printed on A4-sized sheets, AND we've added an area on the sheet where you can attach your business card! 🙂 )