Introducing "Login with Facebook" button for your website

We all know that Facebook is huge: 500 million active users! Being so huge, Facebook automatically becomes a focus of online marketing strategies, advertising, etc. However, the size of Facebook creates another very important implication for your real estate website: your visitors are very likely to already have Facebook profiles. Why does it matter? Well, now you can make their registration on your website a snap!
We are very pleased to introduce a "Login with Facebook" button that can be easily added to your Virtual Office Website (VOW) toolbar. A little while go, Facebook has released a public Graph API to allow better integration between Facebook profiles and 3rd party websites. Today we letting you take advantage of it. Here is how it works, in a nutshell:
You opt to enable "Login with Facebook" button on your VOW toolbar
A visitor comes to your website and decides that they would like to take advantage of all the tools you offer via VOW, such as saved searches, email alerts, favorites, mobile, etc.
Instead of clicking on Signup and needing to fill out the form; they click on "Login with Facebook" button
They are then directed to a special Facebook page which will ask them whether they are ok with sharing some of their personal information with your website; if they confirm, then…
They are taken to your signup form with all their information pre-filled; they only need to click on the checkbox that they agree with your terms, if you have any (if you have additional required fields, such as telephone number, they may need to fill that in as well)
Your visitor has now become your VOW member after 4 simple clicks and NO typing.
This is how you enable your "Login with Facebook" button: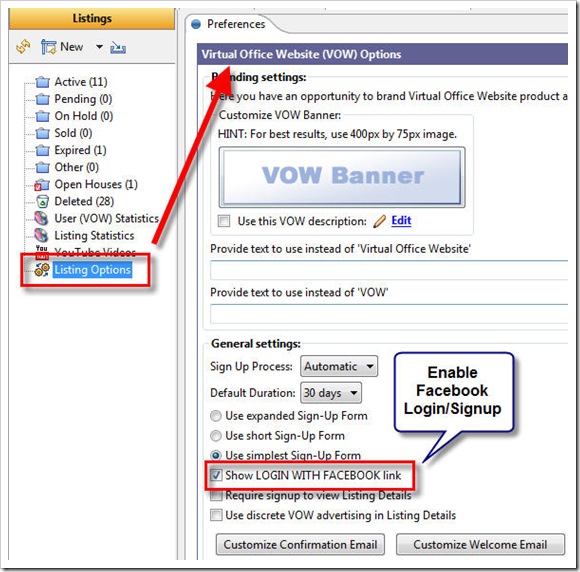 And this is how your anonymous web visitor becomes a registered VOW member: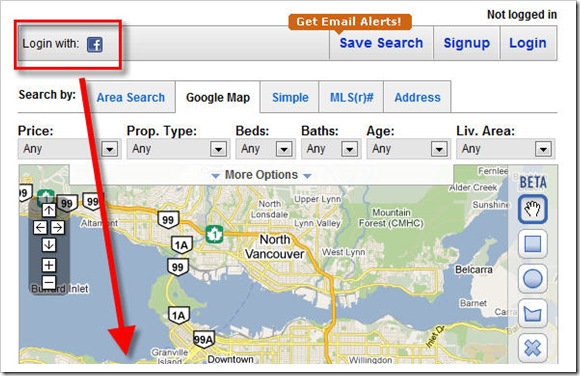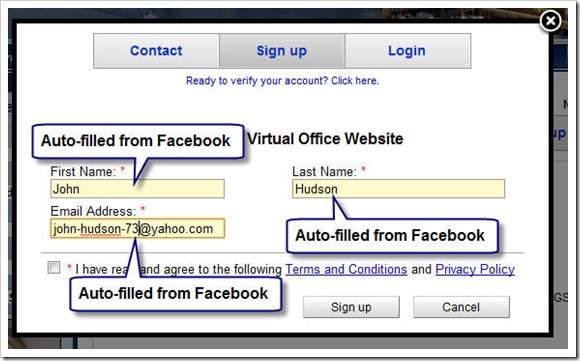 "Login with Facebook" feature goes to lower any impediment or barriers that manually filling out signup forms creates. This should contribute to better conversion rates; since we know if something is easier, it's more likely to be used.
(A quick note: the checkbox for the "Login with Facebook" is currently available only in Windows Private Office. Our Mac guru is home bound next week from a relaxing vacation; so he will get our Mac users up to date in no time sometime next week. If you would like to enable this setting and you are a Mac user, simply call our office and they will be happy to do it for you).
Let us know what you think: we are all ears! Leave your comments here or drop us a line to feedback@myrealpage.com