How Real Estate Agents Can Build a Healthy Newsletter List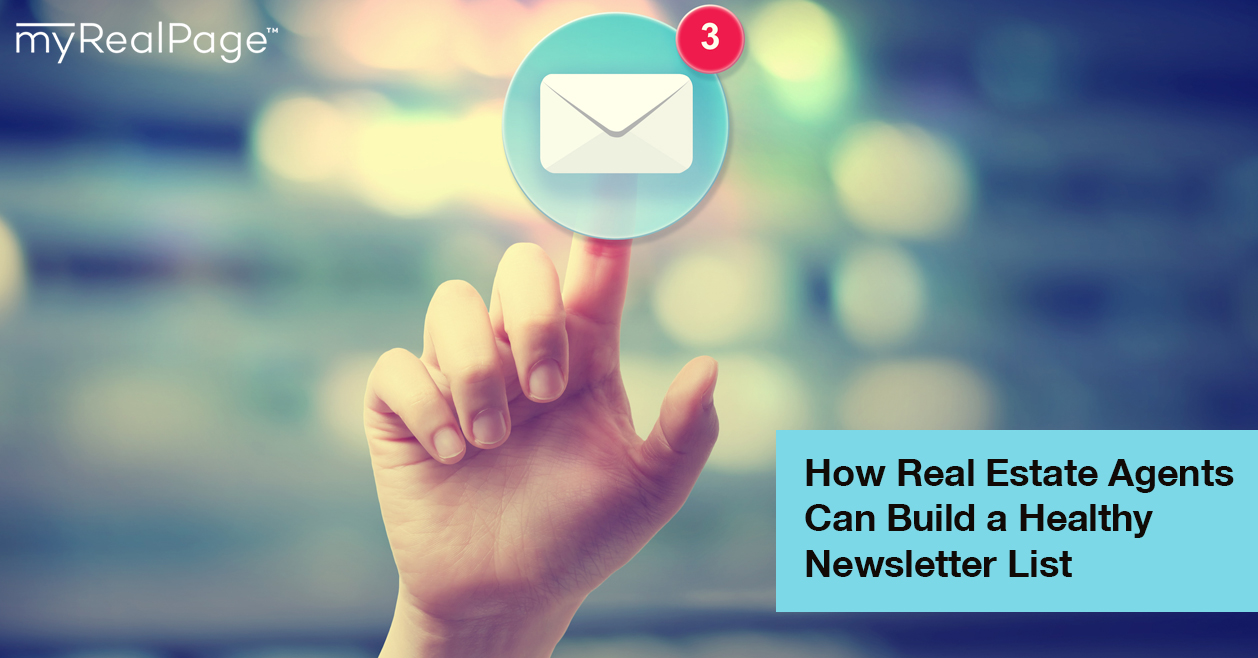 This post was updated on 09/15/2017.
This is part two of a two-part series on e-newsletter marketing for REALTORS®. Read part one, about why e-newsletter marketing is important for real estate agents, here.
It used to be that a real estate agent's marketing options consisted mostly of direct mailers, fridge magnets and print ads.
Thanks to the Internet, there's a better way to get your name out there (and it's a lot cheaper too!).
E-newsletters.
An e-newsletter needs great content, but it also needs an engaged subscriber list to have an impact.
Here are four tips to help real estate agents grow healthy newsletter subscriber lists.
Make signup easy
Your website's landing page offers prime real estate (pardon the pun) for a newsletter subscription button. Take advantage! A prominent newsletter subscription box makes it easy for visitors to fork over their email address. Remember to add a strong call-to-action button.
myRealPage users can use the MRP website services to set up a subscription button in the upper-right corner of their site. Choose an email marketing provider that delivers on your specific needs and then put together a "confirmation" message that auto-sends when users join your list. This is important to maintain the health of your list.
Remember: CASL (Canada's Anti-Spam Law) requires that anyone sending a commercial marketing message must abide by certain rules (including giving recipients a clear way to unsubscribe). Deloitte has a helpful FAQ that we strongly recommend reading.
Give a little something first
Everyone wants, wants, wants subscribers. But why should visitors to your site subscribe to your content in the first place? Give your readers a compelling reason. Or what's called a "lead magnet" in the biz.
Perhaps upon subscribing, you'll email them an expert guide on buying in the area. Or, maybe by subscribing, they'll receive a free home evaluation. Get creative with what you can offer, and with what potential clients really want.
Content is king
People are busy. If you want them to slow down long enough to read your newsletter (and keep that subscription active), then you've got to provide quality content each and every time you publish.
To get the creative juices flowing, start with a few questions. What's most valuable to your audience? What can they get from you as a REALTOR® that they can't find elsewhere on the web?
Rather than regurgitating content from other sources, use your imagination!
Great home pictures never fail

A section outlining current listings can help on the promotional end of things

Guest pieces from industry experts are always useful

Accurate stats inform potential buyers and sellers about the market

Freebies or discounts keep people coming back
For more ideas, read our post on newsletter content ideas here.
Be consistent
Consistency in your newsletter is key to maintaining your subscriber numbers.
Layout
The way content is presented to a reader is just as important as what that content says, so consistency is key.
Before hitting send, keep in mind your newsletter's layout. Something clear and simple usually works best, and using the same template each time makes your letter instantly recognizable. Use your brand colours and fonts, too.
Tone of voice
The point of a newsletter is to build better relationships with your audience, and the tone of voice used in all your writing is a huge part of that. The best way to think about newsletter writing is to think of it as an in-person conversation. A relatable and friendly tone engages readers and keeps them coming back for more.
Timing
If you can only commit to sending a newsletter once every two weeks or just once a month, that's okay, but be sure to actually follow through. There's no bigger no-no than promising something to a reader and then not delivering, so carve out a schedule that works and stick to it!
Are there any tips for growing newsletter subscriber lists that we've missed? Let us know!