How to Use Sold Data to Get More Real Estate Clients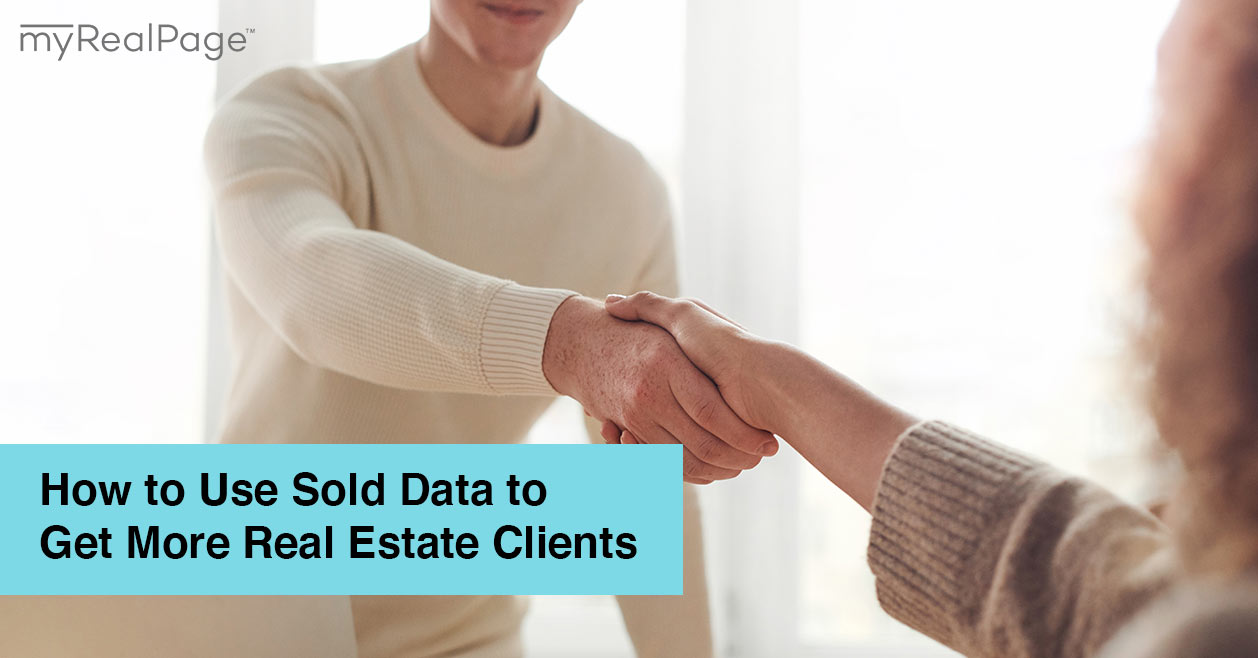 What if we told you that there's a simple way to double (or triple, or quadruple) the number of visits to your real estate website? 
What if we told you that the same thing could also set you apart from your competition, grow your real estate email marketing list and help you get real leads?
That thing exists. It has for a few years now. But not enough real estate agents are taking advantage of it. 
That thing = sold data. Historical sales prices.
Not using sold data on your real estate website? Want to know more about how it could help grow your real estate business? This post is for you. 
Keep reading to explore why sold data is a powerful tool for real estate agents, and how to get sold data on your real estate website. 
First — Some Background Information on Real Estate Sold Listing Data
Sold data hasn't always been available to the public in Canada. In fact, it was only in 2018 that things began to really change.
That's when the courts ruled that the Toronto Regional Real Estate Board (TRREB) — Canada's largest real estate board — was stifling competition by not sharing that data, and that it must allow sold data to be published.
Whether it's through a REALTOR® or a real estate agent's website, other online sites, or through a paid search at a land transfer office, Canadians in nearly all parts of the country can now access information about what a home previously sold for. 
Why Sold Data Is a Good Thing For Real Estate Agents
Two words: comparative data. 
That's what prospective buyers and sellers want. 
They want as much information as they can get their hands on to help inform a huge decision they have to make — whether to buy or sell, where to buy or sell, and for how much. That includes information that helps them make comparisons. 
Buyers and sellers are going to hunt for that data. They're going to try to find a map of homes that recently sold in their current neighbourhood, or the one they want to move to. 
And once they find that data, they'll do what they need to in order to access it — including signing up with their email address.
In summary, sold data is good for real estate agents because:

Potential clients want it (they really, really want it)

So if you have sold data on your real estate website, potential clients will flock to it

And to access the data, those potential clients will have to hand over their name and email address
More traffic. More sign-ups. More leads. More clients.
Sold data can be a game-changer for real estate agents.
How to Get Sold Data on Your Real Estate Website
To feature sold data on your real estate website, your real estate board must have opted in to share this information online via a VOW — a Virtual Office Website. 
A VOW is what gives visitors to your website access to listings and data, including sold data, but only once they create a password-protected account. 
Not sure if your real estate board has opted in and offers VOWs? Check our list of real estate boards.
If your real estate board does offer VOWs, you'll have to complete a VOW agreement or submission form (it varies from board to board). You'll have to follow your board's instructions (including completing and sharing any documents) before your submission is processed.
Then what?
Well, if you have a myRealPage website, it's super easy. 
Once your board has processed your submission, they'll contact myRealPage to let us know that your request for a VOW with sold data has been completed. Then myRealPage can turn on the VOW feed for your real estate website. You don't have to lift a finger. No coding, no design, no installation. 
Once it's turned on, visitors to your real estate website who want to see sold data will have to register — which means you get their names and email addresses. That's some pretty powerful real estate lead generation.
If you don't have a myRealPage website, getting sold data on your real estate website isn't so easy. It will involve hiring the services of a web developer to help you set up the VOW feed and configure the rest of your website accordingly. It can be complicated, messy and expensive.
Want an easy way to feature sold data on your website? Maybe it's time to switch to myRealPage.
myRealPage websites are designed specifically for real estate agents and built with the tools that agents need to grow their business.
Besides sold data, here's what else you get with myRealPage: 
A modern, user-friendly, fully responsive real estate website (no coding necessary!)

Swappable themes and customizations that perfectly suit your brand

Powerful MLS

®

/ IDX search tools

SEO, analytics and lead generation tools

Automated listings

Built-in social media and marketing features

Unlimited pages, blogs, files and more
Sold data is a powerful way to get more real estate clients. And a myRealPage website can help you take advantage of that data. Don't wait — get sold data on your real estate website with myRealPage.