4 Must-Know Tips For Writing Real Estate Blog Headlines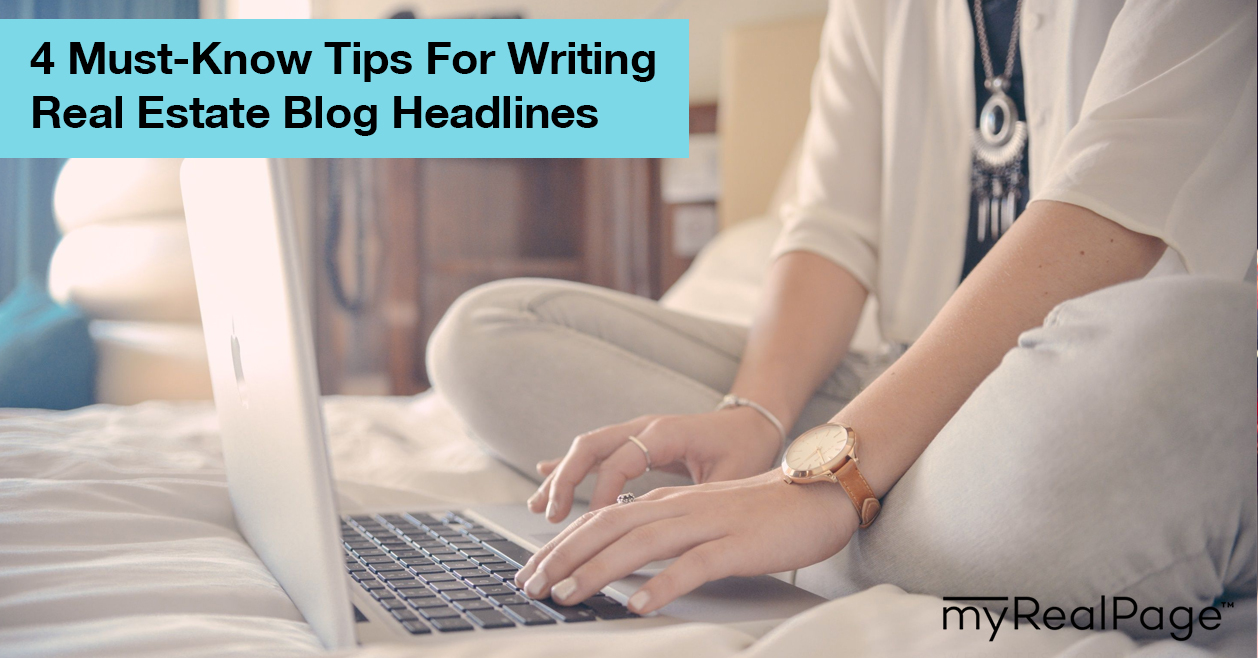 If you've got a realtor blog that you're regularly publishing to, congratulations! That's already a great point to  get started at. However, as any blogger knows, it isn't always easy, and whether you're a naturally gifted writer or not, it's a challenge to develop great ideas on an on-going basis and to turn them into interesting pieces of content.
And one of the hardest parts? Getting people to actually click and read.
That's why interesting, curious, begging-to-be-clicked-on headlines are absolutely essential, since it's vital to be able to catch the readers' attention and get them to read the rest of the content you have created.
Here are four tips for writing highly effective headlines for your real estate blog.
1. Use a Formula
Yes, there are formulas for writing blog headlines and no, it doesn't mean throwing all creativity out the window. Formulas help you sell your blog content through a succinct, intriguing headline structure, proven to generate interest.
There's a ton of online guides and how-tos, but we think Buffer sums up the formula strategy nicely in their ultimate round-up, which includes this tried-and-true equation:
Numbers + adjective + target keyword + rationale + promise.
What does that look like in practice?
"5 Incredible Bathroom Renos That Will Drive Up Your Home's Value," for example.
Other effective ways of formulating your headline include:
What Everybody Needs to Know About [blank]

[Number of] Lessons I Learned From [blank]

How To [blank] Like An Expert [or, Boss, Superstar, Celebrity, etcetera]

The Ultimate Guide to [blank]
2. Up Your Adjective Game
Your goal is to entice a reader. Get descriptive with your headlines.
Forget "8 Ways to Make a Room Look Bigger" — try "8 Incredibly Easy Ways to Make a Room Look Bigger."
Your golden rule of thumb should be to include at least one adjective per headline. Use a thesaurus to look for options, but stay clear of uncommon suggestions.
And test your ideas out: try Googling variations of your headline. If your chosen adjective is a dime a dozen for similar blog posts, switch it up.
3. Promise Something
There are a thousand things competing for our attention at any given time on the Internet, so your reader needs to know that your blog post is going to give them something in return for reading.
They want tools, resources, methods, strategies and solutions for their questions and challenges, and they want them to be simple, instant, fast, inexpensive, and proven.
So, give them that guarantee right away – in your headline.
If your post is about bidding war strategies, then your headline might read "Win A Bidding War With These Proven Strategies."
4. Try a Headline Tool
Get your creative headline-writing juices flowing by using a generator tool like Portent's Title Maker. Simply type in your keyword and peruse the proposed example headlines.
The suggestions won't likely be phrases you can copy and paste (for example, in the case of the word "townhouse," generated headlines included "Unbelievable Townhouse Success Stories") but they will be ideas you can work with and adapt.
Once you've got a couple headline ideas, try CoSchedule's Headline Analyzer tool. Enter your proposed headline and receive an analysis of its effectiveness, and tips for improving it.